The 7 Best Places To Resell Your Stuff and Score Vintage Finds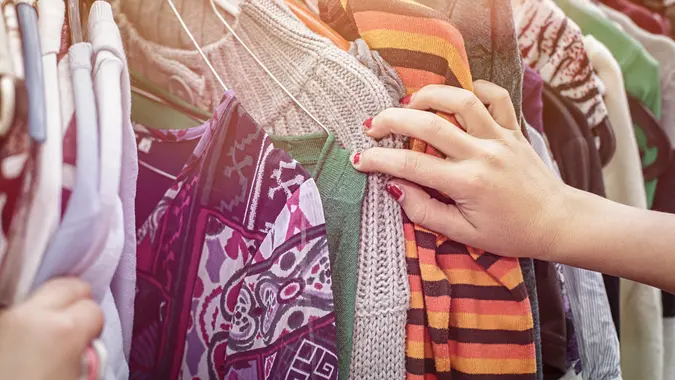 ©Shutterstock.com
There's something so freeing about purging clothes from your closet, and replacing them with quality vintage pieces. It's even better if you can make a little money selling the items that don't serve you anymore. Some sites promise big paychecks on the clothes you send in, but you end up making a fraction of what you paid for the item. It's also disappointing when a store says they deliver a good variety of vintage clothing, but it's just a few items amid fast fashion tops from last year. There are a few sites, however, that can give you a nice payday for your old threads and bring the goods when it comes to vintage. 
See: 30 Ways Shopping Will Never Be the Same After the Coronavirus
Don't Miss: 10 Popular Products That Costco Doesn't Sell Anymore
Poshmark
Poshmark launched in 2011 and has since become one of the top hubs for people looking to buy and sell clothes. Sellers offer a wide selection of items on the social commerce marketplace including clothing for women, men and children, electronics, pet accessories, and cosmetics. As a seller, there are some fees to be aware of. Poshmark takes a flat commission of $2.95 on sales under $15. Sellers keep 80% of all profits from all other sales. You can set your own price on the site, but there is a suggested price based on similar items. Prospective buyers can comment with questions, or like your items before committing to buying. They can also make an offer that you can either accept or reject. Because of the 4.5 million active sellers on the site, you're bound to find unique vintage clothing. There's a vintage category where you can find everything from '70s decorations to old school ski jackets.
Make Your Money Work Better for You
Check Out: 25 Secret Money Traps at Target, Walmart and Other Big-Box Stores
Instagram
While you're scrolling through photos of your friends, you might actually be able to find a pretty good deal on vintage clothing. Instagram now has a robust marketplace feature in which stores around the world can list their vintage finds. At the very least, you can find something you've been looking for and be redirected to a store's website to place an order. Conversely, you can list your clothes using the marketplace feature, and with the right hashtags, buyers can find you to place an order. There is a $0.05 fee per shipment or a flat fee of $0.40 per shipment under $8 if you use the Instagram Checkout feature.
Keep More of Your Money: 30 Things You Should Never Buy Without a Coupon
Depop
The Depop marketplace is similar to Poshmark in that there's a social element to the app, but sellers make a whopping 90% of the total sale. As a buyer, Depop offers picks for you based on previous purchases and items you've favorited. They also specialize in streetwear and vintage clothes, making it a go-to spot for those looking to resurrect trends of the past. You can also find a spectacular collection of jewelry on the app as well. 
Make Your Money Work Better for You
Stop Now: 40 Supermarket Buys That Are a Waste of Money
eBay
eBay is the real OG of selling and buying vintage items of all types, from clothes to toys. As a seller, you can list whatever you'd like at whatever price you decide. You can set a "buy now" price, in addition to having people bid on the item for an allotted amount of time. The site takes between 10-15% of the final sale. The first 250 listings you make are free. After that, you're charged $0.35 per listing. There are tons of items listed as vintage on the site, and you can score a pretty good deal using the auction function. 
Find Out: Are You Spending More Than the Average American on 25 Everyday Items?
Vinted
Vinted is a unique selling experience because there is no fee to list your items and no commission taken out of your sale. It's the best deal for sellers. You can even swap items on the app without ever exchanging cash. Buyers will find clothing and jewelry from a range of decades. There's also the option to make an offer, which could get you a really great deal if the seller accepts. 
Make Your Money Work Better for You
Find Out: 20 Ways To Pay Less at Costco
Etsy
Etsy is not only a great source for finding unique and customizable gifts, but it's also a great spot to find vintage wares. Often, sellers will list authentic vintage items, or make some in the style of a certain decade. If you're looking to sell your items on Etsy, you'll be charged $0.20 to list it, plus the cost of covering transaction, payment processing, and offsite advertising fees. The site offers tools to optimize your business if you're looking to make selling clothes a permanent side hustle. 
See: 10 Popular Products That Costco Doesn't Sell Anymore
thredUP
The consignment site thredUP boasts that you'll find your favorite brands for up to 90% off, but because of its 500,000+ sellers, you can sometimes spot some vintage picks, too. thredUp only offers clothes for women and kids, so you won't find any menswear on the site. If you're looking to sell, your net payout varies. The site will take anywhere from 20-90% of the final sale depending on how valuable the item is. There's also a transfer fee that you incur with its two payment methods: Paypal and Stripe. 
More From GOBankingRates
Make Your Money Work Better for You