11 Cars Most Loved by The Rich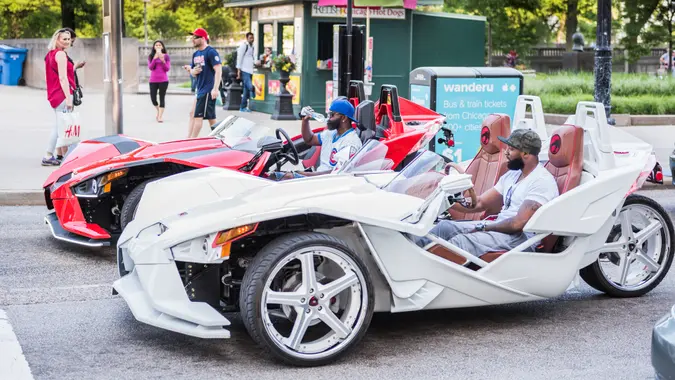 ablokhin / Getty Images
While many people dream of owning a luxury vehicle one day, the world's wealthy elite have a particular taste in cars that goes beyond just the standard luxury brands.
Whether it's for their performance, exclusivity, or cutting-edge technology, these are the cars that have become favorites among the affluent.
Rolls-Royce Phantom
Known for its opulence, the Phantom is a hallmark of luxury and is often considered the pinnacle of automotive craftsmanship. Customization options are almost limitless, ensuring every Phantom is uniquely tailored.
Bentley Continental GT
Combining sporty performance with lavish luxury, this grand tourer is a preferred choice for those who desire both speed and comfort.
Lamborghini Aventador
More than just a performance powerhouse, the Aventador is a statement piece, reflecting a love for aggressive design and breakneck speeds.
Bugatti Chiron
One of the fastest cars in the world, the Chiron isn't just about speed. Its multi-million dollar price tag ensures exclusivity, and its design is a work of art.
Aston Martin DB11
A blend of British luxury and performance, the DB11 offers a more understated elegance, loved by those who appreciate heritage and refinement.
Ferrari 812 Superfast
As the name suggests, it's super fast. Beyond its performance, it's the brand's storied history in racing and design that attracts the wealthy.
McLaren P1
A hybrid hypercar, the P1 is for those who appreciate cutting-edge technology combined with top-tier performance.
Make Your Money Work Better for You
Porsche 911 GT3
The 911 has always been a favorite among car enthusiasts, and the GT3 version, with its track-focused performance, is a particular darling among affluent racing aficionados.
Mercedes-Maybach S650
A step above the standard S-Class, the Maybach variant offers extra space, luxury, and features for those who prefer to be driven rather than drive.
Tesla Model S Plaid
Electric vehicles are not just eco-friendly; they can be luxurious and fast. The Model S Plaid, with its impressive range and acceleration, has found fans among the tech-savvy rich.
Pagani Huayra
Known for its attention to detail and bespoke design elements, the Huayra is for the car collector who wants something truly unique.
The rich and famous have an affinity for cars that offer a mix of performance, luxury, and exclusivity. While the aforementioned vehicles come with hefty price tags, they also provide unmatched experiences, making them well worth the investment for those who can afford them.
Editor's note: This article was produced via automated technology and then fine-tuned and verified for accuracy by a member of GOBankingRates' editorial team.
More From GOBankingRates
Make Your Money Work Better for You