4 Luxury Cars That Will Actually Last Years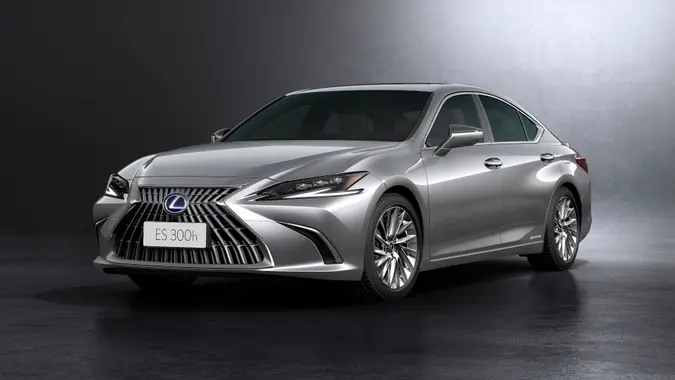 ©Lexus
If you're under the impression that owning a luxury car is a massive financial gamble ending in an early trip to the junkyard, you might be surprised.
"Don't just fall for the old tales that luxury cars are ticking time bombs of expense and trouble," said Todd Bialaszewski, certified master mechanic and founder of Junk Car Medics. "The landscape has changed. Reliable, easy-to-maintain luxury cars exist; you must know where to look.
"Through my years of turning wrenches, I've seen that choosing the right luxury vehicle can provide an unparalleled driving experience and be surprisingly reasonable when it comes to maintenance. So, if you're pondering taking that plush leap, make sure you're as informed about what's under the hood as you are about the brand's prestige."
Here are four luxury cars that will actually last years.
Lexus ES
"The Lexus ES in particular stands out," said Jacob Carter, experienced auto mechanic and owner of Engine Rev Up. "I've had many ES models from the late 90s and early 2000s come through my shop with over 200,000 miles and still running strong. The ES has always used the ultra-reliable Toyota Camry platform and powertrain, so it's built to last. Parts and labor are very reasonable compared to other luxury vehicles too. I remember Betty, one of my long-time customers, drove her 2002 ES300 to over 300,000 miles before trading it in! Just regular fluid changes and brake pads was all it ever needed."
Make Your Money Work for You
Bialaszewski agrees that the Lexus ES is worth considering.
"I've had many Lexus' roll into my shop over the years, but the vast majority were in for routine check-ups rather than dire emergencies," Bialaszewski said. "I vividly recall a 2011 ES model that came in at 250,000 miles and ran like a champ. Its owner only came in for regular oil changes and the occasional brake pad replacement. With the latest model boasting a reliability score of 87 out of 100 and relatively low average yearly maintenance costs — around $468 — it's hard to argue against this car as a sound investment."
BMW 5 Series
While German luxury cars often have higher maintenance costs, BMW 5 Series models are generally reliable if properly maintained," said Carter. "My neighbor Carl brings me his 2008 550i that now has 250,000 miles, but it still drives great thanks to him keeping up with all scheduled maintenance. These cars will last if you care for them."
Bialaszewski agrees that the BMW 5 Series can be a reliable pick. 
"BMW, traditionally known as a garage hog, has significantly upped its reliability game,' he said.  The BMW 5 Series has a reliability score 84 and an average annual upkeep of around $825. I had a client, a BMW fan, who had rarely needed more than routine servicing for his 2014 5 Series. He wasn't easy to please, but he had nothing but praise for his ride."
Genesis G90
"In my experience, the new Genesis luxury brand from Hyundai builds cars to last," said Carter. "The G80 sedan and G90 flagship especially seem very well-engineered. I don't see too many so far, but the ones I have serviced have impeccable build quality. If Hyundai's track record is any indication, they should require minimal maintenance and repairs for years."
Make Your Money Work for You
Bialaszewski is in agreement regarding the Genesis G90 as a reliable,easy-to-maintain luxury car. 
"So, do you want to push the envelope further?" he queried. "Enter the Genesis G90. This is a relatively new nameplate that has hit the ground sprinting. With a near-perfect reliability score of 91, the car's annual maintenance won't even cost you more than $524. I recently serviced a G90 for the first time, and I was seriously impressed with the quality of the parts. Its owner mentioned it was her best automotive purchase."
Acura MDX
Acuras, like the MDX, are also well-built for the long haul," said Carter. "I've found them to be very straightforward to work on as well, with an easy-to-service layout under the hood. My buddy Mike is still driving his 2005 MDX with 180,000 miles and it feels just as solid as the day he bought it. The transmission shifts smoothly, and the engine pulls strong."
More From GOBankingRates