5 Luxury Cars With the Best Resale Value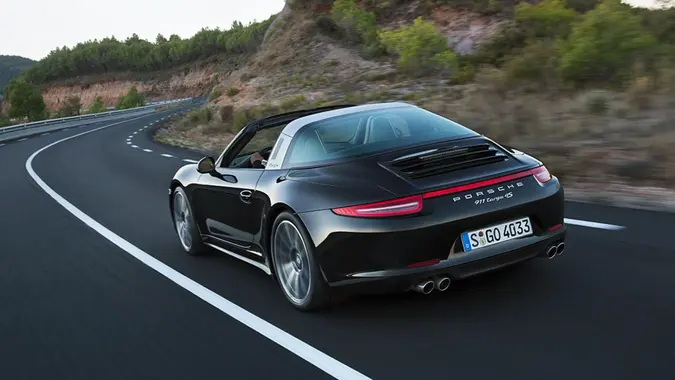 ©Porsche
Drivers whose expensive tastes exceed their budgets would be wise to buy high-end rides from a few model years back. All cars start depreciating upon purchase; but, according to HotCars, luxury vehicles — especially luxury SUVs — lose their value faster than average because of their high retail prices and expensive maintenance and repairs.
Those who buy new can expect their luxury cars to shed up to half their value in the first five years of ownership.
Some lose far more, but others hold their value even better than cars built for commoners.
The following is a look at the luxury cars that pay their owners back by clinging to at least two-thirds of their original purchase price over a half-decade.
Lexus LX
Toyota's high-end division enjoys a reputation for building opulent vehicles that retain their value.
"When it comes to luxury cars, Lexus takes the cake," said Gareth Boyd, editor of Range Rover Fanatic. "Models like the Lexus GX and LX have a strong resale value due to their high quality and robust engineering."
For example, CarEdge says the LX 570 loses just 32% of its value over five years.
A big, powerful SUV based on the new Toyota Land Cruiser, the LX oozes luxury without sacrificing off-road prowess. It starts at $92,160; and, while different trims depreciate differently, CarEdge agrees with Boyd that the entire nameplate is a sure thing for buyers hoping to get top dollar when they decide to sell.
Make Your Money Work for You
The publication wrote, "Lexus is simply the personification of high resale value, and their vehicles just don't depreciate like the rest of their peers."
Acura MDX
Honda's luxury line also has a history of building high-end cars that hold their value exceptionally well — and one model stands out above the rest.
"Acura's MDX has garnered praise for its long-lasting quality and also maintains a commendable resale value," said Jeremy Law, a veteran mechanic and founder of Complete Car Comfort.
In fact, with a low five-year depreciation rate of just 33%, it's roughly on par with the Lexus LX. Starting at $49,550, Kelley Blue Book calls it "a strong contender in a class full of excellent vehicles. As most people know, Acura is the luxury division of Honda, a company whose reputation for reliability and quality is unassailable. Then take into account the standard equipment, high safety scores, relatively low purchase price and robust resale value, and the MDX makes even more sense."
Tesla Model S
Electric vehicles tend to depreciate faster than gas cars — 1.4 times faster than all vehicles, according to Motley Fool — because their expensive batteries have limited lifespans. But one model from the most famous name in EVs bucks the trend.
"The Tesla Model S has not only been a game changer in terms of electric vehicle technology but also holds its value quite well, making it a sound investment," Law said.
The Model S starts at $71,090; and, according to CarEdge, it loses just 35% of its value after five years — impressive for any luxury car and incredible for a luxury EV.
Mercedes-Benz G-Class
Several experts mentioned the mighty Benz G-Class as having otherworldly powers in repelling depreciation. A big, boxy, powerful SUV, it starts at $139,900 — and owners can expect to recoup all but a rock-bottom 23% of that when it comes time to sell.
Make Your Money Work for You
CarEdge says, "The Mercedes G-Class is not for everyone, and they're not cheap, but they hold their value well, consistently ranking in the Top 10 among luxury vehicles."
For context as to just how tightly the G-Class clings to its value, an iSeeCars report from 2022 found that the G-Class boasted the lowest three-year depreciation of any vehicle in any category or class. It lost just 0.6% of its value over 36 months, less than half the famously reliable Honda Civic's 1.4%.
Porsche 911
The current model year Porsche 911 starts at $114,400 and lands just short of $300,000 on the high end. Anyone who has ever driven one, ridden in one or even seen one knows they're worth every penny.
"It has that classic, timeless look everyone loves, making it a dream car for enthusiasts and collectors," said Robert Luterzo, automotive engineer and editor of Automotive Widget. "Also, Porsche knows how to build a car. They use top-notch stuff, so your 911 stays in great shape over the years."
Its durability and timelessness give the 911 an incredible 15% depreciation rate, meaning if you buy a 911 Carrera GTS for $150,000, you could expect to sell it for $127,500 in five years.
"The Porsche 911 has the best resale value," Luterzo said.
CarEdge agrees, writing, "The Porsche 911 is one of the greatest cars of all time and is virtually problem free and indestructible. As a result, it holds its value terrifically well."
More From GOBankingRates