America's 10 Wealthiest Families and How They Got Rich

6 min Read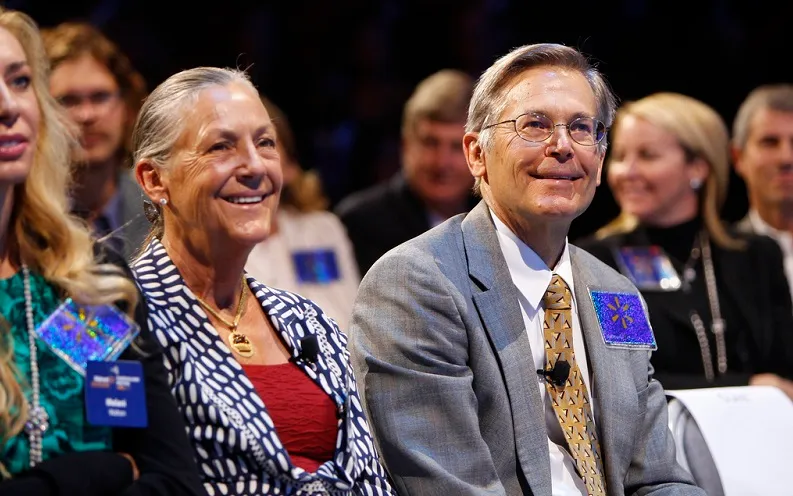 If you've ever bought a candy bar, chances are you contributed to the net worth of one of America's wealthiest families. Indeed, the list of America's 10 richest families of 2015 compiled by Forbes includes familiar names like Mars and Walton, the former of candy maker fame and the latter of Wal-Mart fame. Other surnames aren't as synonymous with their brands or industries, but all of the 10 families on the list share similar success stories — and drama.
Curious to see how the rich get rich? Click through to learn more about 10 of America's richest families.
Related: North West, Blue Ivy: 29 of the Richest Celebrity Children
Make Your Money Work Better for You
10. The Duncan Family: $22.4 Billion, Oil and Gas
Energy industry entrepreneur Dan Duncan, former head of natural gas and crude oil pipeline company Enterprise Products, left equal shares of a nearly $10 billion estate to his four children when he died in 2010. Because of the timing of Duncan's death, the New York Times reported his heirs might have benefited from a Congressional quirk that eliminated the federal estate tax for one year. But, Enterprise Products released a statement that Duncan had passed the "economic interest" in the company on to his children before his death. So, it's unclear if they really reaped the rewards from the estate-tax lapse.
What is clear is that the siblings are even richer now than they were then. Forbes reports that since the senior Duncan's death, the family fortune has more than doubled, padded by rising share prices and dividend payouts from the publicly traded affiliate, Enterprise Products Partners.
9. The (Edward) Johnson Family: $26 Billion, Money Management
Owning 49 percent of money management powerhouse Fidelity, the Johnson family is one of the wealthiest families in the country, reports Forbes. Edward C. Johnson II founded the firm in 1946, which has since grown to become the second-largest mutual fund company in the U.S. behind Vanguard, managing $1.8 trillion in assets. The founder's son, Edward "Ned" Johnson III, controlled the company for nearly three decades before ceding the CEO spot at Fidelity Investments to his daughter Abigail in 2014. Son Edward Johnson IV runs a family-owned real estate company while another sibling, Elizabeth, is not involved in operations at Fidelity, reports Forbes.
8. The S.C. Johnson Family: $28.8 Billion, Cleaning Products
S.C. Johnson started as a salesman at a parquet flooring company in 1882, bought out the business a few years later and developed a floor wax for his customers that soon outpaced flooring sales. His son, Herbert Fisk Johnson, ran the company until 1928. Herbert died without a will, sparking a battle over inheritance that ended with a 60-40 split of the company between his two children, Herbert Fisk Jr. and Henrietta Johnson Louis.
Despite early differences, the family has managed to hold on to 100 percent of the company, which has estimated annual sales of $9.6 billion, according to Forbes. S.C. Johnson boasts a product portfolio of brands that include Pledge, Windex, Ziploc, Glade and more.
Make Your Money Work Better for You
7. The Pritzker Family: $30 Billion, Hotels & Investing
Jay Pritzker and his brother Donald built the company behind Hyatt hotels and also found success as investors. But the family fortune was threatened in 2002 when two of Jay's grandchildren sued their father Robert and other family members, claiming approximately $1 billion had been unlawfully siphoned from their trust funds, reports Daily Finance. Both grandchildren received $500 million and agreed to relinquish all future claims on the family assets in a 2005 settlement.
There are now 11 individual billionaires in the Pritzker family ranks, including U.S. Secretary of Commerce Penny Pritzker and movie producer Gigi Pritzker.
6. The Hearst Family: $32 Billion, Media
William Randolph Hearst built a publishing powerhouse that began when he listed himself as "proprietor" on the masthead of the San Francisco Examiner in 1887. Today, the company is focused on disseminating news though outlets such as Cosmopolitan magazine and ESPN. The Hearst Corporation has grown to include more than 200 media and information businesses in more than 150 countries.
William R. Hearst III, grandson of the company founder, serves as chairman of the board of directors. Actress and model Lydia Hearst ("Cabin Fever: Patient Zero") is William Randolph's great-granddaughter. Socialite and activist Amanda Hearst is another great-granddaughter of William Randolph's. Both are heiresses to the Hearst empire.
5. The Cox Family: $34.5 Billion, Media & Automotive
Much like the Hearst family, the Cox family started building their billions when James M. Cox purchased a newspaper, the Dayton Evening News, in 1898. Now, Cox Enterprises is a diversified communications, media and automotive services company with annual revenues of more than $17 billion from a brand portfolio that includes Autotrader, Kelley Blue Book and more. Its subsidiaries are Cox Communications, Cox Media Group and Cox Automotive. James C. Kennedy, grandson of the founder, is chairman of the board.
Read: Where Millionaires Like Oprah and Mark Cuban Were in Their 20s
Make Your Money Work Better for You
4. The Cargill-MacMillan Family: $45 Billion, Agribusiness
Cargill Inc. is America's largest private company, reports Forbes. The company earned $120.4 billion in sales and other revenues on everything from chocolate to livestock feed in the 2015 fiscal year. Family members still own 88 percent of this company, which was founded as a small grain storage business in 1865 by W.W. Cargill. In 1909, the company was later led by son-in-law John MacMillan. Today, the combined clan includes 14 billionaires, which is more than any other family.
3. The Mars Family: $80 Billion, Candy
Three siblings — Forrest Jr., Jacqueline and John — own 100 percent of Mars, which is the largest candy company in the world, reports Forbes.  Founded in their grandfather's kitchen in Tacoma, Wash., the candy conglomerate now boasts $33 billion in annual sales of Snickers, M&Ms and even Sheba cat food. The three owners sit on Mars Inc.'s board of directors but have no active role in day-to-day company operations.  
Keep reading: The 20 Fears That Are Keeping Your From Being Rich
2. The Koch Family: $86 Billion, Energy & Diversified Holdings
Brothers William and Frederick Koch sold their shares of Koch Industries in 1983 for around $700 million — a reported $1 billion, according to Daily Finance — but spent years fighting for more from brothers Charles and David Koch. An unsuccessful lawsuit, spearheaded by William, sought $2 billion from the two brothers who maintained control of the company founded by their father in the 1930s.
The four brothers have reportedly laid the feud to rest. With more than $100 billion in annual revenue, Koch Industries is the country's second-largest private company in the U.S., reports Forbes.
1. The Walton Family: $149 Billion, Retail
Six members of the Walton family own nearly 54 percent of shares in Wal-Mart Stores Inc., which has a current market capitalization of more than $200 billion. Wal-Mart has grown from a single store opened by Sam Walton in 1962 in Rogers, Ark., to become the world's largest retailer, bringing in $482.2 billion in net sales this fiscal year from nearly 11,000 stores in 28 countries.
Wal-Mart heiress Alice Walton has a personal net worth of $30.5 billion. Her brother, Jim Walton, has a net worth of $32.1 billion.
About the Author