The Best $35 Tony Robbins Ever Spent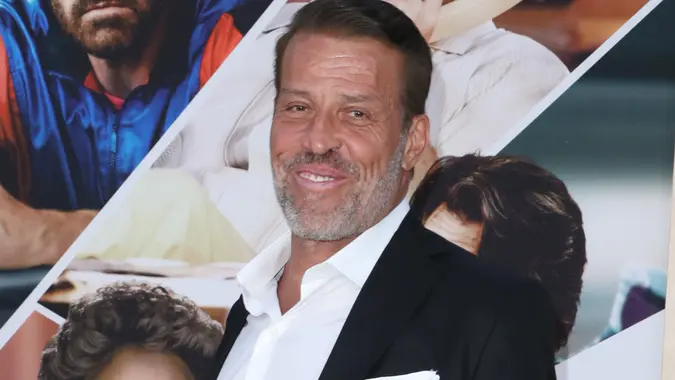 Matt Baron / BEI / Shutterstock.com
Personal development guru Tony Robbins might have a net worth of $600 million, according to Market Realist, but he worked hard to get there. And he credits his success to one simple $35 decision.
As Capitalism.com reported, Robbins came from poverty and suffered childhood trauma, yet became one of the most recognizable motivational speakers and life coaches globally. His products include "80s infomercials, self-help seminars, best-selling books, his Fiji resort and an award-winning documentary," per the same site.
Robbins' circumstances did not allow him to go to college. In turn, he worked as a janitor, earning $40 a week.
He began following the work of motivational speaker Jim Rohn and decided to attend one of his seminars for $35 — almost a week's pay, according to Capitalism.com.
"I first saw Jim speak when I was 17, and he introduced me to a new way of thinking. He taught me that if you want anything to change, you must change. If you want things to get better, you've got to get better," Robbins wrote on his website. "And that the secret of life is working harder on myself than on the job, or a specific skill, or anything else. Jim taught me that as soon as I committed myself to excellence, I would really have something to give others. And that's a big part of what makes life meaningful for me."
Make Your Money Work Better for You
According to Capitalism.com, Robbins became Rohn's assistant and mentee, organizing Rohn's seminars — something which also enabled him to develop his motivational speaking style, largely by watching Rohn.
"Soon, Robbins was taking his seminars on the road. People loved it. By the time he was 26 years old, Tony had added best-selling author to his title and was a millionaire," Capitalism.com detailed.
More From GOBankingRates