From California to Scotland: 9 of Donald Trump's Most Expensive Golf Courses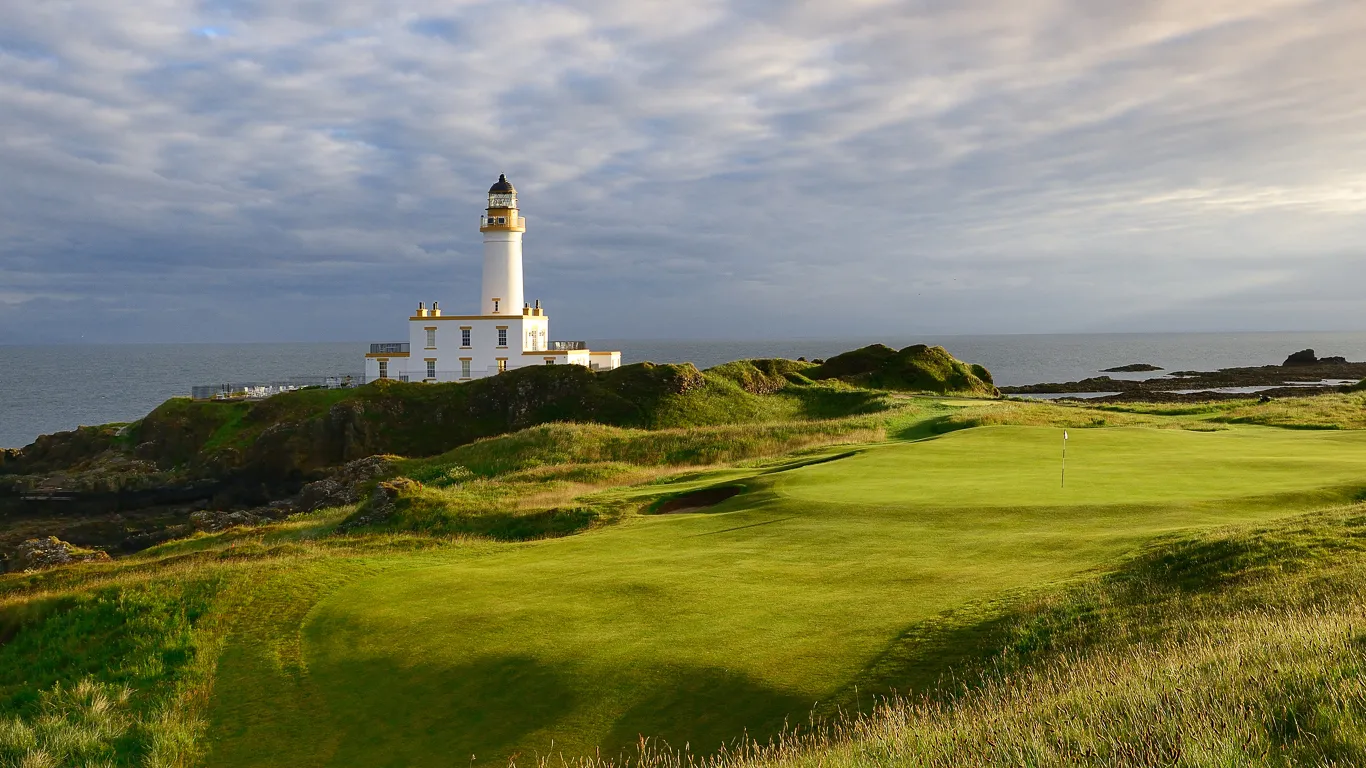 Spoiler alert: President-elect Donald Trump is a rich man. His brand is money before anything else. And one of his grandest financial ventures has been in golf. Trump has 17 golf courses and clubs around the world. Trump International Golf Club in Dubai, for example, is set to open in 2017. It's described as a 7,205-yard, par 71 course designed by the famous golf course architect Gil Hanse.
Here are nine of Trump's golf courses that have been evaluated for various aspects of their financial values. How much does it cost to play 18 holes on a Trump-built green? Not pocket change.
Trump International Golf Links, Scotland
Trump bought this 1,800-acre Aberdeen property and marked his first European golf venture in 2006. "Of course my preference was Scotland over any other country because I am half Scottish," Trump wrote. Once purchased, Trump invested an estimated $150 million into construction.
Trump International Golf Links near Aberdeen has one golf course that goes through sand dunes, a clubhouse, restaurant and 19 rooms for rent in the renovated mansion and former carriage house, The Washington Post reported.
This golf course is open to the public. Green fees cost $310 on weekends or $233 on weekdays, reported CNN.
Trump National Golf Club, Los Angeles
Trump National Golf Club was purchased by the President-elect after a 1999 landslide ruined the 18th hole, Trump told Golf Magazine in January 2005. Trump then spent $264 million on remodeling the course before re-opening it in spring 2005. Trump said that rebuilding the 18th hole alone cost $61 million, calling it "the most expensive golf hole of all time."
The course, located on the cliffs in Rancho Palos Verdes, remains public with green fees ranging from $80 to $280. Trump National has donated approximately $5 million to multiple charities since opening.
Make Your Money Work Better for You
Trump Golf Links at Ferry Point, New York
If you're just visiting New York, it will cost you up to $50 more than a New York resident to hit the links at the public Trump Golf Links at Ferry Point. The rate for a New York resident to golf 18 holes Monday through Thursday is $144 and $172 on the weekends. Rates vary depending on what time a resident decides to golf, and there is a discount for military members.
The golf course at Ferry Point resides in the Bronx. The course has golfing legend Jack Nicklaus all over it, being described as "an 18-hole, Jack Nicklaus Signature Design."
Ferry Point cost $127 million to build, according to The New York Times, and Trump officially began operation of Ferry Point in 2012.
Trump Turnberry Resort, Scotland
Turnberry has been home to one of golf's most prestigious tournaments, The Open, four times since the 1970s. Trump reportedly bought Turnberry from Leisurecorp, a Dubai government subsidiary, for 35 million pounds or approximately $43.7 million in 2014.
Trump Turnberry is a public golf resort and green fees vary depending on if you are a hotel guest at Turnberry or a visitor. If you're a visitor, it could cost you upward of 350 pounds, or about $437, to golf on the Ailsa green (which is where The Open was held) on any given weekend of 2017. Applications for membership are also available.
Trump International Golf Links, Ireland
In February 2014, Trump purchased what was then called the Doonbeg Golf Club and renamed it Trump International Golf Links Ireland. Doonbeg had been placed on the market a month earlier for a reported price of 12.4 million euros, which equates to a little more than $12.9 million U.S. dollars.
The golf course spans more than 400-acres, with two-and-a-half miles of course facing the Atlantic Ocean. It is an 18-hole championship-style golf course and has been named the No. 1 Resort in Europe by Condé Nast Traveler. The golf course itself is a "par-72" layout.
The County Clare course is public with the option for golfers to become private members. A membership includes exclusive amenities such as a piano room, private locker rooms and a members-only bar. Private and group golf lessons are also offered, as is the option to book for a wedding or private event. Golf rates range from 50 euros (about $53) to 190 euros (about $200) per person.
Make Your Money Work Better for You
Trump National Doral Golf Club, Miami
Doral proclaimed bankruptcy in 2011, before the Trump's — namely Trump's daughter, Ivanka Trump — swooped in to snag the "deal of a lifetime." According to a 2013 Forbes story, Ivanka worked out a deal that closed in summer 2012 "to pay a bargain-basement price of $150 million" for the Miami property.
Find Out: How Trump's Kids' Fortunes Have Changed Since the 2016 Presidential Campaign
Trump National Doral is public golf property with four different courses. One of which, Blue Monster, has been home to the World Golf Championships-Cadillac Championship for years. In fact, a PGA event has been held at Blue Monster since 1962. But starting in 2017, the tournament will move from Doral to Mexico.
Blue Monster is the most expensive course to play with a rate of $450 as of January 2017. To play the Red Tiger course, it costs $250; the Golden Palm costs $250; and the Silver Fox costs $195. All rates include a golf cart and exclude taxes, caddie fees and gratuity.
Trump International Golf Club, West Palm Beach
Trump International Golf Club in West Palm Beach, Florida is the first golf course ever acquired by Donald Trump. It was built for tournament caliber play and measures 7,326 yards from the back tees.
Trump bought the club from the Ritz-Carlton in 2012 for $5 million. This is a private golf club, so green fees and golf rates are not available.
Trump National Golf Club, Westchester
Trump National Golf Club in Westchester, New York is located just 30 minutes from midtown Manhattan. The property spans 7,291 yards and includes a 101-foot waterfall on a par-3 hole.
The club opened in 2002, and Trump has said that he spent $60 million on it. The 101-foot waterfall alone cost $7 million.
This is a private golf club with membership fees starting at $250,000. Former President Bill Clinton is listed among its VIP members.
Make Your Money Work Better for You
Trump National Golf Club, Washington, D.C.
The private Trump National Gold Club, located just outside Washington, D.C., will serve as host to the 2017 Senior PGA Championship.
The club, which features two 18-hole championship courses, opened in 1993 along the Potomac River in Potomac Falls, Va.
Green fees for weekdays and weekends are $120.
Due to its proximity to the White House, it's safe to say that Trump will likely be hitting the links on this course.

BEFORE YOU GO
See Today's Best
Banking Offers