Could Election Cash Surge in South Carolina Unseat Lindsey Graham?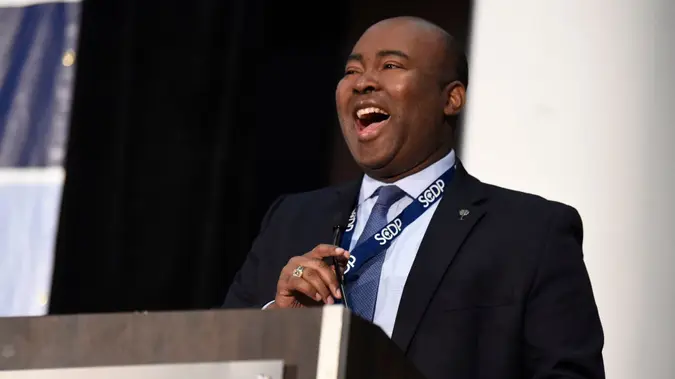 ©Meg Kinnard/AP/Shutterstock
Anyone wondering whether advertising really makes a difference in political campaigns can look to the South Carolina race between incumbent Republican Sen. Lindsey Graham and his challenger, Democrat Jamie Harrison.
South Carolina has not voted for a Democratic senator in 22 years, and few took Harrison's challenge to Graham's seat seriously. That is, until Harrison's campaign raised a record-breaking $57 million last quarter. According to Harrison's campaign, this figure is the "single largest fundraising total" for any Senate candidate.
As of June, Graham had raised $29.9 million and spent $15.4 million, while Harrison raised $28.6 million and spent $18. But by the third quarter, Harrison had reported his eye-popping number of $57 million, which the campaign claims is made up of more than 1 million individual donors who contributed around $37 each.
While Graham's campaign tried to claim that 90% of Harrison's donations were from "out of state" donors, as of the end of June, his own campaign's out-of-state contributions were not much lower, at 86%.
Make Your Money Work Better for You
Harrison has been praised for a grassroots campaign that has done well in voter outreach, particularly with Black voters, who see themselves in a candidate who looks like them and speaks to their values. "So much of his story is our story, the African American community's story," JA Moore, a Black lawmaker and rising Democratic figure in South Carolina told NBC News. The Harrison campaign has invested heavily in advertising, outspending Graham nearly 7 to 1.
Not only has Harrison's financial windfall unsettled Graham, who told Fox News in September that he was "getting killed financially" by Harrison, but the bump in fundraising also appears to be paying off in the polls. The Cook Report moved the race out of the category of a sure thing in Graham's favor to a "toss up."
Money might just matter more in this race than you might think.
More From GOBankingRates
Make Your Money Work Better for You