Donald Trump: 19 Surprising Spending Habits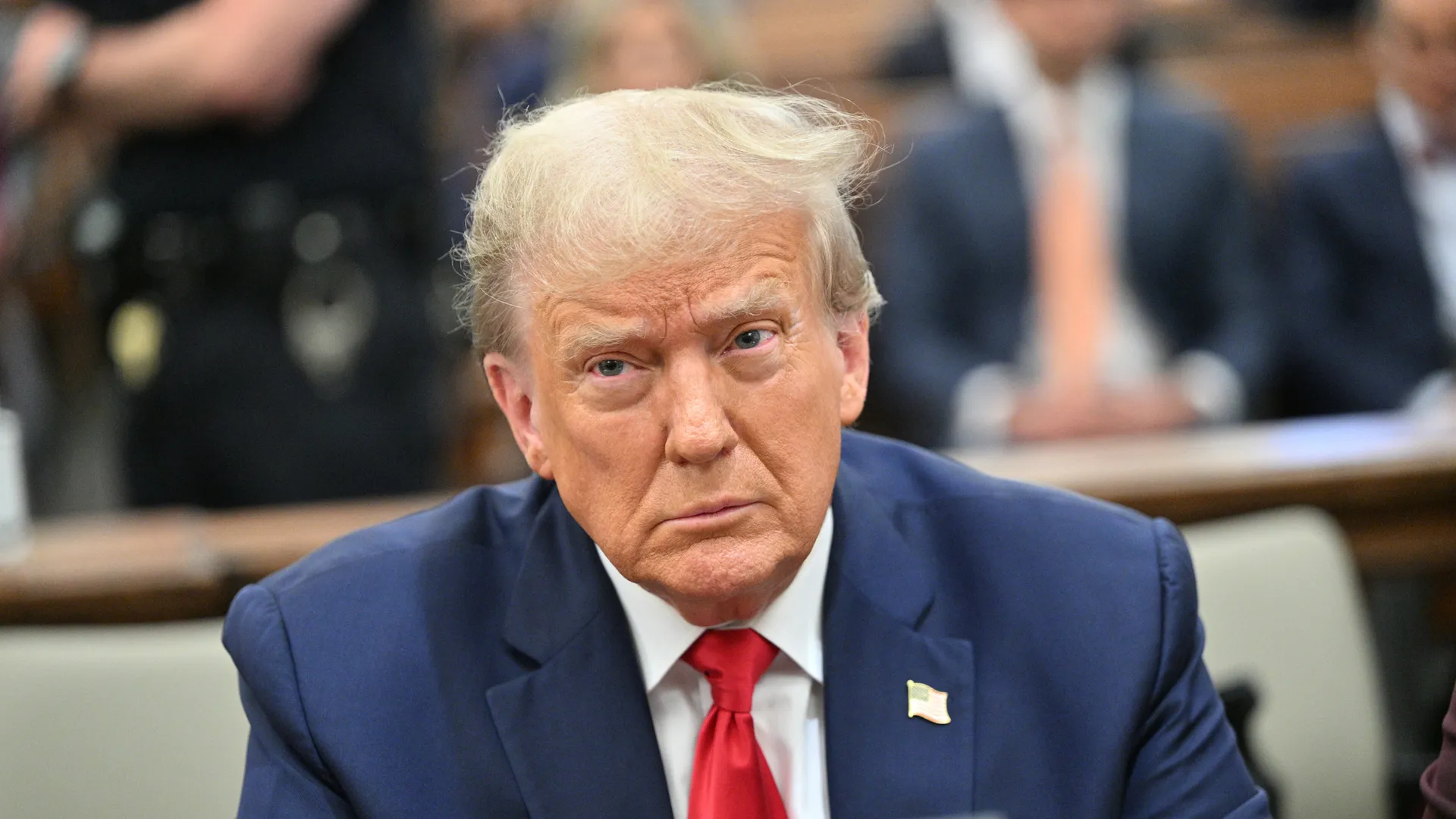 He's never been shy about his bigly purchasing power, but as president, Donald Trump's spending habits have attracted more attention than ever.
From pricey haircuts and megamansions to golf courses and Italian suits, he doesn't want for any material objects.
While many of the president's favorite things are expensive beyond comprehension, some are surprisingly affordable. Dive in to see what a wealthy person can afford to buy.
Outfitting His Boeing 757-200
Deemed "Trump Force One" during the 2016 election, the former president's personal plane is a 757-200 purchased from Microsoft co-founder Paul Allen in 2010. Trump claims to have spent $100 million on this ride, but a CNBC report asserts that he paid less than $50 million. Operating expenses for a plane this size total roughly $8,000 to $13,000 per hour, according to Forbes.
Most 757-200 jets seat more than 230 passengers, but Trump's is equipped for just 43 people. After purchasing it from Allen, Trump spent $10 million on renovations, including adding gold seatbelt buckles, gold service buttons and a 24-carat, gold-plated sink. The jet is also equipped with a state-of-the-art multimedia system and plush leather chairs for lounging.
Make Your Money Work Better for You
Chowing Down on Fast Food
A fast-food aficionado, Trump is loud and proud about his affection for eateries like McDonald's and KFC. During a February 2016 town hall, he revealed that the "fish delight" is his favorite choice from McDonald's.
McDonald's does not offer a "fish delight" menu item; however, it is likely the former president was referring to the restaurant's Filet-O-Fish sandwich. As a solo order, the sandwich costs around $4.69, rising to $7.69 if he makes it a meal with fries and a drink — talk about a great value.
Purchasing Luxury Cars
As a former president, Trump doesn't do much driving these days. He is accustomed to being driven around. However, the billionaire also had chauffeurs usher him around New York in a limo during his civilian days.
Despite rarely putting the pedal to the metal himself, Trump boasts a pricey collection of luxury cars. The auto enthusiast's fleet includes a 2015 Rolls-Royce Phantom and a 2015 Mercedes-Benz S600, which start at $400,000 and $100,000, respectively, according to Kelley Blue Book. However, it's unlikely that Trump settled for the basic package on either purchase.
Dressing in Brioni Suits and Shirts
He once had an eponymous clothing line at Macy's, but you won't catch Trump shopping at the mall. A lover of Italian menswear clothier Brioni, he had the company supply his attire for "The Apprentice," noting that his suits came straight off the rack.
Brioni might be too rich for the average buyer's blood. The designer's Primo suit costs $3,950, and the Brunico style retails for $5,700.
Cleaning Up With Head & Shoulders Shampoo
Because Trump's mane is a key element of his signature look, you might think he washes it with an exclusive shampoo, but you'd be wrong.
In a 2011 Rolling Stone interview, Trump said he uses Head & Shoulders to keep his locks clean. The anti-dandruff shampoo can be purchased at most drugstores for approximately $2.29.
Shampoo isn't the only thing Trump refuses to pay top dollar for. In fact, buying generic is an important money lesson Trump shares in the book "Trump: Think Like a Billionaire."
Make Your Money Work Better for You
Buying Paintings and Portraits of Himself
Many art collectors lean toward a certain artistic movement. For Trump, that genre is himself.
In 2013, Trump directed art collector pal Stewart Rahr to spend $100,000 on his behalf for a 9-foot oil painting of himself by artist William Quigley at a charity auction in the Hamptons. In 2007, he reportedly purchased a $20,000, 6-foot portrait of himself during a fundraising auction at his Mar-a-Lago estate. However, the funds for this piece came from the Donald J. Trump Foundation, not Trump's own pocketbook, according to The Washington Post.
Buying Expensive Homes
Best described as palatial, Trump's homes cost a pretty penny. Since the early 1980s, Trump has held court in a Trump Tower triplex penthouse apartment, which cost an estimated $12 million to build. More than three decades later, the lavish 30,000-square-foot property is worth an estimated $100 million and costs millions to secure today.
In 1985, Trump purchased Mar-a-Lago, a 118-room home in Palm Beach, Florida. Now serving double-duty as an exclusive private club, the property cost Trump between $10 million and $15 million. More than 30 years later, the posh estate is valued between $200 million and $300 million, according to Fortune.
Displaying Rare Books
Many people opt to decorate their coffee tables with interesting books for visitors to peruse. Trump takes this practice to another level. His idea of an intriguing coffee table book is "GOAT: A Tribute to Muhammad Ali."
Residing in his New York City apartment, the book has an estimated value of $15,000. Only 1,000 copies were printed, and each individually numbered book was signed by both Muhammad Ali and Jeff Koons, the book's author.
Snacking on Lay's Potato Chips and Diet Soda
Some billionaires snack on caviar and Cristal, but not Trump. While he was in the White House, he kept it fully stocked with Lay's potato chips for when he needed a refresher. One 8-ounce bag of Lay's Classic Potato Chips costs around $3.50.
Trump claims to have abstained from alcohol his entire life. However, in a 2012 interview with CNBC, he admitted to being a fan of all kinds of soda. A 24-pack of Diet Coke costs around $8, making each can approximately 33 cents.
Make Your Money Work Better for You
Giving to Charity
In 2020, The New York Times obtained Trump's tax information spanning more than two decades, which revealed approximately $130 million in personal and corporate charitable contributions reported to the IRS. However, roughly $119.3 million of that was charitable deductions on his various real estate properties — including his Seven Springs estate in Westchester County, New York, and the Trump National Golf Club in Los Angeles.
As for the donations, a 2016 Washington Post probe highlighted some of the bigger gifts, including $1 million to the Marine Corps-Law Enforcement Foundation and $100,000 to a Baton Rouge, Louisiana, church ravaged by flooding — both in 2016. He also gave an undisclosed donation of less than $10,000 to the Police Athletic League of New York City in 2009.
His charity, the Donald J. Trump Foundation, was dissolved in 2018 amid allegations of a "shocking pattern of illegality" from the New York Attorney General's Office.
Dining at New York City's 21 Club
He's certainly not a food snob, but Trump doesn't always opt for casual eateries. Prior to becoming president, he was a long-time regular at New York City's posh 21 Club.
In a 2017 Bloomberg interview, 21 Club representatives revealed that Trump always orders the 21 Burger, which costs $36. He orders his burger well done, topped with American cheese and paired with a virgin Bloody Mary, iced tea or Diet Coke. The restaurant staff knows him to tip well occasionally but not always.
Showering Melania With Gifts
Trump enjoys giving his wife, Melania, expensive gifts. For their 10th wedding anniversary in 2014, Trump gave the her a 25-carat diamond ring worth an estimated $3 million. However, in April 2018, CNN reported that Trump was too "busy" to get Melania a birthday gift.
Make Your Money Work Better for You
Splurging on a Megayacht
He's no longer sailing the ocean, but in 1987, Trump purchased a 282-foot megayacht from the Sultan of Brunei for a reported $29 million. The Sultan acquired the boat from Saudi businessman and arms dealer Adnan Khashoggi. Always negotiating, he later revealed that he scored a $1 million discount for agreeing to change the boat's name from Nabila, the name of Khashoggi's daughter.
Trump spent $10 million on renovation for the boat, renamed the Trump Princess. However, by 1989, he had decided to upgrade. Trump announced plans for a nearly 500-foot yacht. The new megayacht was never built due to Trump's financial troubles. Ultimately, he turned the Trump Princess over to his creditors, who sold it to Saudi Arabian Prince Al-Waleed bin Talal for a reported $19 million in 1991.
Accessorizing With Hermes Ties
Trump's expensive taste in suits pairs perfectly with his penchant for designer neckties. In his book, "Trump: Think Like a Billionaire," he cites Hermes and Brioni as his tie brands of choice.
Ties from the Paris-based Hermes average $195 each.
Running for President
Campaigning for the 2016 presidency wasn't a cheap matter for Trump. He poured $66 million of his own money into the campaign, according to campaign finance disclosures. However, Trump-related businesses received $11 million in payments from his campaign, so he was likely able to recoup some of his expenses.
During the 2020 campaign, in contrast, Trump never donated to his own re-election bid. Instead, according to Forbes, he continually shifted money from his campaign fund to his own businesses.
Make Your Money Work Better for You
Hairstyling
Trump is known for his famous mane, and that elaborate coiffing doesn't come cheap. He spent more than $70,000 on hairstyling during his run on "The Apprentice," according to The New York Times.
He's also generously footed the bill for daughter Ivanka's polished look. Nine Trump entities have written off at least $95,464 to a favorite hair and makeup artist of the elder daughter, according to The New York Times.
Golf Courses
An avid golfer, Trump is truly at home on the golf course, because he owns 19 of them. He purchased his largest — Trump National Doral, near Miami — for $150 million in 2012, according to The New York Times.
Taxes
You'd think a tycoon like Trump would pay a heavy tax bill each year, but he paid no income taxes at all in 10 of the past 15 years, according to The New York Times. The former president paid $750 in federal income taxes the year he was elected and another $750 his first year in office.
Not Paying Contractors
One of the most notorious aspects of Trump's business career has been his repeated failure to pay contractors and workers he hired, ranging from plumbers and painters to architects and lawyers.
Many of these contractors say they were forced to accept less than they were owed or go bankrupt, while Trump boasted about his wealth and success. Trump has defended his actions by saying he withheld payment only when he was dissatisfied with the quality of the work, and that he was a shrewd negotiator who saved money for his businesses.
Laura Beck contributed to the reporting for this article.
Photo disclaimer: Photos are for illustrative purposes only, and some images may not be photos of the actual items included in this article.
More From GOBankingRates