Grant Cardone Says Doing What You Love Won't Make You Wealthy: Here's What To Do Instead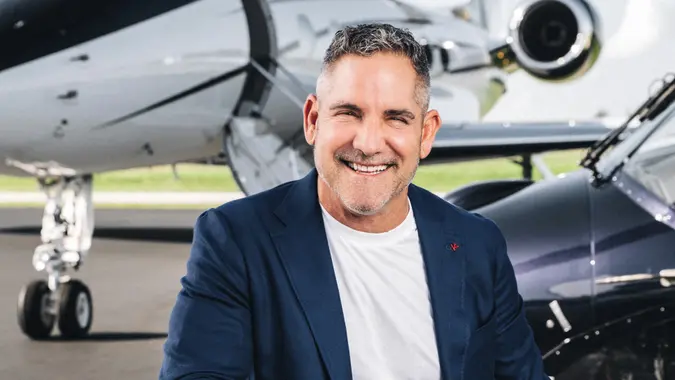 There's a popular saying: "Do what you love and you'll never work a day in your life." And while that may be true, it doesn't mean that doing what you love will make you rich.
"This idea that 'money won't make you happy' and 'don't just do it for the money' and 'find something you're good at' — none of this creates wealth for people," Grant Cardone, serial entrepreneur and author of the upcoming book The Wealth Creation Formula told GOBankingRates.
Here's what Cardone says you need to do instead.
Follow the Money
The best way to build wealth is "to literally study money," Cardone said. "The people that are getting wealthier are following the money."
Cardone gives the example of Jeff Bezos and Amazon. "Jeff Bezos saw the numbers of people that were moving to the internet," he said. "I think a lot of people misunderstand the story."
While many people see Bezos' initial launch of Amazon as a business centered around books, Cardone said that actually wasn't at the core of Bezos' business idea.
"That's not what he saw," Cardone said. "What he saw was the number of people [moving to the internet]. Money follows people, so don't look at what you're good at, or even what you're passionate about — look for where the flows are."
Make Your Money Work Better for You
Fix Your Money Mindset
Another common misbelief about wealth and money that could be holding you back is the belief that money is limited and scarce.
"People need to get their heads fixed around money," Cardone said. "Most of us grew up in situations where there's scarcity, where mom and dad worried about money, where people fight about money. We're constantly being told, 'money is terrible,' 'money won't make you happy' — all this misinformation. It's not true."
Cardone said it's actually the opposite, and that you need to embrace the fact that money is abundant and therefore accessible to you.
"Money is one of the most abundant manufactured commodities on planet Earth. There's nothing scarce about it," he said. "Money is to be used to create wealth. I believe we get indoctrinated to believe that the money game is a tough game when it's actually not."
More From GOBankingRates