Grant Cardone Says This Is How You Can Turn $5K Into $1 Million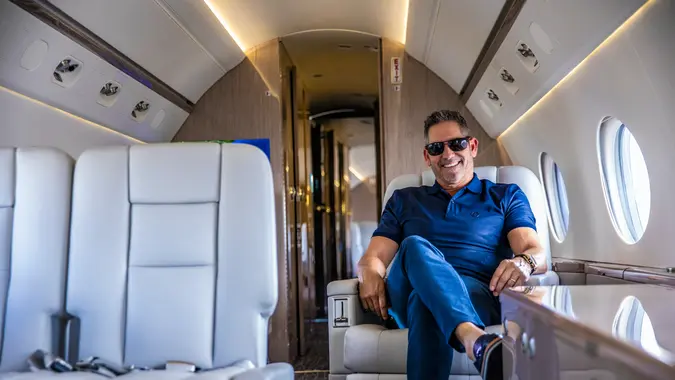 ©Grant Cardone
Entrepreneur, speaker, investor and "The 10X Rule" author Grant Cardone had more than $1 million in the bank by the time he was 33. He says he started by saving $5,000 every year, and then making smart investments along the way.
Along with those investments, Cardone has written multiple books on how to be successful in business in addition to creating more than 20 business programs to instruct people how to grow their own ventures. As an entrepreneur himself — he's the CEO of Cardone Enterprises and of Cardone Capital — he believes you, too, can build an empire like he has. Here's how he says you can make a fortune starting with $5,000.
Save, Save, Save
To make $1 million, you can't be spending money unwisely. You have to really put your focus on saving.
For this plan of turning $5,000 into $1 million to work, you'll need to save $5,000 a year for at least the first five years. That's $412 a month, roughly. Cardone himself saved $5,000 each year from ages 25-29, setting him up with $25,000 in his savings account before he turned 30. Even if you are older than this, it's still a good goal to set.
Start Shopping Real Estate
Money in a savings account doesn't make money by itself — it has to be put to work. When Cardone turned 30, he began looking for homes he could buy and eventually sell for a substantial profit.
Make Your Money Work Better for You
"I got rich shopping real estate. At 30 years old, all I did every weekend was make money, make money, make money and push it aside," Cardone said.
He says this earned him $25,000 a year from ages 30-32. That's $75,000 in three years that he earned from his investments. This already beats the amount he was making in the years prior. Instead of just saving money, he was earning money on top of it.
There's one very important reason to make investments part of your portfolio, and that's because of the return you're guaranteed. Cardone says the goal is to find an investment that will earn you 20% of your investment every year. Then, you can reinvest what you earn and get more back over time. Cardone says his average deal now earns him 30% a year. "By the time I was 33 years old, I had $1,125,127 in [my] account." 
According to Cardone, only investments will get you this type of cash consistently, whereas just having one job or stream of income can't really guarantee that kind of exponential monetary growth.
"You can't just say 'I'm 20% better. Give me 20% more money.' And even if you could, you'll do it one time. Not every year," said Cardone in reference to asking for a raise at a job. On the other hand, investments enable you to earn money every year based on increasing market value.
Look for Passive Income Opportunities 
Once you've created some capital, you'll want to look for ways you can invest in businesses that deliver income without you having to do any work. That's what Cardone does with Cardone Capital.
Make Your Money Work Better for You
"Cash flows every month. It provides me with passive income. It's got great tax advantages," Cardone said. 
Cardone Capital actually offers new investors the chance to put money into big real estate deals. On their website, Cardone Capital says they acquire and manage real estate properties with a focus on both near-term income generation and long-term value creation. Cardone created Cardone Capital to provide everyday investors access to the institutional-grade real estate deals that are normally reserved for only the largest investors.
"Anybody can invest with me. I want to do this game for you and show you how to multiply money."
More From GOBankingRates