Grant Cardone Says 'You Have an Income Problem' If You Still Live With Your Parents: Here's How To Earn Money Fast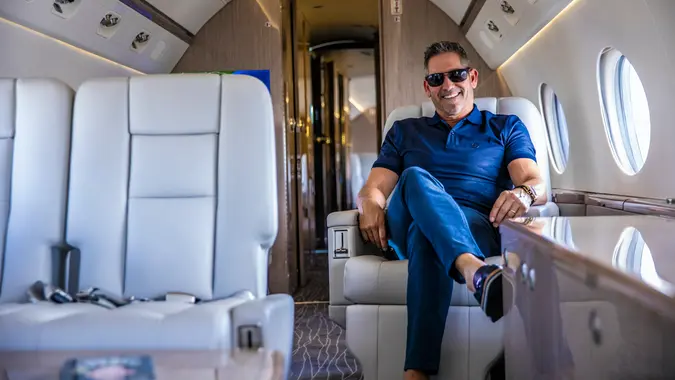 ©Grant Cardone
In our current economy, many young people are living at home with their parents. According to U.S. Census data from 2022, 30% of millennials were not living on their own.
Upon graduating college, it's become almost the norm for millennials and Gen Z to move back home. These generations are moving back in with their parents at much higher rates than previous generations — but why is this?
Money expert Grant Cardone believes it's not a debt problem, but an income problem — though the two are interrelated. With Cardone's tricks for earning money, he hopes that young people will see that debt can quickly become a thing of the past so they can focus on their futures.
Make Increasing Your Income Your Priority
Debt accumulates when you don't earn enough money to pay it off. Cardone believes that the focus should be on looking for ways to increase your income rather than focusing on your debts.
"Don't listen to people who say that your first priority should be on paying off debt," Cardone wrote in a LinkedIn post. "Once your income rises, you'll be able to pay off your debts so much faster and easier."
This may mean finding a higher-paying job, or even working side hustles or a part-time job to earn extra money. Millennials and Gen Z should adopt a money-making mindset that will help them earn more in order to eliminate debts.
Be Willing To Move To Make More Money
Young workers oftentimes find comfort in living at home. They may enjoy the financial and emotional security that living with their parents provides.
"If you are a millennial [or Gen Z-er] in debt, think about moving elsewhere in order to increase your income," Cardone wrote in his post. "If you're still in your hometown, struggling to find a job that will pay you anything, relocate to where you will have more opportunities."
In a society heavily influenced by the lingering effects of a pandemic, many young people are scared to make big changes and find great comfort in their childhood environments. Cardone believes that this fear is holding them back.
Pursuing a lucrative job in another city or even another state might be the decision that needs to be made to increase your income and pay off debt.
Reconsider College
Many young people believe that college is one of the most secure ways to earn a living. However, this is not always the case.
"Getting an education is a good thing, but there are other options to consider," Cardone said on LinkedIn. "If you are still young, I suggest graduating high school and then working for two years before attending college."
One of the biggest issues with college is its high cost. To get a degree, it's not uncommon to take on thousands of dollars in debt. By not going immediately into a four-year bachelor's program, young people are given the opportunity to work in the real world. They may find a lucrative job in a field that does not require a degree and may decide that college isn't right for them in the end.
Conclusion
Though in this day and age it is normal for young adults to still be living at home, it is not the ideal situation for personal or financial growth. Young people should feel empowered to step out of their comfort zones in order to chase a higher income, whether that be through a new job, relocation or taking a non-traditional path in life.
By considering Cardone's advice, it is possible to eliminate debt by increasing income.
More From GOBankingRates