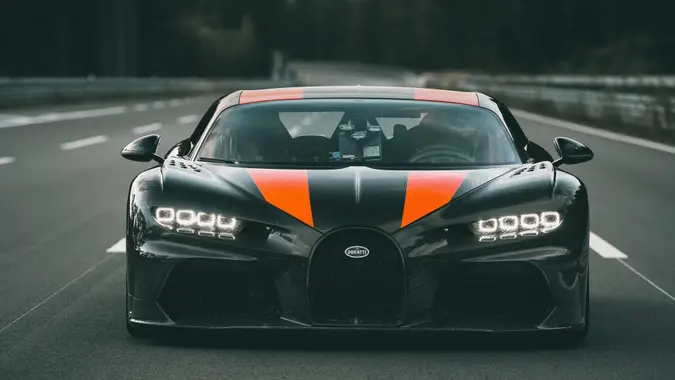 ©Bugatti
In the world of sportscars, a Bugatti is in a class by itself. Deemed a hypercar, a Bugatti can hit speeds exceeding 300 mph. On a list of the 11 fastest cars, Bugatti models hold three of the slots. The Bugatti Bolide is the fifth fastest car in the world, capable of speeds exceeding 310 mph.
What Is a Bugatti?
Bugattis are some of the smoothest accelerating, tightest cornering playthings of the elite 1% on the road. To call a Bugatti a sports car doesn't give it justice, hence, the moniker "hypercar." These vehicles start at $1.9 million, but the price can go much higher, too. Maintenance on the vehicle can cost as much as $50,000 per year. And if you need new tires? That could run you $38,000.
Why Are Bugattis So Expensive?
The vehicle's lightweight, carbon fiber body is a handcrafted work of art. But what's under the hood is what gives the car its power. According to Luxe Digital, the Bugatti sports a W16 engine powered by four turbochargers. That W16 designation indicates 16 cylinders, or two VR8s placed side by side. You may find a V6 engine in a relatively affordable Ford F-150 pick-up truck, Dodge Durango or Chevrolet Traverse crossover SUV.
You'll find a V8 in higher-end luxury vehicles like a BMW M5, a Ford Mustang GT or a Dodge Charger Hellcat Widebody. But W16s are harder to come by. Enthusiasts on Quora estimate that a W16 engine, if you could get one outside of buying a Bugatti — which you can't — would cost close to $100,000 for the engine alone.
Make Your Money Work Better for You
History of Bugatti

Bugatti has a long history as a global masterpiece, with its roots spanning from its birthplace of Alsace, France, to Germany, where the brand was purchased by the Volkswagen Group in 1998. It's interesting that the vehicle was originally launched by the Italian industrial designer Ettore Bugatti in France and later purchased by a German manufacturer. Its lineage makes the Bugatti a truly international symbol of excellence.
How Much Is the Cheapest Model Bugatti?
Bugatti Veyron: $1.9 million
Those who are in the market for a Bugatti typically aren't concerned about budgetary constraints or settling for anything less than a fully loaded hypercar with all the luxuries. But you may be wondering, what's the lowest price you can pay for a Bugatti?
You can snag a Bugatti Veyron for "just" $1.9 million. That's because this "entry-level" model is the slowest in the Bugatti line, having a top speed of a respectable 258 mph.
How fast is that, exactly? For some perspective, you'd run out of highway before you could achieve the top speed. This car needs an airplane runway to maximize its potential. However, you can get to roughly one-fourth of its top speed, or 60 mph, in 2.6 seconds. Launched in 2006, the car set records for speed and benchmark for all Bugatti vehicles thereafter to exceed.
That's the good news. The bad news is that, according to Bugatti.com, the Veyron 16.4 Super Sport is "completely sold out."
Make Your Money Work Better for You
How Much Does a 2020 Bugatti Cost?
Cost: $2.9 to $3.9 million
The successor to the Veyron, the Bugatti Chiron was first introduced in 2016 with a sticker price of $2.9 million. The goal for the car, according to Bugatti ex-president Wolfgang Durheimer, was that it has to be "better than the Veyron in every respect."
There are many trim packages and versions of the 2020 Chiron available, ranging in price from the original $2.9 million model to the Chiron Super Sport 300+, which lists for $3.9 million.
Chiron Bugatti
The 2020 Chiron Bugatti has a standard 1,500 horsepower engine, powered by 16 cylinders. It goes as fast as 261 mph, although Luxe Digital speculates that its wide Michelin tires could give it a top speed of 270 mph or more. The car can hit 186 mph in less than 13.6 seconds. And if you're looking for cornering capabilities, the Chiron can take turns at 124 mph.
Despite its speed and handling, the Chiron is lacking in some features you might expect for a car with this price tag, according to CarandDriver.com. It doesn't have driver-assistance technology, lacks storage space, and doesn't have an infotainment screen, either. These are standard amenities on many vehicles at a fraction of the price. But few cars have the cache of a Bugatti, either.
If you want all the bells and whistles along with top speeds, you'll need to upgrade to one of the other 2020 models, like the Chiron Sport 110 Ans Edition for $3.26 million or the Chiron Sport for $3.3 million. The Chiron Sport 110 Ans Edition celebrates the company's 110th anniversary and was created as a limited edition of just 20 models. That means the car's resale value is likely to be much more than its sticker price — if any of its 20 anonymous owners would be willing to part with theirs.
Make Your Money Work Better for You
Chiron Sport 110 Ans
Cost: $3.26 million
The Chiron Sport 110 Ans pays homage to the car's roots in France, with a two-tone blue paint job and tricolor detailing that mimics the French flag with shades of blue, white, and red. The eye-catching design, with flag accents and embroidered anniversary medallions, set this model apart
If you can't get your hands on the limited-edition model (and you probably can't!) you may settle for a $3.3 million Chiron Sport, also with a top speed of 261 mph and a 16-cylinder 8-liter engine. The motor delivers 1500 horsepower and 1,180 lb-ft. of torque, according to CarandDriver.com.
Chiron Super Sport 300+
Cost: $3.3 million
The Chiron Super Sport 300+ notches up the vehicle's performance with 1578 horsepower. In test drives, a similar model hit a little more than 304 mph on the track with Andy Wallace at the wheel, which is apparently where the 300+ moniker comes from. The 2020 Super Sport 300+ would set you back $3.9 million.
How Much Is a 2021 Bugatti?
Cost: Nearly $3 million  
Now that we've explored the 2020 models, you may wonder if Bugatti raised its prices in 2021. According to CarandDriver.com, a 2021 model will run you the same price as one from 2020 — roughly $2.99 million for the standard model and $3.3 million for the Chiron Sport.
The car still lacks amenities like Apple CarPlay, onboard infotainment or semi-autonomous driving features. But it's just as fast as its predecessor and will turn heads like very few other vehicles on the road today.
For $3.9 million, the Chiron Super Sport 300+ still boasts speeds exceeding 300 mph — on a closed track with a professional driver, of course.
New in 2021, Bugatti added the Chiron Pur Sport to its lineup. This $3.6 million model has suspension upgrades, a 110-pound lower curb weight and a rear spoiler for better aerodynamics, according to CarandDriver.com. Only 60 of these limited-edition sports cars were manufactured.
Make Your Money Work Better for You
How Much Is the Most Expensive Bugatti?
Cost: $12 million
While any model of Bugatti will turn heads, if you are looking for the ultimate bragging rights you might want to look at the world's most expensive Bugatti, the La Voiture Noire, costing around $12 million.
It's triple the price of the Chiron Super Sport 300+ and be described as a hypercar that is simply "one of a kind." The Bugatti La Voiture Noire — French for "black car" — features a carbon fiber body for a sleek look unlike anything else on the road. Under the hood, you'll find the same technology as the Chiron: a quad-turbo W-16 engine capable of 260+ mph. But its art deco design, inspired by the original Bugatti Type 57SC Atlantic from 1936, sets this car apart.
Reports say the original 57SC Atlantic was hailed as the first supercar. With a top speed of just 123 mph, however, today's Bugattis would leave this classic in the dust.
Other Bugatti Limited Edition Models
If $12 million seems a bit steep for a supercar, Bugatti does a handful of other one-off models at slightly lower price points.
Bugatti Divo:
Cost: $5.4 million
The Bugatti Divo has a sticker price of $5.4 million. Although the Bugatti website lists it as a one-off, Luxe Digital reports that there are actually 40 of these in existence. The car is lighter than the Chiron, but based on the same components including that famed 1,500 horsepower, W16 engine.
Bugatti Centidieci
Cost: $8.6 million
The Bugatti Centodieci, which means 110 in Italian, is even more powerful than other models, boasting a 1,600-horsepower engine. It accelerates faster than prior models, hitting 186 mph in just 13.1 seconds. Bugatti made only 10 of these limited-edition cars, and they sold for $8.6 million each.
Make Your Money Work Better for You
Final Take
Bugattis are one-of-a-kind in the world of luxury sports cars. The limited-edition models, with only a few dozen — possibly even less — produced are highly coveted, engineering masterpieces built for sportscar enthusiasts, collectors and the world's elite.
While their primary purpose may be to go fast, few drivers will ever achieve the car's top speed. These cars are designed to give the ultimate handling experience and to capture attention when you come squealing up to the valet and stop on a dime.
You might be surprised that anyone is willing to pay this much for a car, but most Bugatti models sell out as soon as they reach one of their Bugatti Partners, with locations across the world, including Miami and Broward County, Florida.
Information is accurate as of Nov. 7, 2022.
Our in-house research team and on-site financial experts work together to create content that's accurate, impartial, and up to date. We fact-check every single statistic, quote and fact using trusted primary resources to make sure the information we provide is correct. You can learn more about GOBankingRates' processes and standards in our editorial policy.