How Much You'd Need To Earn To Be as Rich as Famous US Politicians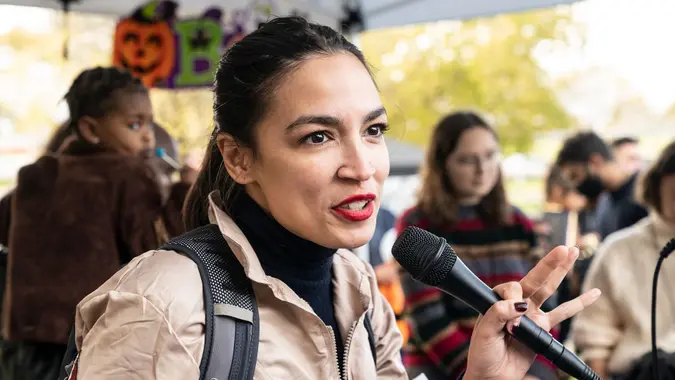 Lev Radin/Pacific Press/Shutterstock / Lev Radin/Pacific Press/Shutterstock
Although the president and the highest-ranking legislators zip around on Air Force One under the watchful eye of the Secret Service while en route to lavish fundraisers that command six figures per plate, people don't go into public service to get rich. Most public servants — including elected officials — make humble salaries that afford them average lives. 
Some politicians, however, are as famous and instantly recognizable as pro athletes and A-list actors — and they have net worths that are as big or bigger than those of even the most celebrated stars. Here's a look at what some of the most famous politicians are worth, from those who are just comfortable to the ultra-rich.
See: 14 Key Signs You Will Run Out of Money in Retirement
Find: 15 Best Work-From-Home Jobs for Retirees
Alexandria Ocasio-Cortez
The progressive firebrand popularly known as AOC rose from humble roots to national political fame after becoming the youngest woman ever elected to Congress at the age of 29. A former bartender, N.Y. Rep. Alexandria Ocasio-Cortez successfully primaried an entrenched and powerful Democratic incumbent in one of the biggest upsets of the 2018 midterms. With a net worth of $100,000, she's one of the few members of Congress whose personal fortune is less than the $174,000 that the position pays to all but the top leadership.
Make Your Money Work Better for You
According to public records from 2017-18 published by Reuters, AOC had less than $15,000 in a checking account, brokerage account, and 401k at that time, and earned $21,875 from her 2018 congressional campaign. The year before, she earned $3,588 at the New York City restaurant where she worked.
See: Are You Doomed to Work Forever? What You Can Do if Your Social Security Isn't Enough
Ron DeSantis
Public office has been good to the private finances of Ron DeSantis, the Florida governor who made himself a rising star in the GOP by molding his politics in the image of Donald Trump. DeSantis reported a net worth of $348,832 on the very last day of 2020, an increase of more than $57,000 from the $291,449 he reported one year earlier at the end of 2019, according to public records published by the South Florida Sun Sentinel. Ron DeSantis' salary is $134,181 per year.
Find: 27 Most Lucrative Side Hustles for People Over 50
Bernie Sanders
The first millionaire on this list is a democratic socialist who earned his political celebrity through decades of battling economic inequity and calling out the corruption of the ruling class. Bernie Sanders — whose 2016 presidential campaign included a young Alexandria Ocasio-Cortez as a volunteer organizer in the South Bronx — has an estimated net worth of $3 million.
In 2019, back when Sanders was worth just $2.5 million, Forbes reported that his wealth could be traced to government pensions, investments, and real estate. Most of his fortune, however, came later, after Sanders added "best-selling author" to his resume. He penned three books — one per year — between 2016-2019, which combined for a seven-figure income.
Make Your Money Work Better for You
Read: Companies That Let You Work From Anywhere
Ted Cruz
Like AOC, Republican Sen. Ted Cruz takes home the standard congressional salary of $174,000, but the runner-up to Donald Trump in the 2016 GOP primary has an estimated net worth of $4 million.
In 2018, the last year that OpenSecrets profiled the Texas senator's finances, Cruz was worth about $3.2 million. His biggest investments were in oil and gas — about $1.43 million — with another $450,000 coming from securities and investments like finance, real estate, and insurance.
He's also an author. In 2020, Cruz earned $320,000 from his book sales, but according to Forbes, his campaign bought about $153,000 worth of those books.
Mitch McConnell
If you want to be as rich as Senate Minority Leader Mitch McConnell, you'll have to amass a fortune that runs well into the eight figures. Not only is the longtime incumbent from Kentucky one of the most powerful elected officials in America, but he has a net worth of $35 million.
Make Your Money Work Better for You
The great-grandson of a Confederate veteran of the Civil War, McConnell's senior position pays him $193,400, nearly $20,000 more per year than garden variety senators and congressional representatives. According to Forbes, McConnell's first job in D.C. out of law school in 1968 paid $17,000 a year — about $130,000 in today's money. He was elected to the Senate in 1984, and although he and his wife, Elaine Chao, broke the $10 million mark in 2006, according to Forbes, the wily political survivor's financial star truly soared in 2008 when a gift from Chao's father sent the couple's net worth skyward.
Nancy Pelosi
Like Mitch McConnell, Nancy Pelosi tops her fellow members of Congress both in rank and in salary. But she earns not $20,000 more per year than regular senators and representatives, but nearly $50,000 more. With a salary of $223,500, the speaker of the House of Representatives is the highest-paid member of Congress if you don't count the vice president, who can break ties in the Senate.
That salary accounts for just a fraction of her $120 Million net worth. USA Today cited several sources that show Pelosi owns millions of dollars in stock, real estate holdings, and business partnerships. She's also the owner of a company called Financial Leasing Services Inc.
Make Your Money Work Better for You
More From GOBankingRates
All net worth information is from CelebrityNetWorth.com unless otherwise stated.