How To Get Rich Quick: 5 Ideas for Making Bank in Short Order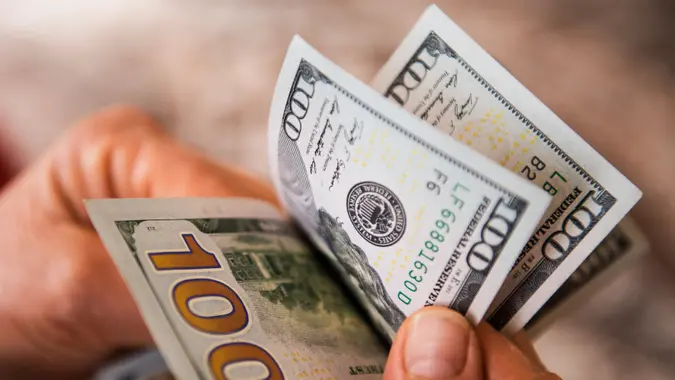 Ismailciydem / Getty Images/iStockphoto
Most financial advisors agree that slow growth works just fine when it comes to improving your net worth. There's wisdom in playing the long game, allowing compound interest and reinvested dividends to gradually grow your balance over time. Famed investor and world's sixth-richest person Warren Buffett swears by this strategy as well.
How To Get Rich Quick: 5 Strategies
At the same time, most of us know what it's like to wish our pockets were more flush with cash. If that's you, then here are five tips on how to get rich quick.
1. Build a Lucrative Side Hustle and Invest Your Earnings
Today, it's more possible than ever to create a lucrative side hustle. You can rent your home and stay with a friend, create an online course, write an ebook, offer freelance and consulting services in your area of expertise and much more.
Make sure that you won't need the money you're earning from that bustling side hustle to pay your bills, and then invest the portion that you won't need for income taxes. Set the dividends to reinvest and buy new investments every month — this is called dollar-cost averaging and it is known to be very effective.
2. Start a Business and Scale It Quickly
Many businesses struggle to grow, which is exactly why you should make it your mission to scale quickly. Hit the ground running with your business idea and grow it as quickly as you can. That might involve getting your brand strategy right, automating as much of your workload as you can, offering a consistently great product so your customers turn into brand evangelists in the process and making long-term plans even while you're running the race.
Make Your Money Work Better for You
3. Borrow Money To Pursue a High-Growth Business
When you think of building wealth, do you also think of accumulating debt to do so? Some of the world's wealthiest entrepreneurs are likely to tell you that they go hand-in-hand. Entrepreneur Grant Cardone, who filmed a TV show about turning $100 into $1 million in 90 days, believes in using debt as leverage and as a way to generate more cash flow.
Cardone invests in real estate, as does another financial influencer, Robert Kiyosaki of Rich Dad Poor Dad. Although staying out of debt is just good sense, the lived experiences of both Cardone and Kiyosaki would seem to indicate that, in certain cases, debt can be used wisely.
4. Go "All In" on One Stock
As some day traders might tell you, placing a big bet on one stock can seriously pay off. Although it's a high-risk move and one that goes against the general guidance to diversify, there are plenty of examples of people who earned money quickly by doing this. Investors who put $10,000 in AMC stock earlier this year, for example, saw a 1,789% return or so, making the investment worth more than $188,000 today.
5. Experiment With Cryptocurrency
Although cryptocurrency is known for big swings and those could cost you, it offers the kind of rapid-fire momentum that could make you rich quickly. For example, $1,000 invested in Ethereum could have become nearly $5,000 by springtime, when the currency was trading at $730.97 per coin. That's about a 471% return and the more that happens, the greater ability you will have to grow wealth quickly.
Make Your Money Work Better for You
Remember to Factor Taxes
As you increase your earning power, don't forget about Uncle Sam. You'll have to pay up to half of what you earn toward state and federal taxes, so know upfront that you won't be able to spend or even invest everything you earn without a big tax bill later. Set it aside upfront and be ready.
Also, remember that if you decide to make investments to pursue wealth, you'll want to think about how taxes could impact your strategy. For example, you're likely to pay higher taxes, called capital gains, on stocks you sell if you haven't held them for at least a year. Ask questions and do your research to keep cost burdens at a minimum if you're playing a short game with wealth.
Good To Know

Many people who have achieved notable wealth have cautioned against overestimating what money can bring into your life. Media mogul Oprah Winfrey has shared her belief that money is simply an energy exchange. As she puts it: "I am not my income. I am not the lifestyle my income can afford me. I let money serve its purpose. But I don't live to serve money."

Actor Jim Carrey has been even blunter about it, saying, "I think everybody should get rich and famous and do everything they ever dreamed of so they can see that it's not the answer."
Why Do You Want To Be Wealthy? Know Your Why
There's no inherent shame in the game of setting out to pursue wealth. In fact, there are leaders within marginalized communities who are encouraging people to do just that, like Rachel Rodgers at Hello Seven.
Make Your Money Work Better for You
"My form of activism is money," she says. For Rodgers and many others, the point of pursuing wealth is to expand opportunities for all people, especially those who have struggled to break barriers and create opportunities in their lives. Rodgers' company aims to empower women in particular. "We live in a world that is extremely unbalanced when it comes to women and money," the company's website says. "Our mission is to help you make more money. Period."
As you pursue wealth and opportunity in your life, take the time to ask yourself what you want that to look like, exactly. Personal finance expert Ramit Sethi, for example, encourages his readers to know their why. For Sethi, the why looked like providing his parents with choices in their retirement years, living a comfortable lifestyle, being in charge of his career options and being able to see his friends and family often. What will yours be?
Our in-house research team and on-site financial experts work together to create content that's accurate, impartial, and up to date. We fact-check every single statistic, quote and fact using trusted primary resources to make sure the information we provide is correct. You can learn more about GOBankingRates' processes and standards in our editorial policy.