What Is Generational Wealth and How Can You Build It?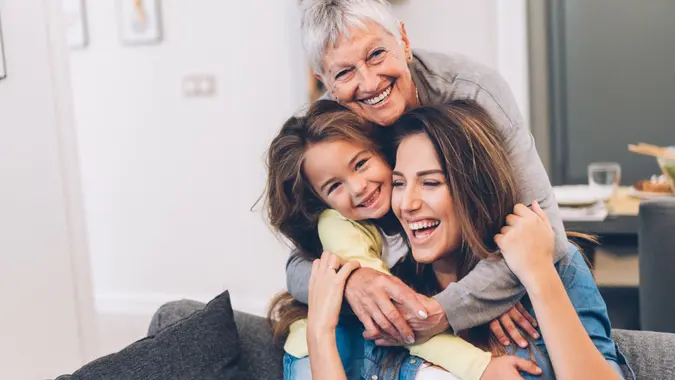 filadendron / Getty Images
You've probably heard about the term generational wealth and thought of the kind of financial legacy you'd like to leave for your children. Perhaps you've taken more vital steps to buy life insurance to act as financial security or set up a will regarding the distribution of your property to your loved ones once you're gone.
But you might not have thought of how your children's inheritance will be passed down to younger generations. This is where generational wealth comes in — which means anything you leave behind for your children could carry on from one generation to the next.
If you have no idea where to get started, don't worry. Keep reading to understand what generational wealth is, why it is important, how you can build it, and how you can pass it on to your loved ones.
What Is Generational Wealth?
Generational wealth is a collection of financial resources passed down across multiple generations in a family. If you can leave behind a noteworthy inheritance to your descendants, that's generational wealth. This could include anything from money, real estate, stock market investments, business to anything else with monetary value.
Many people think of money when it comes to inheritance. But you can pass along skills and values that your children can use to build better lives and create wealth that could eventually be passed down to your grandchildren.
That said, if you're building a business, investing in stocks or real estate so that you can leave them behind for your kids, then you're contributing to the growth of generational wealth in your family.
Make Your Money Work Better for You
What Is the Importance of Generational Wealth?
People who inherit generational wealth have financial advantages over those who do not. For example, when you fund your children's college fund, they don't have to struggle to pay off student loans. Instead, they could be saving towards purchasing their first home or future retirement.
Generational wealth creates a solid foundation for your descendant's financial success, who can continue to build sustainable wealth over many generations.
How Can You Build Generational Wealth?
Building generational wealth can seem intimidating, especially if you have no idea how to get started. However, it's possible if you have a solid financial strategy. To generate wealth that you can pass down to your children, you need to save money or obtain resources you won't spend in retirement.
It is, therefore, crucial to save for retirement and other financial goals before you go down the road toward building generational wealth. Here are seven ways to build generational wealth.
1. Invest in the Stock Market
Investing in the stock market is perhaps a great way to generate long-term wealth. However, it can be daunting if you've never tried it before. As a beginner, it would be best to start by investing in inexpensive index funds. An index fund is a type of mutual fund or exchange-traded fund designed to match the components of a financial market.
You can also make money from stocks through income from dividends and capital appreciation. Regarding generational wealth, focus on long-term investments and watch them grow in value.
Make Your Money Work Better for You
If you're risk-averse, you can consider investing in robo-advisors. A robo-advisor is an automated platform that provides financial planning services, such as portfolio management, based on your preferences and needs.
2. Invest in Real Estate
Investing in real estate is another way to build generational wealth. When you buy properties, you'll grow your real estate portfolio and the property will increase in value over time. While the idea of building wealth through real estate can be discouraging, the journey is worth it.
When a generation inherits real estate property after paying the cost of owning and operating a rental, they can start receiving ongoing cash flows. Rental income from real estate has many tax advantages, like the ability to claim depreciation as a tax deduction.
If you want to create wealth for your children, consider investing in real estate.
3. Create a Business to Pass Down
Approximately 90% of all U.S. businesses are owned and controlled by families. Building a business to pass down to your children is creating generational wealth. To successfully build a business for your beneficiaries, you need a solid plan.
While not all family businesses make it to the second or third generation, yours can make it if you align your interests and abilities with your children's. Involving your children from when you start building the business is crucial. This way, they'll learn how the company operates at a younger age to a point where they can run the business successfully in the future.
Make Your Money Work Better for You
4. Invest in Your Child's Education
Another viable way to build generational wealth is saving college funds for your children. If you're in a position to pay for your children's college education, you're setting them up for success. After obtaining a college degree, they'll probably secure high-paying opportunities that can help them navigate their finances.
Many people are still struggling with student loans — with more than 44 million borrowers owing $1.6 trillion in student loan debt. Chances are, those numbers will skyrocket in the future. In the case of generational wealth, you are keeping more funds accessible to your family by lifting the financial burden of paying for your child's education.
5. Invest in Life Insurance
You probably don't want to leave your loved ones in distress once you pass away. Life insurance acts as financial security in case of untimely death. Your family won't have to pull out money from their savings to accommodate your burial expenses.
If you can invest in life insurance now, you're building generational wealth. This is because you'll prevent the financial tragedy that could befall your children when you're gone.
6. Educate Your Children About Personal Finance
It is pretty easy to lose generational wealth if your heirs don't have financial knowledge. Teaching them about personal finance will not only equip them with the skills but also protect wealth. Simply put, it will prevent the loss of generational wealth.
7. Save Money Strategically
You can also build wealth by saving money. After accumulating cash from your rental income from real estate, stocks, and other investments, you need to save. You can put the funds in a tax-advantaged savings account where it will continue to grow.
Make Your Money Work Better for You
How Can You Pass On Generational Wealth?
Once you've accumulated assets, you need to see to your affairs and ensure a smooth transition of your wealth. Depending on your goals, here are four options to pass on generational wealth.
1. Write a Will
A will is a great way to pass down generational wealth according to your wishes. Setting up a will have you set clear guidelines about who gets your assets. If you have no idea how to write a will, you can work closely with an attorney to draft a specific will. You can also include a will in an estate plan.
Without a will, your family members might fight over your property once you're gone. You can prevent the financial battle between your loved ones by setting clear and up-to-date guidelines in a will.
2. Name Beneficiaries for Your Accounts
Another way to pass down wealth to the next generation is by naming beneficiaries for all your accounts. Naming your beneficiaries in your financial accounts will reduce the hassle of receiving the funds for your family, once you pass away. Regularly update the names from time to time in case of any changes.
Takeaway

You don't have to wait until retirement or when a medical issue arises to pass down your wealth. Once you've accumulated your assets, you need to pass down generational wealth to your children in a way that will ensure a smooth transition of your assets.
3. Create an Estate Plan
An estate plan is much more similar to a will. Passing away without an estate plan can drag your loved ones to a lengthy probate process to determine how assets should be allocated. To eliminate family messes, create an estate plan with the help of an attorney.
Make Your Money Work Better for You
A legal professional will draft a financially sound estate plan depending on your goals and assets. An estate plan will not only protect your beneficiaries and young children but also spare them the tax bite from the Internal Revenue Service.
4. Set up Custodial Accounts
Setting up custodial accounts for your children is a simple way to pass down wealth. A custodial account is a savings account at a bank, brokerage firm, or any other financial institution managed by an adult for a minor. Depending on the state's laws, a minor is a person under the age of 18 or 21 years.
Funding these accounts is like investing in your children's financial future. The adult managing the account can spend this wealth, as long as it's for your beneficiaries' benefit.
Bottom Line
Building wealth that can last several generations is not a walk in the park. Whatever strategy you find satisfying to build wealth — be it real estate, business, or educating your heirs about personal finance — go for it.
Your children can use the funds to pay for college tuition, buy their first home, or any other thing they need.
Our in-house research team and on-site financial experts work together to create content that's accurate, impartial, and up to date. We fact-check every single statistic, quote and fact using trusted primary resources to make sure the information we provide is correct. You can learn more about GOBankingRates' processes and standards in our editorial policy.