10 Most Expensive Custom-Made Items in the World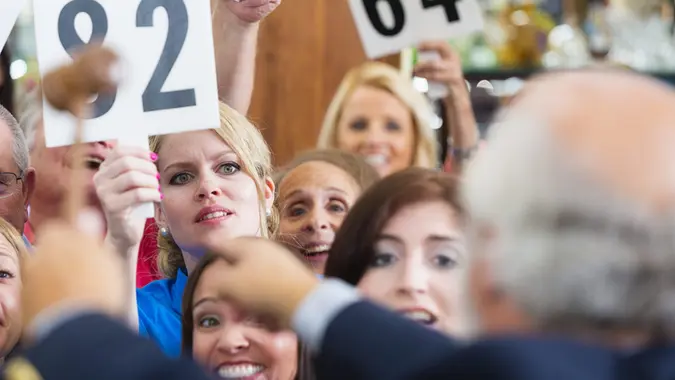 RichLegg / Getty Images
Sometimes, you see something so expensive that you can't fathom how someone could have the money for this purchase. It can even be fun to look at some absurd purchases made by the ultra-wealthy to get a glimpse into what it's like to have unlimited money. We looked up some of the most expensive custom-made items that rich people have purchased over the years.
What are the most expensive custom-made items in the world? 
Heintzman Crystal Piano: $3.22 Million
The world's most expensive piano was produced by Canadian piano manufacturer Heintzman & Co. The transparent piano constructed of crystal was custom-made for the 2008 Beijing Olympic Games. Since we're on the topic of pianos, an honorable mention has to be made about the one used to compose "Bohemian Rhapsody." Freddie Mercury's piano sold for over $2 million at an auction recently. 
Business.com: $350 Million
The domain business.com sold for $350 million back in 2007. You may have heard of domain flipping as a side hustle, but apparently, you could sell some domain names for millions. Purchasing custom domains has been a profitable venture since it can be difficult to get the preferred name that you would like for a business. It was reported then that RH Donnelley outbid Down Jones and the New York Times to make this purchase. 
It's worth noting that the domain was originally flipped for $7.5 million back in 1999, which was considered a record-breaking price. There's no telling what the next price of this domain name will be if it gets flipped yet again. 
Make Your Money Work Better for You
History Supreme Yacht: $4.8 Billion
While some expensive yachts are out there, we found one that tops them all. The History Supreme yacht sold for $4.8 billion. The 100-foot yacht is covered in gold and platinum and took three years to complete. The yacht has over 220,462 pounds of gold and platinum. 
What makes this yacht so unique is that the owner is as mysterious as the vessel. It's been stated that Stuart Hughes built the custom-made luxury yacht for a Malaysian businessman. 
Air Jordan Shoes: $2.2 Million
You may have seen the Michael Jordan documentary or heard about his memorabilia selling for thousands at auctions, but the newest record was set when a pair of his trainers sold for $2.2 million. Jordan wore his size 13 custom-made shoes in the 1998 NBA Finals and signed them afterward. While the shoes weren't worth that much when originally made for Jordan, the value at auctions has been astronomical.
It's also worth sharing that a jersey Michael Jordan wore during the 1998 NBA Finals sold for $10.1 million last year. Many items worn and signed by Jordan that were originally custom-made for him have become expensive items at auctions.
The Antilia Mansion: $2 Billion
This is considered one of the most expensive custom-made private homes in the world. It took four years to build the custom property for Mukesh Ambani, the billionaire owner of Reliance Industries. It shouldn't be a surprise that it took this long, considering the home has three helipads, a garage that fits 168 vehicles, nine different elevators and multiple floors solely for plants in downtown Mumbai.
Michael Jackson's Jacket: $65,625
The pop icon's jacket sold at an auction for $65,625 when Kim Kardashian purchased it as a gift for her daughter North. The custom-made jacket was worn by Michael Jackson when he attended Elizabeth Taylor's 65th birthday party in 1997 and then at a viewing of his movie "Ghosts." The custom-made jacket has been once again altered for the new owner, and there's no telling what it could go for if sold again. 
Make Your Money Work Better for You
Paul Walker's Toyota Supra: $550,000
The custom-made Supra used in two "Fast and Furious" movies by Paul Walker's character ended up selling at a Las Vegas auction for $550,000. The joke writes itself about how quickly the noticeable "10-second car" sold. 
Darth Vader Helmet: $900,000
A "Star Wars" fan purchased the Darth Vader mask and helmet for $900,000 at an auction in 2019. It was originally estimated that the custom-made item would go for $400,000, but the final price was more than double. These masks and helmets are considered highly sought-after items because of the plot of the "Star Wars" movie they originated in where Darth Vader revealed to Luke Skywalker that he was his father.  
'The Card Players': $250 Million
While the art market has produced some expensive sales at auctions, a notable item sold is the Paul Cézanne painting known as, "The Card Players" to Qatar. The popular French artist created this masterpiece at the beginning of the 20th century and the remaining pieces in this series can only be found in museums. This oil painting depicts two farmhands from Aix-en-Provence and the original owner kept it private for years. The record-setting deal went through in 2011, but the details didn't come out until the next year. 
The Dream Jet, Boeing 787: $300 Million
The luxury jet known as a Flying Mansion is worth $300 million, but you could charter it for $74,000 per hour. Deer Jet purchased the aircraft in the summer of 2016. The production was a challenge for designers since the 787 is made mainly from carbon fiber instead of traditional aluminum.
More From GOBankingRates