Rihanna, Oprah and More of the Richest Black Women in the World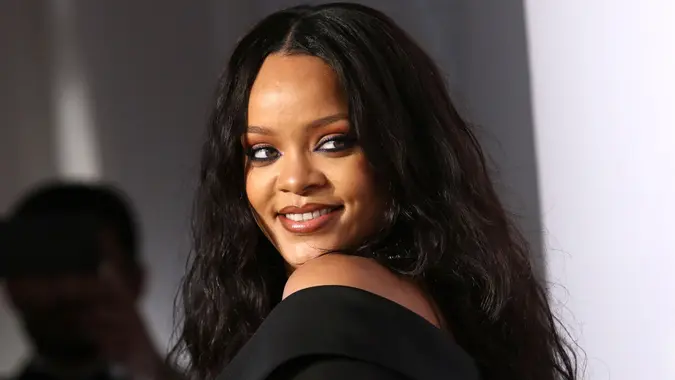 JStone / Shutterstock.com
Black women, particularly those who live in the U.S., have to contend with both the gender wealth gap and racial wealth gap. For every $1 the average white man in America earns, the average Black woman earns just 69 cents, according to data from the U.S. Census Bureau.
Explore: Industries With the Biggest (and Smallest) Racial Pay Gap
Discover: Oprah, Melinda Gates and 8 More of the Richest Women in History
Despite these barriers to wealth, these women have gone on to achieve enormous wealth. In honor of Black Women's History Month, take a look at the top 10 richest Black women in the world.
10. Serena Williams
Net worth: $225 million, according to Forbes
Tennis great Serena Williams has accumulated a fortune both on and off the court. She has racked up $94 million in career prize money, Forbes reported. Williams also has a venture capital firm, a clothing line and owns stakes in the Miami Dolphins and UFC.
From Serena Williams to Michelle Kwan: The Richest Women in Sports
Make Your Money Work Better for You
9. Wendy Applebaum
Net worth: $310 million, according to Tuko
Wendy Appelbaum is the only daughter of South African business mogul Donald Gordon, who founded the insurance and real estate firm Liberty Investors. She previously served as a director at Liberty Investors and was one of the company's largest individual shareholders, until she sold her shares to become cash-rich, Forbes reported. Appelbaum is the co-owner of a wine estate in Stellenbosch and a co-founder and deputy chairman of Women's Investment Portfolio Limited, which has over $150 million in assets.
8. Beyoncé
Net worth: $500 million, according to Celebrity Net Worth
Beyoncé may be married to a billionaire, but she has accumulated a large fortune on her own as both a member of Destiny's Child and as a solo artist. In addition to money earned from album sales and touring, Beyoncé has added to her wealth through her clothing company, Ivy Park.
See the List: Beyoncé, Taylor Swift and 25 More of the Richest Women in Music
7. Ngina Kenyatta
Net worth: $515 million, according to Tuko
Make Your Money Work Better for You
Known as Mama Ngina Kenyatta, the widow of Kenya's first president controls some of the largest privately-held land holdings in the country, Forbes reported. She controls about 500,000 acres of Kenyan land with an average price of $1,000 per acre. Kenyatta and her family also own Brookside Dairies — Kenya's largest dairy company — and stakes in Kenyan Television station K24, a timber production company and the Commercial Bank of Africa.
6. Janice Bryant Howroyd
Net worth: $620 million, according to Celebrity Net Worth
Janice Bryant Howroyd is the founder and CEO of ActOne, a provider of workforce solutions. She opened the business in Los Angeles in 1978 with $1,500, including a $900 loan from her mother; as of 2017, its estimated revenue was $950 million, Forbes reported. Now, it's seeing a yearly revenue close to $1 billion. Bryant Howroyd also owns several dozen properties, including commercial rental properties and residences.
Make Your Money Work Better for You
Read: Women Who Are Changing the Landscape of Finance
5. Sheila Johnson
Net worth: $750 million, according to Forbes
Sheila Johnson is the co-founder of the cable TV channel Black Entertainment Network. She founded it in 1979 with her then-husband Robert. Viacom bought BET for $2.9 billion in 2001, and a year later, Johnson got divorced and sold off her shares. She used that money to invest in hotels in Florida and Virginia — including the Innisbrook resort in Palm Harbor, Florida, which hosts an annual PGA Tour championship — as well as planes, real estate and horses. Johnson is also a film producer and produced 2013's "The Butler."
4. Hajia Bola Shagaya
Net worth: $959 million, according to Gulsea.com
Nigerian businesswoman Hajia Bola Shagaya is the founder and CEO of Bolmus Group International, a conglomerate with interests in oil, real estate, banking, communications and photography. The real estate development sector of her group builds and owns dozens of luxurious residential properties in some of Nigeria's most expensive neighborhoods, Forbes reported.
3. Folorunsho Alakija
Net worth: $1 billion, according to Forbes
Folorunsho Alakija is vice chair of Famfa Oil, a Nigerian oil company whose partners include Chevron and Petrobras, Forbes reported. Prior to Famfa Oil, Alakija started a fashion label whose clients included the wife of former Nigerian president Ibrahim Babangida.
2. Rihanna
Net worth: $1.7 billion, according to Celebrity Net Worth
Most of Rihanna's fortune comes from her business ventures rather than her music, Forbes reported. Her biggest moneymaker is her makeup line, Fenty Beauty, which she co-owns with luxury goods group LVMH. She also is the co-owner of the Savage X Fenty lingerie line.
1. Oprah Winfrey
Net worth: $2.6 billion, according to Forbes
Talk show-host-turned media mogul Oprah Winfrey reinvested the profits from her 25-year run on her namesake show into $2 billion, Forbes reported. Her media empire includes the cable channel OWN and O Magazine. She also recently signed a multiyear deal with Apple TV+.
More From GOBankingRates
Sam DiSalvo contributed to the reporting of this article.
Make Your Money Work Better for You