8 Vintage Kitchen Items That Could Be Worth a Fortune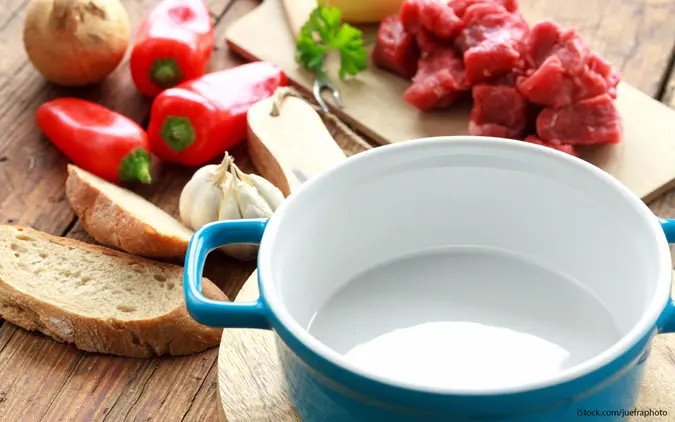 It's the heart of the home. It's the place we all gather to nurture, nourish and cherish. It's also a potential goldmine. We're talking about your kitchen, where you may have stored some vintage gems that could be worth a fortune. 
What are some vintage kitchen items that you should be on the lookout for in your cabinets and at thrift stores and how much might they be worth? Let's have a look.  
Vintage Cast Iron Skillets and Pots
That old cast iron skillet or pot may not look like much, but according to Sophia du Brul, appraisals expert at JustAnswer, these seemingly ordinary objects could be worth $100 or more each. 
"Look for older brands like Chicago Hardware, Wagner, Griswold and do not be afraid of some rust," du Brul said. "Chances are good that the pan you find at thrift store or estate sale has been neglected but these pans can easily be cleaned and reseasoned, ready for resale or your next camping trip."
Vintage Le Creuset
Even those who don't have a culinary flair may be familiar with the iconic brand Le Creuset. These pieces are the cream of the crop when it comes to resale value. 
"A favorite of Julia Child, these enameled cast iron pans last forever and can be worth several hundred dollars," du Brul said. "The oldest Le Creuset only came in flame (orangey red) and has an integrated handle in the lid.
Make Your Money Work Better for You
"Later, Le Creuset started to use a black asphalt knob and introduced dark green, dark blue and yellow to their color lines," du Brul said. "The newest Le Creuset has a stainless steel knob and now comes in a veritable rainbow of colors, including some limited edition colors."
All Le Creuset items are valuable, but the older the piece, the more it can be worth. And don't shy away from flaws — some can be easily fixed without negatively affecting value. 
"Look for chips in the enamel, but if the inside is black and crusted, just use oven cleaner to get it to look like new," du Brul said. "Le Creuset pieces can range from $25-$400. A good, vintage 28-size Dutch oven sells for $250-$350 at a vintage shop."
Waterford Colorcast
Another line of enameled cast ironware that can be worth a pretty penny comes from Waterford Colorcast. 
"Made in Ireland, this is another line of enameled cast iron from the '60s and '70s," du Brul said. "All of their pieces have a sleek, mid-century modern vibe in red, orange, yellow or white. Waterford Colorcast is fairly rare and not as well known as Le Creuset, but it resells at $50 and up."
Novelty Juice Sets
"Remember when all OJ was frozen OJ?" du Brul said. "So, you needed to have juice carafe to mix your frozen OJ in."
Now that frozen OJ is not so popular, these old juice sets are far less common and can be valuable today. 
Make Your Money Work Better for You
"Complete juice sets, carafe and little juice glasses with their cute enameled designs intact, can fetch $50-$100 a set," du Brul said. "Make sure the designs are nice and crisp on all the pieces."
Pewter Ice Cream Molds
You don't often see them around much anymore, which is why pewter ice cream molds are highly sought after as collectibles. 
"These can run anywhere from $30-$50 to a few hundred for rare molds," said Willow Wright, owner at Urban Redeux.
Vintage and Antique Metal Chocolate Molds 
"Additionally, vintage and antique metal chocolate molds are quite valuable," Wright said. "They range from wafer and cordial shape to larger molds that form a variety of seasonal animals like easter bunnies and Halloween cats. These will generally sell for well over $100 for the larger ones."
Select Pyrex Items 
Pyrex is pretty common so you'll have to be on the hunt for Pyrex pieces of value. Look for unique patterns and complete sets of mixing bowls which, according to Wright, can sell for hundreds and possibly even thousands of dollars.
Amber-Colored Mason Jars 
Amber-colored mason jars are, as Wright puts it, "Having a moment."
"The secondhand market [for these] is quite hot," Wright said. "These can go for hundreds of dollars depending on the age and condition."
Both Wright and du Bril recommend looking for these vintage kitchen items at thrift stores, yard sales and estate sales. 
"I've been able to find most of these items at yard and estate sales, but you might also consider thrift shops or your grandma's cupboards," Wright added. "When looking at vintage and antique items, be sure to do a little research to determine if you've got the real deal or a good reproduction. Condition of the piece will also have an impact on the ultimate value." 
Make Your Money Work Better for You
More From GOBankingRates