Home Renovations Worth Paying Someone Else To Do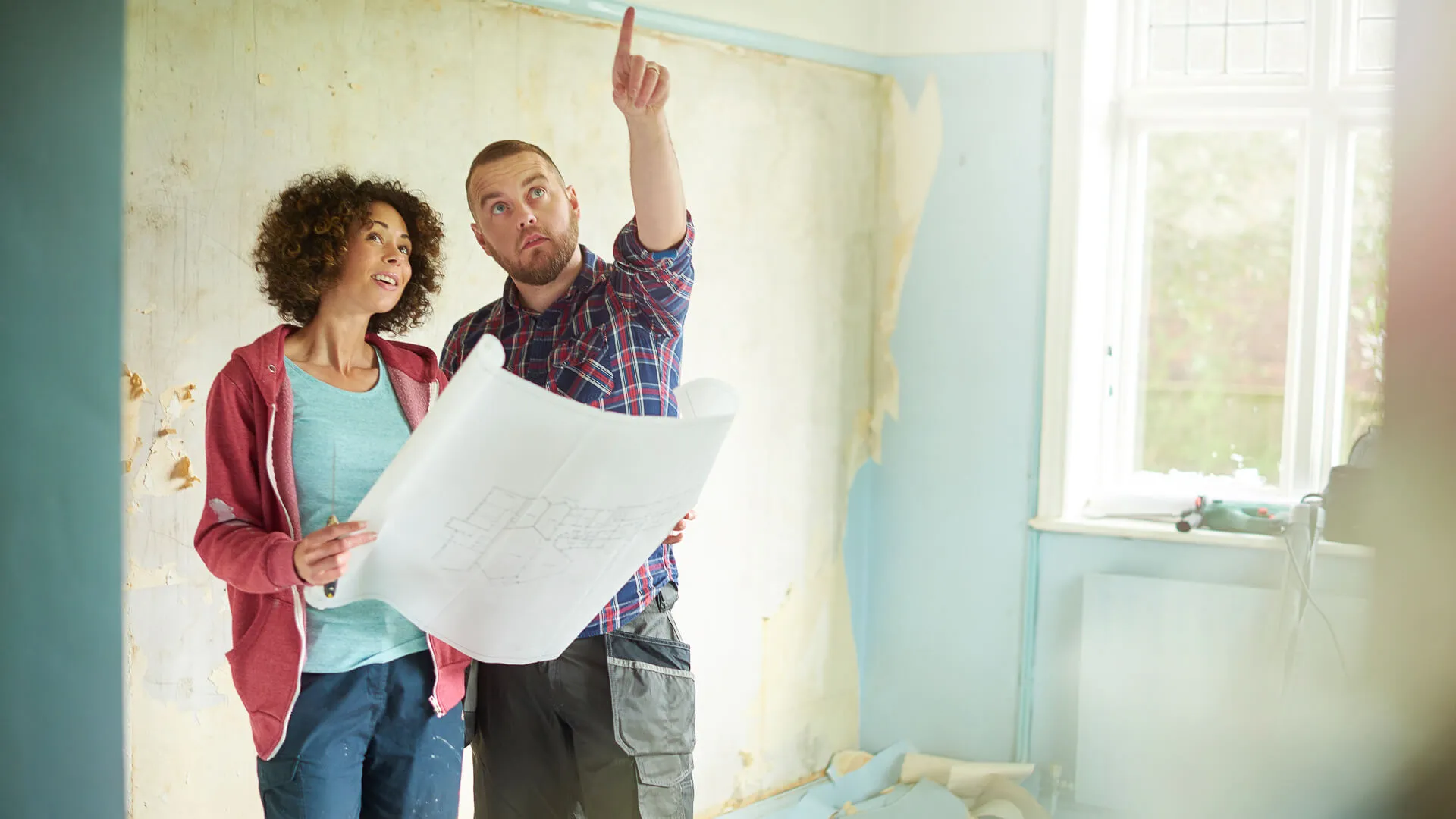 With a decent set of tools, a little bit of know-how and a healthy dose of courage, DIYers can save money and earn bragging rights by handling tough home renovation jobs themselves. Some house renovation work, however, is best left to the pros — and in some cases, the law demands it. Others are simply too dangerous or too complex for the average person to perform.
As a rule of thumb, remodeling work that could potentially end with homeowners blowing up, burning, crushing, zapping or poisoning themselves, their neighbors or their houses should be handled by the experts. Take a look at the top home renovations where it's worth paying someone who knows how to get the job done.
Converting Ovens and Cooktops From Electric to Gas
You can definitely clean your oven with some DIY cleaners, but only licensed contractors are permitted to install natural gas equipment, according to Consolidated Edison. The job requires work with both complicated gas and electrical systems and might involve converting electrical components from 240 volts to 120 volts, capping gas lines, converting two-pole circuit breakers to single-pole breakers, and both tapping into existing gas lines and running new ones. This is over the heads of most do-it-yourself amateurs, even if licensed professionals weren't required by law to do the job, which they are.
Cost To Have It Done: $125 to $2,000
Hooking up a gas stove is a fairly cheap and easy upgrade that won't blow your budget if supply lines are already installed, according to HomeAdvisor. But as Angie's List points out, an approximately $125 to $135 price tag can quickly snowball if you have to tap into a gas line or install a new one, particularly if the new line has to travel a long way to the source. The worst-case scenario is that the house has no existing gas service at all. When new service has to be added, a few hundred dollars can skyrocket to a $2,000 project.
Make Your Money Work for You
Replacing Hot Water Heaters
Replacing, removing, installing, and moving hot water heaters is home repair work that requires licensed professionals to obtain permits, one extra renovation expense you don't want to cut corners on. Another aspect of this complex, difficult, and potentially dangerous work deals with achieving proper ventilation, temperature control, and pressure control. DIYers risk not only reduced efficiency through mishaps like incorrectly installed insulation but there's also a risk of fire, explosion, leaks, and exposure to gas fumes, all of which are potentially lethal.
Cost To Have It Done: Approximately $1,100
It's important to pay attention to these renovation costs before buying because they might be reasons to not buy a house. Variables such as the size of your tank, its location, age and type–tank or tankless–all factor into the equation.
"Water heater replacement costs $600 to $1,800 for a tank or $800 to $3,500 for a tankless. A new 40- to 50-gallon hot water heater costs $330 to $2,000 for the unit alone, plus the plumber labor cost to install is $200 to $1,000" according to HomeGuide.com.
Gas water heaters range in price from $100 to $700 more to install than electric, which is another cost to consider. Like most home improvement projects, rules, and regulations can vary considerably by locale. In California, for example, codes require earthquake straps to be installed on hot water heaters, so be sure to study up on your local codes before starting the installation.
Demolishing a Wall
Some walls exist only for cosmetic purposes. Others partition open spaces into rooms or conceal necessary systems. Load-bearing walls, on the other hand, are critical to the structural integrity of your home, and if you want your renovations to pay off, you need to be careful before making them. If you want to remodel, such as moving to an open floor plan, remember that it's not always clear which walls serve as critical supporting structures and which ones don't. Also, it's hard to tell what's behind a wall, and even if you can definitively say that the wall you want to remove isn't load-bearing, it's likely that demolition requires a permit either way.
Make Your Money Work for You
Cost To Have It Done: Between $500-$2000
The national average cost for interior demolition is somewhere between $500 and $2,000, depending on if the wall is load bearing or not. HomeGuide.com estimates that "removing a load-bearing wall costs $4,000 to $10,000 for a single-story house, and between $9,000 and $15,000 for a multi-story home."
Expect your costs to be near the higher end of the spectrum if matters are complicated by the presence of electrical or plumbing systems feeding multiple appliances. Also, keep in mind: demolition creates debris. The cost of carting off that debris, which can be significant, will be built into your contractor's bill.
Asbestos Removal
Asbestos was once a commonly found material used for the construction of numerous public and commercial buildings prior to the 1980s. Since then, studies have definitively linked it to lung disease and some cancers. Modern builders don't use asbestos, but if you have an older home, it's possible to find asbestos on siding, roof shingles, hot water pipes, steam pipes, or in wall and attic insulation. This is not among the DIY projects you want to –or are allowed to–attempt on your own. Not only should you not attempt to remove asbestos by yourself, according to the Environmental Protection Agency, but you also shouldn't even disturb materials you suspect of being asbestos for testing purposes.
Cost To Have It Done: $20 to $65 per square foot
HomeGuide.com notes that "most homeowners end up spending between $1,212 and $2,821" for the removal. If your home needs a whole-home abatement, the total cost of "siding, tile, insulation, ceilings, attic, roof, and pipes can run anywhere from $15,000 to $48,000."
Asbestos is most dangerous when it becomes disturbed, and the process of removing it can send dangerous fibers airborne. Removal, therefore, requires special equipment, and disposing of it is more specialized and costly than normal construction debris, thanks to strict EPA removal guidelines. All of that is factored into the price of removing the toxic material, which isn't something you can DIY.
Lead Removal
Like asbestos, lead was, but no longer is, commonly used in building materials. The EPA issues strict regulations — and Congress has passed a wave of legislation — dealing with how lead must be removed, handled and discarded. Lead can be found in water, soil and even in the air, but homeowners are most likely to encounter it in paint applied years ago in older houses. This is not a do-it-yourself project.
Cost To Have It Done: Between $10,000-$30,000
Fixr.com reports that "the average homeowner spend[s] around $15,000 to remove lead paint in a 2,000 sq.ft. house." But dealing with lead is just one of the ugly realities and expenses that come with buying an older house. Your price will depend on the type and age of the paint, the amount of paint that has to be removed and the level of work involved with ensuring dust or small particles don't get into the HVAC system, so you and your family don't breathe in any harmful byproducts.
Cutting Down Large Trees
Most localities require homeowners to get permits to cut down trees–and for good reason. If you don't know what you're doing, it's likely that branches, limbs, or even an entire tree can come crashing down on your house, your neighbor's house, or anything else in the area. If utility poles are near, so is the risk of electrocution. Finally, when it comes to cutting down trees, the tools themselves are dangerous and require expert skills to operate.
Cost To Have It Done: Approximately $700
The national average for tree removal is $12 per foot, averaging out to about $700. "For small trees up to 30 feet high you can expect to pay $250, for trees between 30 and 60 feet prices range from $300 to $700, and to cut down large trees over 60 feet costs between $700 and $1,800" according to HomeGuide.com.
Other factors that affect cost are the tree's condition, and whether or not it's leaning versus standing straight. Weak, diseased, decaying, or dead trees can be harder, and therefore more costly, to remove.
Removing a Water or Fuel-Storage Tank
Maybe you recently switched from oil to gas and you want to save money by removing the old tank yourself. Or perhaps there's a leak in an old fuel tank from a previous system that might require action (which you don't want to pay for). Sorry, but this isn't something you can remodel on your own. The environmental hazards associated with the removal and disposal of fuel containers has forced local, state, and federal regulators to preclude weekend DIYers from removing them.
Cost To Have It Done: Approximately $1,700
You can expect to pay between $400 and $3,000 to have a professional dismantle and haul away an old oil tank, with the national average price coming in at just about $1,700, as noted by Angi.com. Factors that affect the price include whether the tank is buried below ground or situated above ground, whether the tank is leaking, the size of the tank, as well as what kind of fuel the tank was used to store.
Roof Repair
Your roof is one of the most critical and expensive systems in your entire home. That means it's almost never a place for DIYers to try to save a buck. The obvious danger of falling is coupled with the fact that roof work is complicated. Also, it's likely that you won't even be able to identify the source of the original problem, much less fix it correctly. Laws require a permit for any work that changes your home's roofline. Keep this in mind, though: even though other repair jobs don't require a permit, attempting to do roof work yourself without hiring a professional is likely to void your roof's warranty.
Cost To Have It Done: Between $300-$1,400
The typical roof repair costs between $300 and $1,400, depending on the amount and type of damage. HomeGuide.com calculates that "moderate roof repairs cost $400 to $1,000 to replace flashing, valleys, shingles in a 10'x10′ area, or leaks with water damage."
Homeowners should understand, however, that there is a huge variety of issues that cause roof damage, not to mention an equally vast menu of costs associated with fixing those problems. Removing ice dams in the winter, replacing missing shingles after a storm, or finding and patching a leak from an unknown source all could come with vastly different price tags.
Installing a Skylight
Roof penetrations, such as the kind needed to install skylights, usually require a permit because it's a job that's easy to mess up, even for the handiest DIYer. Not only does installation require gouging a precision hole in the roof and then resealing it with expert waterproofing, but the job might involve cutting into a truss, maneuvering around wiring and HVAC equipment in the attic and building a framed tunnel called a chase.
Cost To Have It Done: Approximately $1,750
In the U.S., the average cost to have a skylight installed is approximately $1,750. The price range swings wildly between $1,000 and $2,500 –and that fluctuation has to do with a large number of options. Fixed skylights are cheapest because they don't open. Ventilating skylights open like windows, and the newest options, tubular skylights, can nearly eliminate the need for electric lights during the day. The size and shape of the skylight, among other features, also affect the price.
Removing Nuisance Animals
There's no law against waging a war against pests — up to a certain point. While bug spray and mouse traps are sold at hardware stores, critters that cross the line from pests to "nuisance animals" are dealt with differently. In many jurisdictions, such as New York and Pennsylvania, homeowners cannot do battle with animals such as squirrels, raccoons, skunks and possums. Sometimes, trapping, shooting or poisoning is forbidden. Other times, the animal might be endangered or otherwise protected. In some cases, there could be a risk of spreading diseases like rabies. Relocating a nuisance animal could also disrupt a surrounding habitat.
Cost To Have It Done: Approximately $340
Winning the war on wildlife has an average cost of around $340 across the country, according to HomeAdvisor. That range can fluctuate between $150 and $600, depending on numerous factors, not the least of which is the type of animal and the level of infestation. The removal method impacts the price as well, so be sure to go over the costs when consulting with an expert.
Pumping a Septic System
Septic systems are regulated all the way up to the federal level because of their potential to impact water resources, the environment, and public health. Regular pumping is crucial to keep septic systems functioning, but this is not a job for the homeowner. Not only does it require special tools and skills, but there are strict regulations on how the system's contents are to be handled, transported, and eventually disposed of.
Cost To Have It Done: Approximately $375
The national average cost of pumping a septic system comes to about $375, according to HomeGuide.com, which recommends that most homeowners must have repeat visits to completely take care of the problem. The service technician also might notice problems that need attention, such as worn filters or submersible pumps that might require replacing.
Building a Staircase
If you're going to remodel your home, you need to know the rules. The International Building Code provides standards for the construction of stairs. Many local building codes, such as those in San Francisco, closely mirror those standards and require legal approval and permits for homeowners who want to build their own staircase. In many cases, staircase regulations are lumped in with regulations about building decks that stand a certain height off the ground.
Cost To Have It Done: Between $2,000-$5,000
Homeowners can hire a professional to build main staircases, attic staircases, or basement staircases inside, as well as deck, patio, or porch staircases outside. The average homeowner can expect to pay approximately $1,900, although it could cost as little as $1,043 or as much as $8,869, according to Fixr.com. The cost disparity can be traced to the style and type of stairs, the materials used and whether an old staircase has to be demolished and removed.
Installing a Furnace
Fire, explosion and exposure to poisonous gas are all reasons to never attempt to install your own furnace. Both the removal of old furnaces and the installation of new ones are complex jobs that are tightly regulated and require both permits before and inspections after.
Cost To Have It Done: Between $2,000-$5,400
Your choice of electric, oil, or gas plays a big role in how much you'll pay, but even within those broad categories, there can be thousands of dollars in the difference between high- and low-end furnace models.
Remodeling a Kitchen
Doing a full kitchen remodel typically requires multiple construction trade skills and lots of moving parts, so it's better left to the professionals.
"Kitchen remodel projects [involve] many things like appliances, finishes, fixtures, lights, etc. that have to come together and work in unison," said John Bodrozic, co-founder of the digital home management app HomeZada. "The complexity of installing everything correctly and in the right sequence is knowledge most DIYers don't have — nor do they have tools and skills to do the work."
Cost To Have It Done: Between $100-$250 per square foot
Bottomline: a full room renovation all depends on the project's size and scale. Most homeowners spend approximately $150 per square foot, which adds up to an average price tag for the whole job to be in the ballpark of $16,600, says HomeGuide.com. It's likely that the budget for a kitchen remodel will swing in the range of $12,800 for the low and $21,200 for the high end.
"The price ranges for kitchen remodels are dramatic," said Bodrozic. "It depends on the materials you select and the size of the kitchen." On the higher end, kitchen remodels can sometimes cost up to $100,000, he said.
Remodeling a Bathroom
Like kitchen remodels, a bathroom remodel is often a complex undertaking that goes beyond the average DIYer's skill set. Plus, mistakes during the remodeling process can be very costly.
"Although bathroom remodels are typically cosmetic, they often involve plumbing and tile work," said Andrew Helling, owner of REthority.com, an online resource for real estate professionals and their clients. "Making a mistake on either of these can lead to leaks that are often undetectable for extended periods of time. Many times, these only present themselves after thousands of dollars of damage has been done. Licensed contractors use professional subcontractors that carry liability insurance. This means you're covered in the event of a leak."
Cost To Have it Done: Between $120-$275 per square foot
HomeGuide.com estimates that most homeowners will spend between approximately $2,500 to $15,000 for a small or full bathroom remodel. For custom layouts or master size bathrooms, that average cost is somewhere between $10,000 and $30,000. The cost all depends on the size of the bathroom and the style of the finishes you choose.
Replacing Gutters
Replacing gutters can be a dangerous task.
"Homeowners [can] lack balance on a ladder, and a fall can be expensive — if not life-threatening," said Helling. "Additionally, gutters must be correctly sloped in order to avoid drainage issues. Professional gutter installation companies know how to properly install gutters to avoid hidden water leaks."
Cost To Have It Done: Approximately $3,000
The average cost of gutter installation is roughly $3,000, according to Forbes, but the cost will vary based on the material of the gutter and how much of it you need. Vinyl gutters are the most affordable, costing approximately $3 to $5 per linear foot, and copper gutters are the most expensive, costing $25 to $40-plus per linear foot.
Repairing a Foundation Issue
"Fixing foundation problems requires specialized knowledge, and when done incorrectly it can lead to exponentially worse structural damage," said Brian Davis, a real estate investor, landlord and a co-founder at SparkRental.com.
Cost To Have It Done: Approximately $4,511
Although it's definitely worth it to pay a professional, expect to shell out some serious cash for this repair.
"Bringing in a foundation specialist is not cheap — expect to pay fees in the thousands, unless the issue is relatively minor," said Davis.
The average cost to repair foundation issues is typically between $2,318 and $6,750. More major repairs can cost upwards of $10,000, according to HomeAdvisor.
Installing a Roof Deck or Balcony
DIYing a new roof deck or balcony can result in an unsafe structure.
"Doing it properly involves structural engineer expertise, calculating exactly how much support is needed and where," said Davis. "Getting this wrong can lead to the deck collapsing."
Cost To Have It Done: Between $3,000-$23,000
The cost of installing a deck will depend on its size, the materials used, and any extras you add to a basic structure. The average cost to build a small deck (less than 200 square feet) is between $3,040 to $6,400, the average cost to build a midsize deck (200 to 500 square feet) is roughly about $8,000 to $9,000. and the average cost to build a large deck (more than 500 square feet) in the range of $10,650 and $22,400, according to HomeAdvisor.
More From GOBankingRates
Jake Arky and Gabrielle Olya contributed to the reporting for this article.

BEFORE YOU GO
See Today's Best
Banking Offers