6 Weirdest Ways People Became Very Rich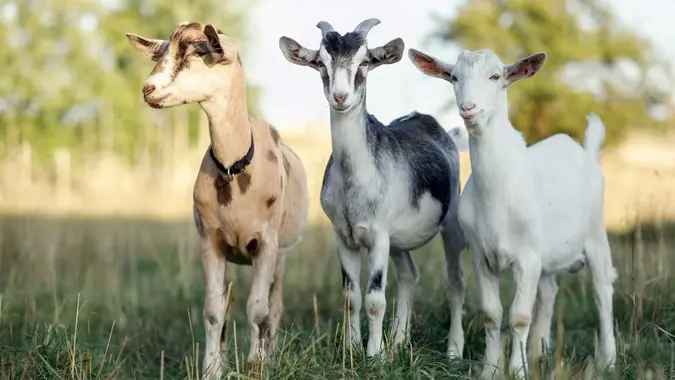 Conventional wisdom says to work hard, save your pennies, invest for the long term and control your spending — and that's wise advice in most cases. But for the most imaginative and unorthodox entrepreneurs, nothing is off limits when money is on the table, and there are plenty of weird ways to get rich.
The following is a look at the most inventive success stories in history, and each one proves that anywhere demand exists, those who have the vision, creativity and guts can get rich by going for broke.
Renting Goats
Goats are notorious gluttons, and everyone from homeowners associations to municipalities has discovered that the insatiable farm animals can provide an economically and environmentally friendly solution to clearing large areas of unwanted vegetation.
According to HireGoats.com, dozens of companies nationwide rent goats for everything from eradicating invasive plants to creating fire breaks. According to Angi, it costs between $400 and $800 per acre to rent a goat. In 2013, the SharkTankBlog reported that successful goat-trepreneurs could earn $600,000 per year.
Mining E-Waste
According to the World Economic Forum, humanity generates tens of millions of tons of e-waste every year. Thanks to the gold, copper, iron and other raw materials inside all of those discarded phones, laptops and other electronics, it's worth nearly $1,000 per ton.
Make Your Money Work Better for You
Startups have turned into big businesses by harvesting the billions of dollars in precious metals hiding in the world's mountains of environmentally destructive e-waste.
The German company Aurubis AG, one of the biggest e-waste recycling companies in the world, has a market cap of $3.46 billion.
Selling Rocks as Pets
Perhaps the most famous get-rich-weird scheme of all time came courtesy of advertising executive Gary Dahl, who debuted the Pet Rock in 1975 just in time for Christmas. A self-made millionaire, Dahl is credited with inventing one of history's most successful and groundbreaking fads.
According to the New York Times, Dahl brilliantly marketed his egg-shaped rocks as pets that don't require food or water and shipped them in cleverly designed carriers — complete with air holes — and a care manual.
He sold 1.5 million of them in six months before the fad faded into nostalgia.
Cleaning Up Crime Scenes
In the early 2000s, Kansas police officer Laura Spaulding founded Spaulding Decon, a Tampa Bay-based specialty service that deals with the gruesome work of cleaning up the remnants of murders, meth labs and other crime scenes.
Crime cleanup is a ghastly day's work, but Spaulding rode her niche to riches. In 2015, her company became the first nationally franchised business of its kind; and, in 2022, it made Entrepreneur's Franchise 500 list.
It now boasts more than 25 franchises, and Spaulding Decon's revenue is $6 million, according to ZoomInfo.
Sending Kids Return Letters From Santa
Byron Reese is an entrepreneur and technologist who has taken two companies public, sold three others and won four patents and three patents pending. In 2001, he secured an address in North Pole, Alaska, and launched SantaMail.org. When kids sent letters to Santa to his address, he responded with personalized return letters from St. Nick himself — for a fee from their parents, of course.
Make Your Money Work Better for You
According to AllBusiness, he sold 10,000 letters his first year and grew SantaMail.org into a $1 million business within a few years.
Domain Squatting
During the Wild West days of the early internet in 1994, Maryland resident Chris Clark bought the domain name pizza.com for $20 and paid modest annual renewal fees to maintain ownership. In a tactic known as domain squatting, he held it for 14 years without actually developing it into a website — the URL itself was what made it valuable.
According to Wired, his strategy paid off. In 2008, Clark put pizza.com up for auction and, after an intense and frenzied competition, the winning bid came in at $2.6 million. It was part of a mid-aughts domain-squatting gold rush. Shortly before, vodka.com had sold for $3 million. One year earlier, business.com had commanded a sale price of $350 million after an original purchase price of $7.5 million.
More From GOBankingRates