How Much Money You Need To Be Wealthy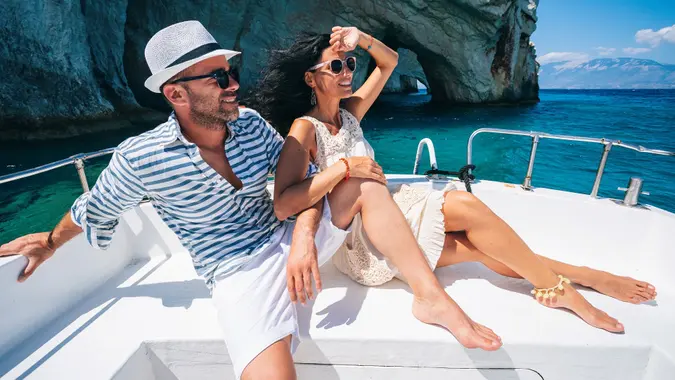 valentinrussanov / iStock.com
Americans' idea of what it takes to be wealthy has steadily changed over the years and was deeply impacted by the COVID-19 pandemic. According to Schwab's sixth annual Modern Wealth Survey, even what guides people's financial decisions is changing drastically. 
We dug in to determine just what people think your net worth should be to be considered "wealthy" and how much money people think you need to be "financially comfortable." We will also explore how people are prioritizing their spending and what's driving those decisions.
What Is 'Wealthy'?
The Modern Wealth Survey collected responses from 1,000 adults between the ages of 21 and 75. According to those surveyed, it would take an average net worth of approximately $2.2 million to be considered "wealthy" in 2022. In 2021, survey respondents indicated it would take a net worth of $1.9 million. 
More interestingly, when asked in 2020 what wealth looked like, people said $2.6 million. This, however, was pre-pandemic. The average net worth that people considered to be a sign of wealth dropped from $2.4 million in 2018 to $2.3 million in 2019, before hitting its height just before the pandemic. COVID-19 however seems to have had a direct impact on how people view wealth or what is considered "wealthy" in the United States.
What Is 'Financially Comfortable'?
When asked what it takes to be considered "financially comfortable," the responses followed a similar pattern. Beginning at $1.4 million in 2018, dropping slightly to $1.1 million in 2019. Unlike wealth, however, respondents seemed to be more conservative with how much it would take to be financially comfortable just before the pandemic. In early 2020, the survey indicated that it would take an average net worth of just $934,000.
Make Your Money Work Better for You
By 2021, respondents had made a substantial shift in the amount of money they thought they would need to make them "financially comfortable." Those surveyed said that an average net worth of $624,000 would be sufficient to be considered in that bracket. In 2022, as the economy began to recover the amount rose again to $774,000.
What Does Money Mean to Americans?
The survey also found that Americans are reevaluating what money means to them personally. Forty-two percent of respondents answered that money meant "freedom," 23% said "flexibility" and 18% responded "opportunity." 
Not only are people taking a closer look at what money means to them, but they are also rethinking how they spend it. As reported by Schwab, 82% of respondents said that "their personal values play an important role in how they manage their finances." And it isn't just money. Seventy-three percent said that their personal values provide more guidance in their life goals compared to two years ago. 
Almost 70% of people surveyed stated that they strongly agreed or somewhat agreed that it is a "key priority to use their money to support causes they care about." When it came to personal values, most prioritized putting others first including doing what's best for their children or family, environmentalism and sacrificing for others.
How To Build Wealth
While the numbers tell how much people think they need to be considered wealthy, they don't answer the question of how to get there. While there are a number of tips and tricks out there, the only way to truly grow your nest egg is by paying down your debt and investing in your future.
Wealth-building strategies include buying an S&P 500 Index Fund, investing in a rental property and starting a business, to name a few. In addition, most experts agree that you need to maximize any employer contributions to your sponsored retirement plan. Failing to contribute the max is like missing out on free money. 
Make Your Money Work Better for You
Finally, if you are new to investing but want to start growing your money now, consider opening a Roth IRA. With a Roth IRA, you can grow your earnings tax-free and take advantage of tax-free withdrawals. The benefits are exponential, but there are always potential drawbacks and limitations to any investment. As with any investment strategy, it is in your best interest to consult with a financial professional or advisor before starting. 
More From GOBankingRates