When Is the Next Powerball Drawing and Could You Be the Next Powerball Winner?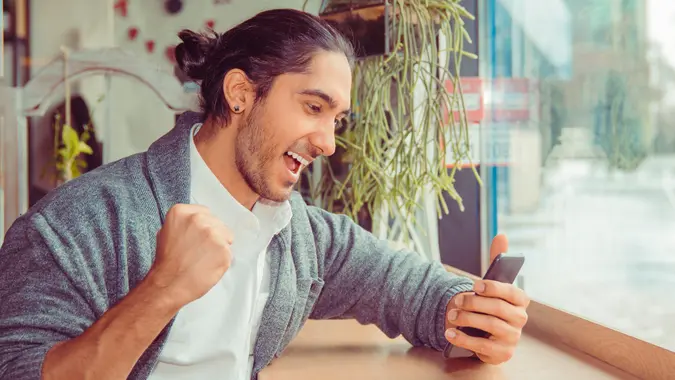 HbrH / iStock.com
If you have a couple dollars burning a hole in your pocket and you're feeling very, very lucky, there's still time to enter the Powerball drawing for a shot at winning mega millions. The next drawing is at 10:59 p.m. ET on Wednesday, Sept. 20, which means you have until about an hour or more before then to beat the deadline.
The Powerball winner will get an estimated $672 million, with a cash value of $320.5 million, according to the Powerball website. There were no Powerball jackpot winners during the last drawing, held on Sept. 18. The winning numbers from that drawing were 2, 21, 26, 40 and 42. The red Powerball was 9 and the Power Play was 3X.
Nobody won Monday's Match 5 + Power Play lottery for a shot at $2 million, either. However, there was one $1 million Match 5 winner in Massachusetts.
The Powerball jackpot reached $1.08 billion in July, USA Today reported. The winning ticket in that lottery was sold in Los Angeles on July 19 and took the the third-largest prize in the lottery's history.
How To Play the Powerball Lottery
Powerball costs $2 per play except in Idaho and Montana, where Powerball is bundled with Power Play for a minimum purchase price of $3 per play. To play, you select five numbers between 1 and 69 for the white balls, then select one number between 1 and 26 for the red Powerball.
Make Your Money Work Better for You
You can choose your numbers on a play slip or let the lottery terminal randomly pick your numbers. Drawings are held every Monday, Wednesday and Saturday at 10:59 p.m. ET at the Florida Lottery draw studio in Tallahassee, Florida.
The Powerball jackpot grows until there's a winner. The jackpot is won by matching all five white balls in any order and the red Powerball.
Jackpot winners can choose to receive their prize as an annuity paid in 30 graduated payments over 29 years, or as lump-sum payment. The cash winnings advertised are pre-tax, meaning that if you're the Powerball winner you can expect the IRS and other tax authorities to take a big chunk of the total.
Odds of Winning the Powerball Jackpot
It should come as no surprise that your odds of winning a Powerball lottery aren't exactly great. According to the Powerball website, you have a one in 292,201,338 chance of being the Powerball winner. Translated, that means your odds are one in about 292.2 million.
The odds of winning $1 million are one in 11,688,053.52, or about 11.7 million. Your chances improve from there, but even for smaller prizes the odds aren't in your favor. For example, you have only a one in 36,525 chance of winning $100. Even winning as little as $4 is a one in 38 shot.
More From GOBankingRates
Make Your Money Work Better for You