Will Potential Chinese Stimulus Impact US Markets? How To Invest in the Windfall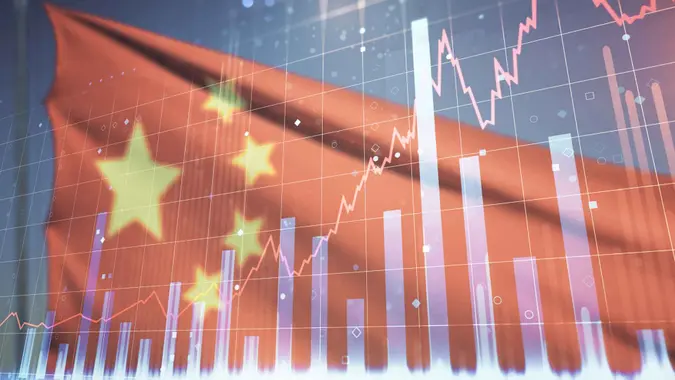 Igor Kutyaev / Getty Images/iStockphoto
U.S. investors will be keeping a close eye on efforts in China to stimulate the country's economy, with special attention paid to potential financial payoffs in stocks, funds and other assets.
As previously reported by GOBankingRates, China is considering a range of stimulus programs to boost the country's sluggish post-COVID economy. Many of the programs are geared toward lowering interest rates, easing loan costs and accelerating commercial activity.
If successful, stimulus efforts should boost consumer spending and prop up shares of stocks and funds that trade on U.S. exchanges.
In fact, that's already happened — at least temporarily. Last week, shares of U.S.-listed Chinese exchange-traded funds (ETFs) edged higher after China's central bank cut borrowing costs to aid economic recovery, Reuters reported. Investors were also emboldened by the prospect of further stimulus.
Shares of the two largest U.S.-listed Chinese ETFs — the iShares MSCI China ETF and the iShares Trust-China Large-Cap ETF — rose 1.8% and 2%, respectively, on June 15, Reuters noted. Between them, the two ETFs have roughly $13 billion in assets.
U.S.-based retail, restaurant and entertainment brands could also see a pickup in business at their China locations if the country is successful in stimulating more consumer spending.
"Based on recent retail sales data coming out of China, there's clearly pent-up consumer demand, signaling to investors… that there's more upside ahead for companies doing business there," CNBC noted on its Investing Club website last week.
Those companies include Estee Lauder, Starbucks and Wynn Resorts, according to CNBC. These could present opportunities for stock watchers following the news.
Make Your Money Work Better for You
In addition to cutting interest rates, China might also pour billions of dollars into new infrastructure and enact "looser rules" to encourage property investors to buy more homes, The Wall Street Journal reported, citing sources familiar with the matter.
Will Chinese Stimulus Produce Long Term Results?
The question is whether, and when, these measures will have a positive long-term impact on China's economy. Although stimulus programs could present a buying opportunity for U.S. investors, some experts are taking a wait-and-see approach until China's economy gains more traction.
"It would be prudent to assess the measures that will be introduced, and that any investment there is viable," Quincy Krosby, chief global strategist for LPL Financial, told Reuters.
Katrina Ell, senior China economist at Moody's Analytics, had a starker take, telling the WSJ: "It's hard to be positive about China's economy at the moment."
Even if China's stimulus does perk up the country's economy, the impact on U.S. investors might be minimal, according to Chris Harvey, Wells Fargo's Head of Equity Strategy.
"It's unclear if the stimulus is going to work," Harvey told Yahoo Finance. "Is it going to filter back into the capital markets? Yeah. I think at the margin, it adds liquidity. It's going to add a little bit more on risk seeking or risk taking. But it's still a big question mark… I think the stimulus will be helpful. I think it will be positive. But really, it's just a marginal issue."
Make Your Money Work Better for You
More From GOBankingRates