7 Cheapest Drinks on Starbucks' Menu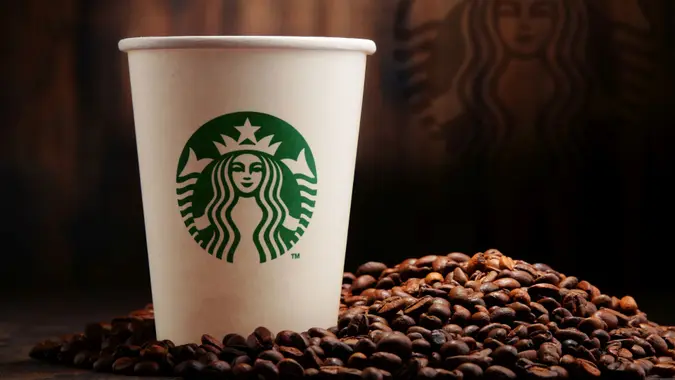 monticelllo / Getty Images
Let's face it — you spend a lot of money at Starbucks. While you're not looking to give your habit up entirely, you would like to focus more on cheap Starbucks drinks.
Considering there are more than 32,000 Starbucks stores in more than 80 countries, you likely pass by at least one location per day. This makes it all too easy to stop in for a quick caffeine fix. Thankfully, making a few adjustments to your order can lower your bill. Keep reading to discover the cheapest Starbucks drink and several others that likely cost less than what you're currently ordering.
7 Cheapest Starbucks Drinks
So, how much is the cheapest Starbucks drink? A kids' steamed apple juice for $2.25. As you probably guessed, it's not a fancy beverage like a Frappuccino, cappuccino, latte or mocha. However, it can still quench your thirst and leave you feeling satisfied.
Here are the seven lowest-priced Starbucks drinks currently on the menu — excluding bottled water.
1. Steamed Apple Juice (Kids Size) — $2.25
On a chilly day, freshly steamed 100% apple juice will really hit the spot. If you need a little more to fully warm up, a short is an extra $0.90 and a tall is $1 more.
2. Tree Top Apple Juice Box — $2.65
Juice boxes aren't just for kids. Get 100% of your daily vitamin C, while saving money, by swapping your expensive drink for a throwback to your childhood days.
3. Brewed Coffee (Short) — $2.95
Take your coffee order back to the basics by ordering a Pike Place, Veranda Blend, the featured dark roast or a decaf Pike Place. If that's too small, you can upgrade to a tall for $0.20 more, Grande for $0.60 or a Venti for $0.80.
Make Your Money Work for You
4. Lemonade (Kids Size) — $2.95
Cool and refreshing, a lemonade can really hit the spot on a hot day. If you need a little more, you can upgrade to a tall or Grande for $0.80, while still keeping your drink below $4.
5. Hot Chocolate (Kids Size) — $2.95
A warm weather staple, hot chocolate topped with whipped cream and chocolate-flavored drizzle is the ultimate pick-me-up. Larger versions are available, but they will add a notable charge to your total. Add $1.30 for a short, $1.50 for a tall, $1.70 for a Grande and $2.20 for a venti.
6. Cold Milk (Tall) — $3.25
Healthy and delicious, there's something thrillingly wholesome about a glass of milk. Choose from skim, 2%, soy, almond or coconut milk served over ice.
7. Espresso Macchiato (Solo) — $3.25
A quick caffeine boost, this rich espresso shot topped with a dollop of steamed milk and foam can provide a much-needed energy jolt. You might even find you like it more than a larger, pricier drink — like the ever-popular flavored macchiato — as it's much more efficient.
What Can You Get for $2 at Starbucks?
You won't find any drink at Starbucks for $2 or less. However, while the cheapest Starbucks drink costs more than $2, there are several snacks around this price point.
Whether you're looking for something healthy or need to satisfy an afternoon craving — sweet or salty — there's something on the menu less than $2. Here's a look at your choices.
Avocado Spread: $1.55
String Cheese: $1.75
Starbucks Butter Popcorn: $1.75
Petite Vanilla Bean Scone: $1.85
Salt & Vinegar Kettle Potato Chips: $1.95
Perfectly Salted Chips: $1.95
Is Starbucks Cheaper With Your Own Cup?
A great way to save a bit, while helping the environment, Starbucks offers a small discount to customers who bring their own reusable cup. If you opt to do this, you'll receive a $0.10 discount on your drink.
Make Your Money Work for You
Sure, saving a dime doesn't sound like a lot, but it can add up. Exactly how quickly this eco-friendly move will essentially earn you a free drink depends on how often you visit Starbucks with your reusable mug.
For example, if you stop by your favorite location five times per week, you'll save $0.50 per week. This equates to around $2 per month in savings, which would allow you to essentially save enough for a free short coffee — priced at $2.95 — every six weeks.
Takeaway
Now that you know what the cheapest Starbucks drink is, you can make adjustments to your order. Swapping out your favorite items for something at a lower price will give you the opportunity to try something new, while saving money.
Of course, this doesn't mean you can't ever order your favorite items again. Saving them for an occasional treat will make them taste even better.
Prices are based on a Cleveland location and may vary. Contact your local store for pricing information in your area.