Coffee Just Got More Expensive: 5 Grocery Stores to Still Get It Cheap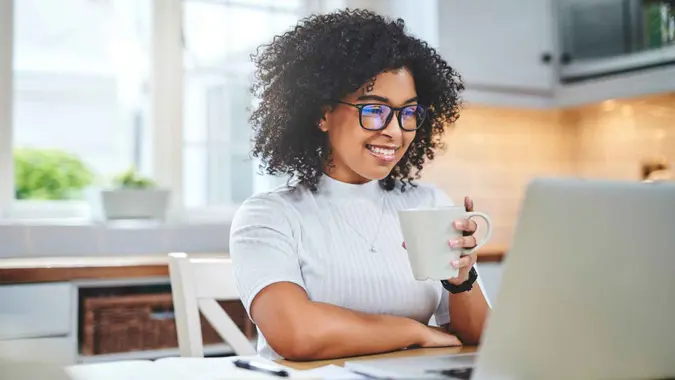 Charday Penn / Getty Images
If it feels like you've been paying more for your daily cup of Joe, you're not imagining it. Coffee prices have been rising due to global supply issues. Consumers could see increased costs in the coming weeks and should adjust their budgets accordingly. But you can still get a great deal on coffee if you know where to shop.
Coffee supply issues result in higher prices for shoppers
According to Barchart, the International Coffee Organization (ICO) recently reported global coffee exports from October through February fell 8.7% year-over-year. Guatemala, Colombia, and Brazil all reported a significant fall in exports. While less coffee is available, demand is still up — so consumers can expect to pay more. 
Some experts say the future looks hopeful for coffee production, which could help to lower prices. Brazil is one of the leading global coffee exporters. Consultancy company Safras & Mercado projects that Brazil's arabica coffee production will grow 21% in 2023-2024. A recent report by Reuters noted that increased rainfall in Brazil could improve soil moisture and boost coffee production results.
Take Our Poll: Would You Move for a Job That Paid You a $10,000 Signing Bonus?
Where you shop can make a difference 
If you find it hard to function without caffeine, you may be looking for a way to save money without sacrificing your daily cup. You can still buy your favorite coffee without draining your checking account. 
Make Your Money Work for You
But where you shop makes a difference. Not every retailer has impressive deals, and some are known for having much higher prices. Shopping at grocery stores with discounts can help combat rising food costs.
You can also use other strategies to save money on groceries. Buying on-sale items, using coupons, and comparing prices at multiple retailers can help you trim your spending.
Not sure where to score the best deals on coffee? Here are five retailers where you can get whole coffee beans or ground coffee for cheap: 
Aldi.
Costco.
Dollar General. 
Trader Joe's.
Walmart.
More From GOBankingRates
Make Your Money Work for You