Starbucks Rewards: You'll Need More Stars For Your Latte Starting Today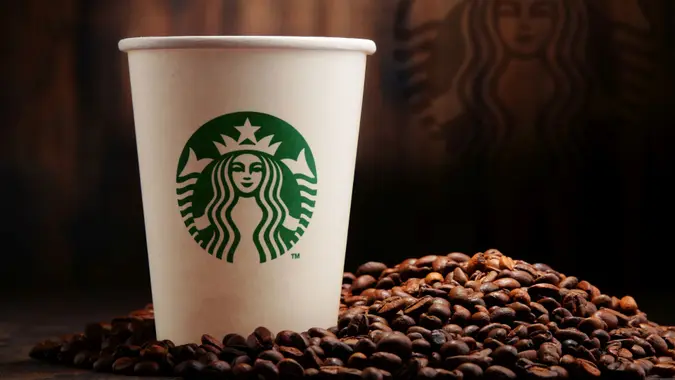 monticelllo / Getty Images
Starting Monday, Feb. 13, Starbucks will require more star rewards to get your favorite drinks. The coffee giant announced back in December it would be changing the structure of its rewards program.
These new tiers are now in effect:
100 Stars for a hot drip coffee or tea, iced coffee or iced tea, bakery item (including a cake pop or cookie), or a packaged snack such as potato chips or popcorn.
200 Stars for an espresso beverage such as a latte or macchiato, Frappuccino or a hot breakfast staple like a breakfast sandwich.
300 Stars for a packaged food item such as a sandwich, protein box or salad — or a bag of whole bean coffee.
These new redemption qualifications are a steep difference from what has long been in place for the Starbucks rewards program. Previous to the Feb. 13 changeover, 50 stars were required for drip coffee, tea or a bakery item; 150 stars for an espresso drink, Frappuccino or hot breakfast item; and 200 stars for a prepared, packaged food item.
Customers were also able to customize their drinks with a choice of milk or a flavor enhancer for just 25 stars, and that seems to be staying in place.
The only "better deal" out of the new update is the fact that claiming a bag of coffee beans now requires only 300 stars, versus 400 stars currently.
Disappointment With New Starbucks Stars Program Abounds
The announced changes have made many customers upset, according to Daily Hive, who screen captured a series of Twitter posts that share a collective wave of disappointment. 
Make Your Money Work for You
"To earn one free cup of coffee using a prepaid card you have to buy 17 cups. Using cash or linked credit card you have to buy 34 cups. Are you kidding me?" asked one person. 
"Your coffees and food are already so expensive and now you want to make your rewards systems change to make us spend even more money to get a free drink?" wrote another.
As Forbes declared: "Starbucks is rewarding customers less just when it should be rewarding them more."
"More unhappy customers will result in more unhappy partners setting up a vicious downward circle that the company can ill afford," stated the article — also noting that, in 2022, Starbucks dropped from No. 149 in their America's Best Employers list to No. 272 (a result partially attributed to the brand's resistance to associates forming unions).
Forbes also suggested that Starbucks making their loyal customers pay more could be an ill omen for the coffee brand. "Starbucks is highly dependent on its roughly 27 million loyal U.S. members, who generated 55% of the company's U.S. revenues in the fourth quarter — $3.4 billion out of $6.1 billion total."
More From GOBankingRates
Make Your Money Work for You