5 Worst Money Lessons From Elon Musk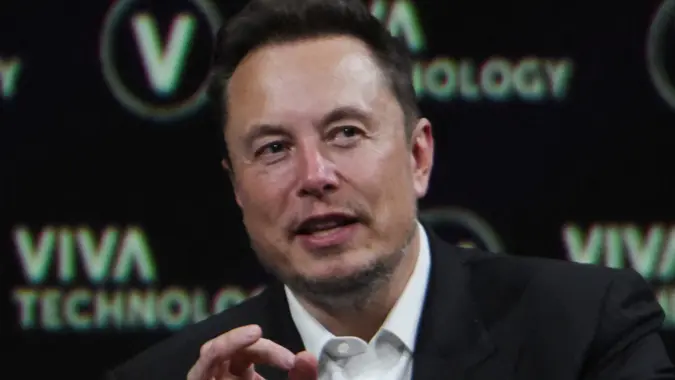 Apaydin Alain / ABACA / Shutterstock.com
Elon Musk is still the world's richest man, with a $244 billion net worth, according to the Bloomberg Billionaires Index. He has been making headlines constantly for a slew of reasons, some of which include his Twitter acquisition and how it has affected Tesla, and whether SpaceX might soon go public. And the latest Musk news is his feud with rival tech giant Meta's Mark Zuckerberg, who just launched the social platform Threads, deemed a "Twitter Killer." Hours after the launch, Musk lawyers threatened to sue Meta, accusing the company of poaching former Twitter employees who "had and continue to have access to Twitter's trade secrets and other highly confidential information," according to a letter obtained by Semafor.
"Competition is fine, cheating is not," Musk tweeted on July 6.
Whether this latest move ends up being costly remains to be seen. Meanwhile, here are a few of Musk's worst money lessons.
Paying an Overinflated $44 Billion for Twitter
Many saw the final Twitter price tag as a huge loss for Musk, as the deal finalized on Oct. 27, 2022, when the sector was tanking, decreasing the company's value. At the time, Wedbush Securities analyst Dan Ives said in a note sent to GOBankingRates that the $44 billion deal "will go down as one of the most overpaid tech acquisitions in the history of M&A deals on the Street in our opinion." Wedbush said that Musk buying Twitter "remains a major head scratcher," with fair value that it would peg at roughly $25 billion.
Make Your Money Work Better for You
Peter Cohan, associate professor of management practice, Babson College, added thatMusk paid $44 billion for Twitter and has systematically destroyed $35.2 billion worth of that value according to Fidelity — which in May valued the company at $8.8 billion.
"Why would the world's richest person — self-made — willingly destroy so much value? There are many reasons — but the most interesting one starts with understanding why he wanted to buy Twitter in the first place: so he could control his biggest source of ego gratification," he said.
Cohan added that Musk made bad business decisions — such as slashing staff, stiffing vendors and sending advertisers fleeing — under the assumption that he would invent a new business model by charging more money to his loyal followers.
"Wrapped inside a dopamine-fueled bubble, he did not anticipate the possibility that a rival — Meta — would launch a competing service — Instagram Threads — that would scoop up millions of disaffected Twitter users and advertisers and potentially turn Twitter into the next MySpace," added Cohan.
Alienating Advertisers
According to Brian Chevalier-Jordan, CMO, NationalBusinessCapital.com, since Musk bought Twitter, it has lost two-thirds of its value while he continues to alienate advertisers, its primary revenue source.
"At this point, Elon can't unload this white elephant without losing a massive amount of money," he said. The lesson? Don't buy high and sell low, he added.
"Advertisers are by far the largest source of revenue for Twitter, yet at every turn, Elon makes it hard for companies to trust their brands will not be placed next to questionable or incendiary content. He continues to ignore the thinking of his most important paying 'customers,' to his company's peril. Without ad revenue, Twitter's value continues to drop," he added. "Don't bite the hand that feeds you."
Make Your Money Work Better for You
Shifting Focus From Tesla
The energy and money Musk spent at Twitter before and after the deal was finalized was seen by many experts as a huge distraction that was impeding his role at Tesla. Shares of Tesla took a serious beating as investors worried Musk was not focused enough on Tesla since he took the reins of Twitter. They also worried that Musk had put up too much collateral from the EV company to pay for the deal and that his recent tweets might damage the brand, further hurting the stock.
Musk had said on April 28 that there were "no further TSLA sales planned after today"– a tweet many users reposted after the latest stock unloading.
Musk finally hired a new CEO, Linda Yaccarino, in May 2023, prompting Wedbush's Ives to say that investors would be relieved to see "a rejuvenated Musk that now can focus more of his energy and time around Tesla."
Too Much Tweeting Sees Dollars Fleeing
Chris Reed, executive marketing director for U.K. insurance broker Protect Line, said that Musk'sbiggest financial woe is his apparent lack of online impulse control.
"He often tweets what's on his mind without pausing to think and take stock of what he's saying, which sometimes costs him dearly, as it has, and probably will in the future — it wiped millions off the stock market value of Tesla," said Reed. "There is absolutely no disputing the inescapable truth that Elon Musk is a genius, but he ignores the well worn and proven idea that 'loose lips sink ships' and will doubtless continue to speak his mind, and in doing so, will continue to be his own worst fiduciary enemy."
Make Your Money Work Better for You
Touting Dogecoin
From pushing it on Twitter to plugging it during an appearance on "Saturday Night Live," Musk greatly influenced the ups and downs of the crypto. Not everyone believed it was a good move.
"It was extremely unwise of Musk, whether done in jest or seriously, to tout the virtues of the cryptocurrency dogecoin," said Peter C. Earle, economist, American Institute for Economic Research.
It was a poor decision on two counts, added Earle. First, dogecoin is a marginal coin which has none of the algorithmic limitations that bitcoin has and was essentially created as a joke.
"Even though he's a billionaire hundreds of times over, and unless he was lucky enough to buy low and sell high, those sorts of coins are often just a sophisticated way of throwing money away," said Earle.
In addition and far worse, according to Earle, is that Musk touted dogecoin all over Twitter, and unfortunately a sizable number of people bought it based on a perceived recommendation.
"Whether he made or lost money owning dogecoin, Musk is almost certainly going to have to pay some sort of settlement to the people who followed what they thought was the sound and timely advice of a cryptocurrency expert. Having a sense of humor or overestimating the judgment of the public can be an expensive proposition for someone like Musk," said Earle.
More From GOBankingRates
Make Your Money Work Better for You