How Long It Took Jeff Bezos, Warren Buffett and 13 Other Billionaires To Make Their First Million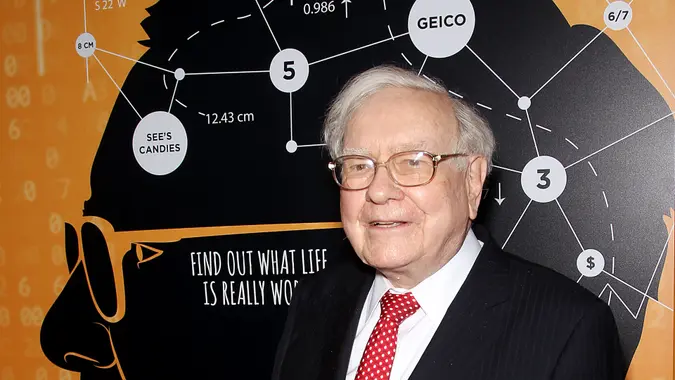 Marion Curtis/Starpix/Shutterstock / Shutterstock
Wealth is easier to acquire if you were born into it — or have an unusually lucky lotto-scratching finger. Not everyone has the innate business gifts and entrepreneurial drives of Jeff Bezos, Warren Buffett or Meta Platforms co-founder and CEO Mark Zuckerberg, who reached millionaire status at 22 and, just one year later, became the world's youngest self-made billionaire.
Larry Ellison became a self-made millionaire at age 42. And even Elon Musk, by far the world's wealthiest person, didn't make his first million until he was 27, four years after dropping out of Stanford to enter the dot-com boom (and 15 years after selling the code for a space-themed PC game he created called "Blastar" for $500 at the age of 12!).
Earning your first million is an impressive feat, and while many billionaires struck it rich early on in life, others toiled significantly longer to get there. The list of billionaires grows every year; each took a different route to get to where they are now.
As Forbes points out, most millionaires are self-made, accumulating wealth through education, hard work and investing. According to the data-driven Visual Capitalist site, the world's wealthiest people earned their first $1 million at age 36. It took an average of eight years to reach that magical milestone.
Here is a list of some of the world's most well-known billionaires, their current net worth and how many years it took to make their first million, per Visual Capitalist and Inc.com.
Make Your Money Work Better for You
Jeff Bezos — Amazon
Net worth: $154.6 billion
Time it took to make their first million: 3 years
Warren Buffet — Berkshire Hathaway
Net worth: $116.6 billion
Time it took to make their first million: 5 years
Mark Zuckerberg — Meta (Facebook)
Net worth: $113.1 billion
Time it took to make their first million: 2 years
Elon Musk — Tesla/SpaceX
Net worth: $253.8 billion
Time it took to make their first million: 4 years
Larry Ellison — Oracle
Net worth: $139.2 billion
Time it took to make their first million: 9 years
Larry Page — Google
Net worth: $116.5 billion
Time it took to make their first million: 1 year
Bill Gates — Microsoft
Net worth: $110.4 billion
Time it took to make their first million: 6 years
Amancio Ortega — Zara
Net worth: $86.1 billion
Time it took to make their first million: 11 years
Sergey Brin — Google
Net worth: $111.7 billion
Time it took to make their first million: 1 year
Michael Bloomberg — Bloomberg LP
Net worth: $96.3 billion
Time it took to make their first million: 7 years
Steve Ballmer — Microsoft
Net worth: $101.5 billion
Time it took to make their first million: 6 years
Carlos Slim Helu & Family — Telecom
Net worth: $87.6 billion
Time it took to make their first million: 6 years
Michael Dell — Dell Technologies
Net worth: $72.6 billion
Time it took to make their first million: 4 years
Francois Pinault & Family — Luxury goods
Net worth: $30.5 billion
Time it took to make their first million: 25 years
Jack Ma
Net worth: $25.5 billion
Time it took to make their first million: Less than a year
More From GOBankingRates
Make Your Money Work Better for You