A Look at MacKenzie Bezos' Worth as Her Divorce From Jeff Bezos Is Finalized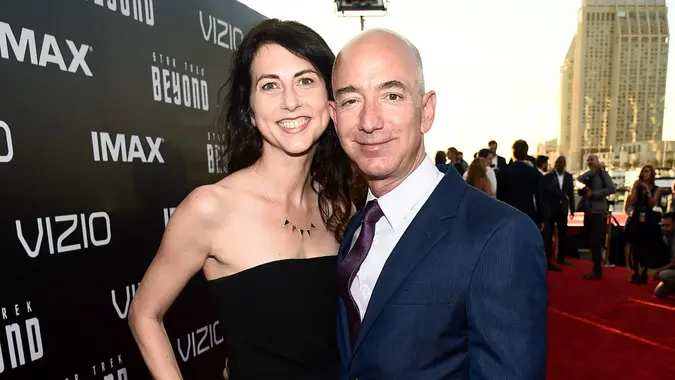 Michael Buckner/Variety/REX / Shutterstock.com
On April 4, Jeff and MacKenzie Bezos announced on Twitter that their divorce was final. 
MacKenzie Bezos will retain a 4% stake in Amazon, the Associated Press reported.
MacKenzie is a successful novelist, with two published books.
Jeff and MacKenzie Bezos announced their divorce was final on Twitter on April 4. MacKenzie will retain a 4% stake in Amazon, according to the Associated Press.
MacKenzie Bezos has been with the Amazon CEO Jeff Bezos since before Amazon even existed — and long before he was the richest man in the world. After 25 years together, the couple announced on Jan. 9 that they would be divorcing. Here's a look at MacKenzie's background, career and potential net worth after divorce.
Birthdate: April 7, 1970Net Worth: Estimated $35 billionPrimary Source of Income: AmazonCareer Highlights: Published two books
Do Jeff and MacKenzie Bezos Have a Prenup?
Jeff and MacKenzie Bezos did not sign a prenuptial agreement, according to TMZ. In addition to Amazon earnings, the couple owns 400,000 acres of property, TMZ reported.
Not All Success: Jeff Bezos' Most Outrageous Business Failures
MacKenzie Bezos' Projected Net Worth: $35B
MacKenzie Bezos will retain 4% of Amazon stock now that her divorce with Jeff Bezos is final. "That amount would be worth roughly $35 billion," CNN Business reported. What she chooses to do with that share is up to her — she could sell it off or find herself with a larger role in the direction of the company.
Find Out: Jeff Bezos Made $27 Billion in 2 Weeks — Is Now the Time to Buy Amazon Shares?
Make Your Money Work Better for You
MacKenzie Bezos' Other Sources of Income
When MacKenzie met Jeff, she was working as a research associate at the investment firm D.E. Shaw. She later transitioned out of the investment world to become a successful novelist. Her first novel, "The Testing of Luther Albright," won an American Book Award and was named a Los Angeles Times Book of the Year. She released her second novel, "Traps," in 2013.
Find out which careers are more likely to lead to divorce.
More on Business People
We make money easy. Get weekly email updates, including expert advice to help you Live Richer™.