Top 10 Richest Americans in History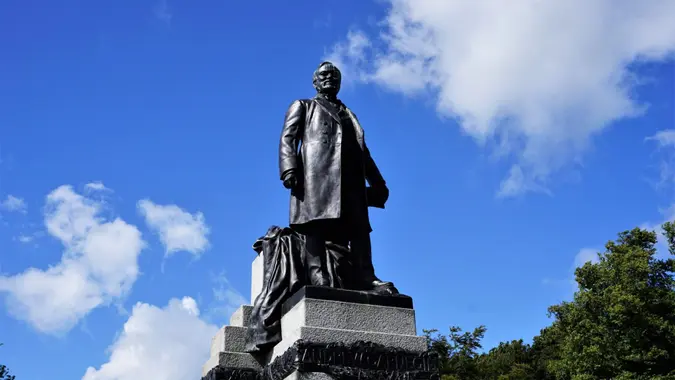 Bob Douglas / Getty Images
Wealth generates its own level of fascination. There are few people in the Western World today who aren't aware of the billionaires Buffett, Gates and Musk, but back in the day, the same could be said of wealthy Americans like Vanderbilt, Rockefeller and Carnegie.
America's Gilded Age, which ran roughly from the 1870s to the turn of the 20th century, was a veritable factory of multi-millionaires — the equivalent of billionaires today — but wealthy Americans have come from every age. An interesting note is that most of these richest Americans weren't actually born in the U.S. but were immigrants.
Here's a quick look at the stories of the 10 richest historical Americans who are no longer alive, ranked in reverse order. Note that the "estimated wealth" figures are in today's dollars and are general estimates.
Jay Gould
Estimated wealth in today's terms: $71 billion
Jay Gould was the epitome of the "robber barons" of the Gilded Age, swindling and bribing his way to the top. The railroad tycoon was also accused of stock fraud. While he didn't have many friends in New York's high society or on Wall Street, he did amass a tremendous fortune.
Make Your Money Work Better for You
Frederick Weyerhäuser
Estimated wealth in today's terms: $79.4 billion
German immigrant Frederick Weyerhäuser is most closely associated with the timber company that still bears his name and trades on the New York Stock Exchange. Unlike many of the other names on this list, Weyerhäuser and his company were considered ethical, as they replanted all of the trees that they cut down for timber, lumber and paper products.
Take Our Poll: Would You Move for a Job That Paid You a $10,000 Signing Bonus?
Alexander Turney Stewart
Estimated wealth in today's terms: $100 billion
Alexander Turney Stewart primarily made his fortune right around the time of the Civil War, and thus isn't probably as well known as some of the Gilded Age figures or the industrialists on this list. Stewart was an Irish-born textile manufacturer who thrived by selling uniforms to the Union Army. He also ran a successful retail dry goods business.
Stephen Van Rensselaer III
Estimated wealth in today's terms: $116.5 billion
Make Your Money Work Better for You
Stephen Van Rensselaer inherited vast wealth but graduated from Harvard and went on to be a U.S. Congressman, gaining a reputation as a New York reformer. Although at his peak Van Rensselaer was one of the wealthiest Americans in history, he hit hard times and when he died in 1839, he left nothing but debts to his heirs.
An interesting side note for fans of the musical "Hamilton" is that Van Rensselaer married Peggy Schuyler.
Richard Mellon
Estimated wealth in today's terms: $118.8 billion
The Mellon Family is often associated with Andrew Carnegie thanks to Carnegie Mellon University, although that institution didn't form until 1967. Richard Mellon was a banker and an industrialist who had a hand in everything from railroads to steel, and with his brother Andrew helped found Gulf Oil, Mellon Bank and the Alcoa Corporation.
Stephen Girard
Estimated wealth in today's terms: $138.4 billion
Stephen Girard was a Frenchman by birth who came to America and found success in the form of shipping. A sea captain himself, Girard eventually amassed a fleet of trading ships and became a financier, even lending the U.S. Government money during the War of 1812. Girard left much of his fortune to charitable causes when he died.
Make Your Money Work Better for You
John Jacob Astor
Estimated wealth in today's terms: $159 billion
John Jacob Astor went from being a poor German immigrant to one of the wealthiest real estate developers in history. Astor began as a fur trader and used his newfound wealth from marrying into a prominent family to expand his empire.
He eventually sold his fur business and moved into real estate. When he died in 1848, he was the richest man in America.
Cornelius Vanderbilt
Estimated wealth in today's terms: $236.4 billion
Starting with just a $100 loan from his mother, Cornelius Vanderbilt went on to become one of the biggest industrialists in American history, building a vast fortune out of steamships and railways. At one point, his wealth was said to equal 50% of the holdings of the entire U.S. Treasury.
Unfortunately, his heirs ultimately squandered that fortune through extravagant living. At a 1973 reunion of Vanderbilt descendants, not a single one remained a millionaire.
Andrew Carnegie
Estimated wealth in today's terms: $300 billion
Make Your Money Work Better for You
Carnegie is another of the most famous names on this list, but not as well-known is the fact that he grew up in Scotland. Carnegie founded a steel company that bore his name that he eventually sold to J.P. Morgan's U.S. Steel, at which point he embarked on a famous campaign of philanthropy and charity.
The motivation behind Carnegie giving away his vast wealth was his belief that "a man who dies rich dies disgraced."
John D. Rockefeller
Estimated wealth in today's terms: $400 billion
John D. Rockefeller is probably the American that most people associate with extreme wealth. His name is also joined forever with Big Oil.
Rockefeller founded Standard Oil, which controlled the vast majority of oil produced in the U.S. Standard Oil was ultimately broken up by regulators into many of the most recognizable names in the industry today, such as Chevron, ExxonMobil and ConocoPhillips.
More From GOBankingRates
Make Your Money Work Better for You
Make Your Money Work Better for You