Former Wells Fargo CEO John Stumpf Banned From Banking Industry and Ordered To Pay $17.5 Million
See what the disgraced former Wells Fargo CEO is worth.
On Jan. 23, the U.S. government's Office of the Comptroller of the Currency announced that former Wells Fargo CEO John Stumpf has been banned from ever working in the banking industry again, CNBC reported. He was also fined $17.5 million for his part in the Wells Fargo sales tactics scandal.
Stumpf resigned on Oct. 12, 2016, amid heavy public criticism surrounding the scandal. The abuses on this list are many — and jaw-dropping. According to the Consumer Financial Protection Bureau, going back to 2011, in order to meet sales quotas, Wells Fargo employees engaged in illegal practices. Wells Fargo employees opened deposit accounts for customers without their knowledge and transferred money into the accounts from the customers' existing accounts; applied for credit cards on behalf of customers without their knowledge; enrolled customers in online banking services they didn't ask for with phony email addresses; and activated debit cards, including personal ID numbers, without telling customers.
The man at the top throughout all of this was Stumpf. And because everything about banks — from maintenance fees to CEO salaries — is about numbers, GOBankingRates checked out some digits surrounding Stumpf.
Birthdate: Sept. 15, 1953

Net worth: $50 million

Primary source of income: Wells Fargo executive compensation (formerly)

Career highlight: Led the merger of Wells Fargo and Wachovia
Make Your Money Work Better for You
How Much Is John Stumpf Worth?
Stumpf has a net worth of $50 million, according to Celebrity Net Worth, but it was likely much higher before he was embroiled in scandal.
When he resigned from Wells Fargo over the fake accounts scandal, Stumpf agreed to give up roughly $45 million in compensation by letting go of 910,000 shares in unvested stock awards as well as his bonus for the year, the Los Angeles Times reported. And in April 2017, Wells Fargo's independent directors decided that it was necessary to claw back an additional $28 million of pay from Stumpf, CNBC reported. He'll now have to pay another $17.5 million in fines stemming from the OCC filing.
Those might seem like big losses, but CNN estimated that Stumpf left Wells Fargo with $130 million worth of stocks, cash payouts and other compensation that he earned during three decades with the institution.
In September 2018, Stumpf purchased a nearly 4,000-square-foot, three-bedroom, four-bathroom home in Paradise Valley, Arizona, for $3.78 million — and he paid for it in cash, so he's clearly not hurting for money.
Make Your Money Work Better for You
Check Out: The Most Outrageous CEO Salaries and Perks
How Did John Stumpf Make His Money?
Stumpf received zero dollars in severance when he left Wells Fargo. But don't cry for the disgraced CEO: According to Wells Fargo's annual proxy statement, Stumpf's 2015 compensation was $19.3 million. His base salary was $2.8 million with a $4 million incentive award, plus $12.5 million in long-term equity incentives. In 2014, his total compensation was $21.4 million, and in 2013 it was $19.3 million.
See: How Much More Do These CEOs Make Than Their Employees?
John Stumpf's Background
Stumpf was the chairman, president and CEO of Wells Fargo until he stepped down in 2016. He became president in 2005, CEO in 2007 and chairman in 2010. Stumpf had worked at Wells Fargo for over 30 years — he first joined the company's predecessor, Norwest Corporation, in 1982. He moved up the ranks throughout his time at Norwest, starting in the loan administration department and working his way up to regional president of Norwest Bank Texas. During his time in that position, he led its acquisition of 30 banks in the state with total assets of more than $13 billion.
Make Your Money Work Better for You
When Norwest merged with Wells Fargo in 1998, Stumpf became the head of the company's Southwestern Banking Group, and he later became the head of the Western Banking Group. In 2002, he became Wells Fargo's group executive vice president of community banking, and in 2008, he led the merger of Wells Fargo and Wachovia.
Stumpf holds a bachelor's degree in finance from St. Cloud State University and an MBA from the University of Minnesota.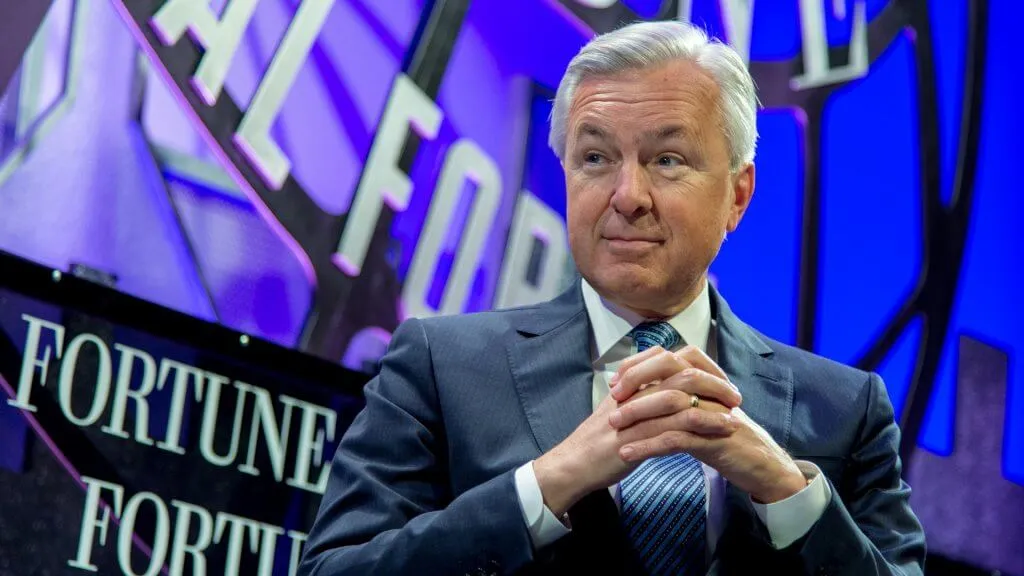 Related: Where These 51 CEOs Went to College
Unauthorized Deposit and Credit Card Accounts
According to the CFPB, Wells Fargo found that applications for more than 565,000 potentially unauthorized credit card accounts were submitted for clients by Wells Fargo employees under Stumpf's leadership. Many of the consumers incurred annual fees, finance and interest charges and more fees.
In addition, about 1.5 million potentially unauthorized deposit accounts were also opened. Employees transferred money from customers' original accounts to fund the new accounts. That resulted in many customers getting overdraft and non-sufficient funds penalties on the original accounts.

Make Your Money Work Better for You
Wells Fargo Is Still a Multibillion-Dollar Business
The amount Wells Fargo reported in net income for 2015 — the year before the scandal broke — was close to $23 billion, against more than $86 billion in revenue. And with those kinds of profits, maybe it's no wonder that the fines the bank agreed to pay didn't sink it. In September 2016, Wells Fargo agreed to pay $185 million in fines. At least 5,300 Wells Fargo employees have also been fired.
Wells Fargo seems to have bounced back after its fall from grace. In 2019, its profits were below its pre-scandal numbers — but still not chump change. The financial institution reported a net income of $19.5 billion for the year.
Keep Reading: How Do Banks Make Money?
More From GOBankingRates
Terence Loose contributed to the reporting for this article.