'Big Bang Theory' Ending: See How Much Jim Parsons and Cast Earned

7 min Read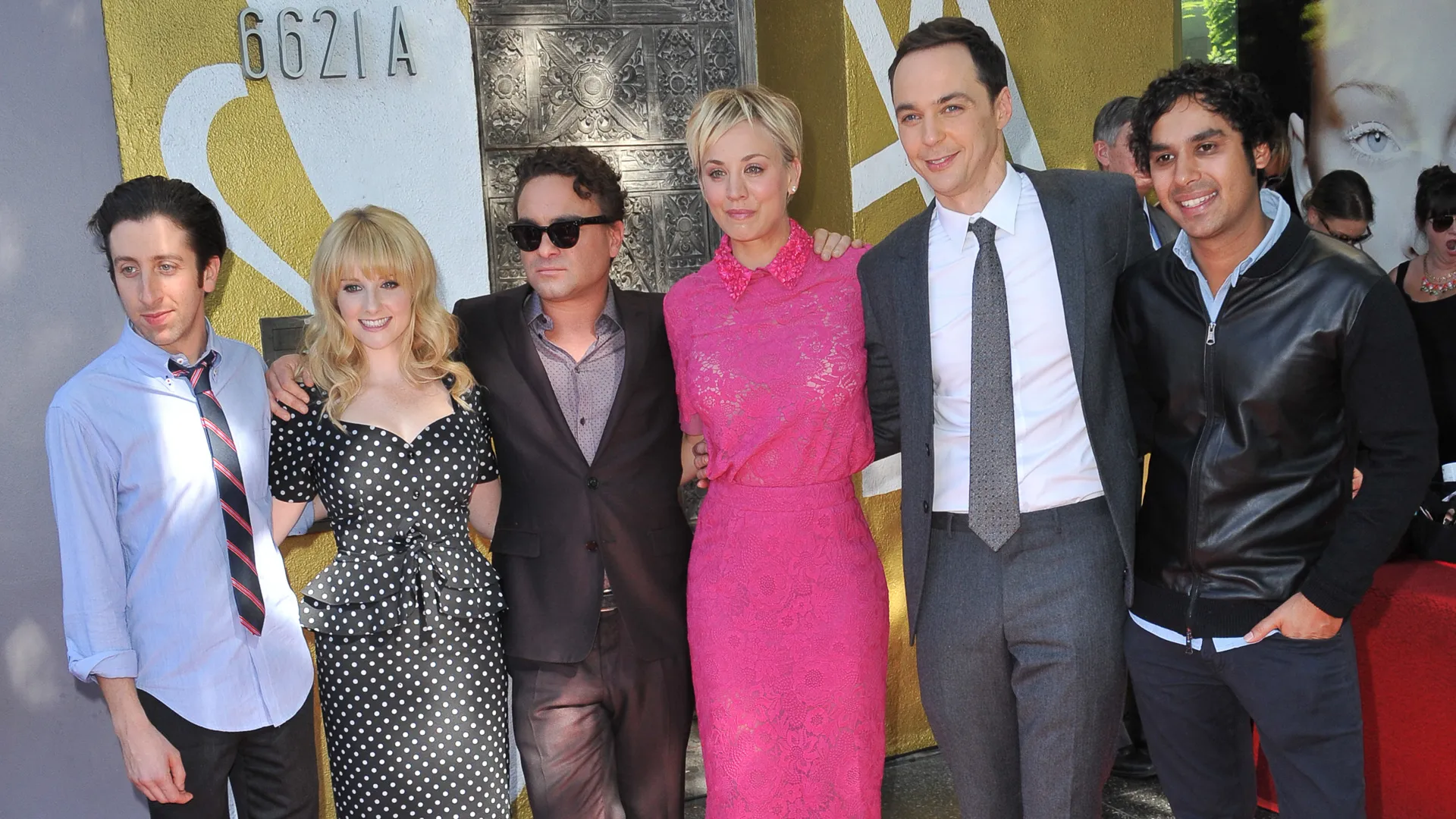 "The Big Bang Theory" is returning for season 12. Cast members Kaley Cuoco, Johnny Galecki, Simon Helberg, Kunal Nayyar and Jim Parsons boast the highest per-episode salaries for actors on a TV comedy as of August 2017, according to Variety — and that's no bazinga! This comes even after five of the show's stars reportedly took $100,000-per-episode pay cuts in an effort to get raises for co-stars Mayim Bialik and Melissa Rauch, according to a March 2017 report from The Hollywood Reporter. Season 12, the series' final season, is scheduled to premiere in September 2018.
Click to discover how much these talented TV stars are earning.
Make Your Money Work Better for You
Kaley Cuoco Salary: $900,000 Per Episode
Kaley Cuoco plays Penny Hofstadter, now-wife of Leonard Hofstadter, on "The Big Bang Theory." Penny moved to Los Angeles to become an actress and joined the gang when she moved into the apartment across the hall from Leonard and Sheldon Cooper. She and Leonard married at the start of season 10.
Cuoco has a net worth of $55 million, and as of August 2017, she receives almost $1 million per episode. Before renegotiating her salary for season eight, Cuoco had a previous per-episode salary of $350,000, reported Deadline. Her work on the show has earned her a Critics' Choice Award and a People's Choice Award.
Unlike her character Penny, Cuoco found success in acting at a young age. Her earlier credits include the TV movies "Quicksand: No Escape" and "Mr. Murder." Some of her most noteworthy roles include playing Bridget Hennessy on "8 Simple Rules" and Billie Jenkins on "Charmed."
Scripted Versus Reality — Who Makes More? 'The Kardashians,' 'Bachelor' and More: Reality TV Salaries Revealed
Jim Parsons Salary: $900,000 Per Episode
Jim Parsons is Dr. Sheldon Cooper on "The Big Bang Theory." A theoretical physicist who enrolled in college at the age of 11, Sheldon believes he's the perfect human, but his seriously eccentric personality makes him a bit difficult for others to handle. In the Oct. 10 episode of season 10, Sheldon finally decides to move in with long-time girlfriend Amy (played by Bialik).
Playing the role of Sheldon has proven incredibly lucrative for Parsons, bringing his net worth to $70 million. Additionally, he won a Golden Globe and four Primetime Emmys for his work on "The Big Bang Theory."
Sheldon is the biggest role Parsons has ever played, but it's certainly not the only one. He previously appeared on the series "Judging Amy," lent his voice in the animated film "Home" and appeared in "Wish I Was Here," among other projects. As part of his contract negotiations with WBTV, Parsons joined "Young Sheldon" as an executive producer.
Make Your Money Work Better for You
Johnny Galecki Salary: $900,000 Per Episode
Johnny Galecki plays Dr. Leonard Hofstadter. Best friend and former roommate of Sheldon, Leonard is less socially awkward than the rest of his geeky pals and constantly finds himself stuck explaining Sheldon's peculiar behavior.
Galecki earns $900,000 per episode for his work on "The Big Bang Theory." Along with Cuoco and Parsons, he renegotiated his salary to its current rate from $350,000 prior to season eight. In total, Galecki's net worth is $50 million.
Since starting his career as a child actor in 1987, Galecki has achieved major success. Aside from his role on "The Big Bang Theory," he's best known for playing David Healy on the series "Roseanne." He also starred as Rusty in the cult classic "National Lampoon's Christmas Vacation" and appeared in the horror film "I Know What You Did Last Summer."
Salaries Worth Dancing About: See How Much Season 25 'Dancing With the Stars' Contestants Are Worth
Simon Helberg Salary: $900,000 Per Episode
Howard Wolowitz is played by Simon Helberg. Before settling down with his now-wife Bernadette Rostenkowski (played by Rauch), the aerospace engineer considered himself quite the ladies' man. Howard lived with his overbearing mother until she passed away in season eight.
Helberg's net worth is $45 million, and he earns around $900,000 per episode of the CBS sitcom. Over the years, he has won a Critics' Choice Award for his portrayal of Howard and received numerous Screen Actors Guild Award nods.
Beyond his work on "The Big Bang Theory," Helberg recently starred in "Florence Foster Jenkins," a film that earned Meryl Streep her 20th Oscar nomination. A talented voice actor, he's also had a recurring role voicing the character Bian Zao on the series "Kung Fu Panda: Legends of Awesomeness" and appeared in the films "Van Wilder: Party Liaison" and "Old School."
Make Your Money Work Better for You
Kunal Nayyar Salary: $900,000 Per Episode
Kunal Nayyar plays Dr. Rajesh Ramayan Koothrappali — better known as "Raj" — on "The Big Bang Theory." For the first six seasons of the show, the astrophysicist suffered from the social anxiety disorder selective mutism, which made it impossible for him to talk to women he wasn't related to.
Nayyar is paid a salary of about $900,000 per episode, which has helped increase the actor's net worth to $45 million.
Lately, Nayyar has been keeping a busy schedule. In addition to his obligations for "The Big Bang Theory," he's been lending his voice to a number of animated roles, including Dr. Pakij on "Fantasy Hospital." Previously, he guest-starred on "The Mindy Project," "Sullivan & Son" and "NCIS."
Top TV Salaries: Which 'NCIS' Star Has a $60 Million Net Worth?
Mayim Bialik Salary: $500,000 Per Episode
On "The Big Bang Theory," Mayim Bialik plays Dr. Amy Fowler, Sheldon's girlfriend. A Harvard-educated neurobiologist, Fowler met Sheldon in the season three finale and has been dating him on and off ever since.
Bialik's net worth is $12 million, according to The Richest, and she earns approximately $500,000 per episode, according to Variety. In 2016, she told the NY Daily News that all actors are overpaid.
A seasoned actress, Bialik has been recognized with a Critics' Choice Award and four Primetime Emmy nods for her work on "The Big Bang Theory." She starred as Blossom Russo on the hit '90s show "Blossom" and has appeared on "7th Heaven," "Curb Your Enthusiasm" and "The Secret Life of the American Teenager," among other shows. "Blossom" isn't on TV anymore, but these actors get paid handsomely for the reruns of their shows.
Make Your Money Work Better for You
Melissa Rauch Salary: $500,000 Per Episode
Melissa Rauch plays Bernadette Rostenkowski, a microbiologist who wed Howard Wolowitz on the season five finale of "The Big Bang Theory." The TV couple welcomed daughter Halley, named for Halley's Comet, in season 10.
Like Bialik, Rauch earns around $500,000 per episode of "The Big Bang Theory," according to Variety. Her net worth is an estimated $8 million.
Rauch's acting credits date back to 2006 when she appeared in the film "Delirious." Rauch recently starred in the film "The Bronze" and lent her voice to the animated "Ice Age: Collision Course." She has also appeared on the hit series "True Blood" and "The Office."
Click to keep reading about richest reality stars of the 2000s and where they are now.
More on Celebrities and Net Worth
Gabrielle Olya contributed reporting to this article.
Net worth figures are indicative of assets versus liabilities. All net worth figures are according to Celebrity Net Worth unless otherwise noted.
About the Author