How Rich Is Angelina Jolie?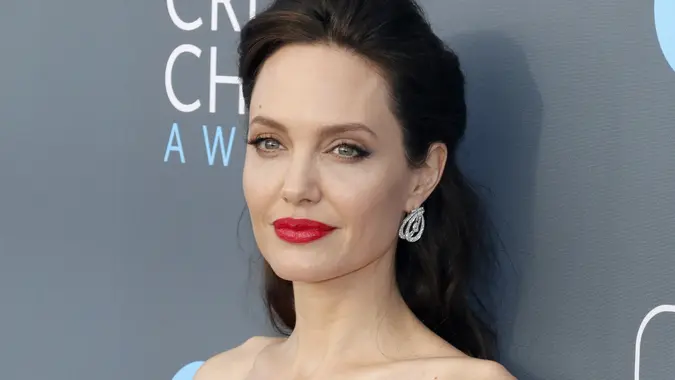 Tinseltown / Shutterstock.com
Angelina Jolie has won an Academy Award, traveled the world as a goodwill ambassador and is a mother to three sons and three daughters She also is a successful film director, and maybe she'll find time to celebrate her birthday on June 4, when she turns 47. A Hollywood starlet since beginning her film career in the '90s, Jolie is among the richest actresses of all time.
Learn about Angelina Jolie's exciting life and the secrets behind her impressive wealth.
Angelina Jolie Net Worth: $120 Million
Like many celebrities, Angelina Jolie has earned a hefty sum of cash from endorsement deals, including a $12 million contract with St. John and a $10 million deal with Louis Vuitton. However, Jolie's $120 million net worth is primarily owed to her work in the film industry.
In 2017, she signed her first major beauty endorsement deal in a decade with the French company Guerlain Parfumeur, which made her the face of their Mon Guerlain, a perfume. Elle reported she donated her unspecified paycheck to charity.
In 2020, Forbes reported she was the world's second-highest-paid actress with earnings of $35.5 million.
She took time off during the coronavirus pandemic and spent time with her kids in their home, which previously belonged to famed director Cecil B. DeMille. She bought the estate in the Los Feliz area of Los Angeles for nearly $25 million in 2017, the New York Post reported.
Angelina Jolie Movies
Angelina Jolie commands hefty sums for her acting skills. While top actresses generally earn between $10 million and $20 million per movie, according to Forbes, Jolie received $33 million to star in Disney's "Maleficent," although she hadn't been on-screen for almost four years prior. She also starred in the sequel.
Make Your Money Work Better for You
Her earning power is due in part to an ability to pull off diverse roles, ranging from her Oscar-winning portrayal of a psychiatric patient in "Girl, Interrupted" to her role as action heroine in "Lara Croft: Tomb Raider." Jolie is also highly paid because of her success in drawing foreign viewers to theaters.
In its opening weekend, "Maleficent" earned $70 million in North America compared to $100 million abroad, reported Time. "The Tourist" earned 75 percent of its $280 million overseas, according to Forbes. Time said Jolie's movies had netted $4.88 billion globally as of 2014.
More recently, Jolie provided the voice for Tigress in "Kung Fu Panda 3," which was released in January 2016 and grossed $41.28 million domestically in its opening weekend. Additionally, the star has been spending time on the other side of the camera.
Jolie wrote, directed and starred in "By the Sea" opposite Brad Pitt. She also directed the World War II drama "Unbroken."
Earlier this year, she signed a three-year deal with production company Fremantle to produce, direct or star in a variety of projects. She will be working on feature films, original series or documentaries that are "sophisticated, powerful and internationally focused, according to a news release.
The first project in development is the feature film, "Without Blood," being shot in Italy and based on the bestselling novel by Alessandro Baricco.
Angelina Jolie's Personal Life
Angelina Jolie is the daughter of actor Jon Voight and the late Marcheline Bertrand, who was an actress and worked toward humanitarian causes. Jolie began her acting career at a young age and later studied at New York University.
Make Your Money Work Better for You
Jolie has been married three times, all to actors: Jonny Lee Miller (1995-99), Billy Bob Thornton (2000-03) and Brad Pitt (2014-16).
Jolie has experienced some serious health issues in recent years. After discovering she has a gene that increases her risk of developing cancer, she opted to have a preventative mastectomy in 2014. She went on to have her ovaries and fallopian tubes removed. Marcheline died from ovarian cancer and breast cancer.
Despite her personal struggles, Jolie has gone to great lengths to help others. A well-known humanitarian, Jolie serves as a Special Envoy for the United Nations High Commissioner for Refugees. In addition to donating more than $5 million to the agency, she wrote a book based on her early experiences with refugees, the proceeds of which go to the UNHCR.
Last year, she testified before Congress about the future of the Violence Against Women Act. In 2020, she donated $1 million to the No Kid Hungry organization amid the coronavirus pandemic, and a year later, she teamed with Guerlain on UNESCO's Women for Bees Program to help stem the fall in the world honeybee population. The bees are needed for food security.
Angelina Jolie and Brad Pitt's Children
Jolie adopted her son Maddox, now a college student, from Cambodia in 2002. He was the first of a brood that would grow to six — five of whom now are teenagers. She adopted daughter Zahara from Ethiopia in 2005 and son Pax from Vietnam in 2007.
Pitt legally adopted all three children. In addition, Jolie gave birth to their first biological child, Shiloh, in 2006, and the twins Knox and Vivienne completed the Jolie-Pitt family in 2008. Jolie appears to be close to all six kids, and their sibling bond seems strong, too.
Make Your Money Work Better for You
"They're pretty great people," Jolie told People in November 2021, "and because there's so many of them, I think they've had a very significant effect on each other."
She continued, "I have six very individual human beings in my home. I am so excited about all the different stages and feelings and curiosities that they go through. Why wouldn't you be? We're supposed to help them figure out who they are. And you can't figure out who they are if you don't enthusiastically develop with them."
As the children have gotten older, they have joined their mom in significant moments, including film premieres and humanitarian missions.
Angelina Jolie and Brad Pitt Divorce
In September 2016, Angelina Jolie filed for divorce from Pitt, citing irreconcilable differences. Though they'd only been married for two years, the couple — dubbed "Brangelina" — got together on the set of "Mr. and Mrs. Smith" in 2005.
A judge declared each party legally single in 2019 but the exes continue to battle in court. Pitt long has been seeking joint physical and legal custody of the minor children, and he and Jolie still have not come to an agreement. [x] A Pitt ally told Us Weekly in April 2022 that Pitt believes Jolie "will never agree to joint custody and is going to run out the clock until the kids are 18."
Pitt also has accused Jolie in court documents of selling her share of the Chateau Miraval estate in France, a winery, without his knowledge or consent.
More From GOBankingRates
Make Your Money Work Better for You
Jami Farkas contributed to the reporting for this article.