Top 20 Richest Women in the World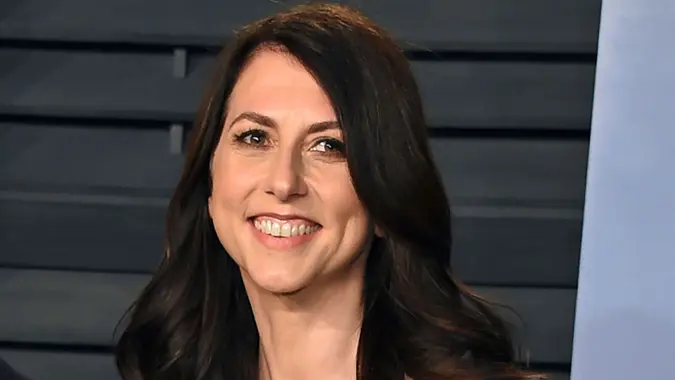 Evan Agostini/Invision/AP/Shutterstock / Evan Agostini/Invision/AP/Shutterstock
The world's 20 wealthiest women lead businesses in a variety of industries, from real estate to retail, casinos to cosmetics, banking to beer. For some of them, it's all in the family, working side by side with children or siblings. For others, their focus lies with philanthropy. Eight of them are based in the United States and are tied to some of the most well-known companies in the nation.
More:
Each of the women are among the 175 richest people in the world, according to Forbes' real-time billionaires list, and their net worths actually fluctuate by the day. The numbers here are based on Forbes' estimates on April 25, 2023, and they're impressive. Check out these women who boast the most.
Christy Walton: $11 Billion
Christy Walton stepped into Walmart's Walton clan when she married her late husband John Walton, son of Walmart found Sam Walton. She inherited her husband's stake in the company when he died in a 2005 plane crash and also received about one-sixth of his estate. The bulk of her wealth comes from her shares in Walmart, but also from her late husband's investments in First Solar, a manufacturer and company of solar solutions. In 2010, she established the investment fund Cuna del Mar, which backs companies working to develop a sustainable supply of seafood. Walton is an active philanthropist, she sits on the board of the Walton Family Charitable Support Foundation which mainly focuses on how to improve K-12 education and environmental conservation.
Make Your Money Work Better for You
Laurene Powell Jobs and Family: $12.8 Billion
Laurene Powell Jobs has made diversified investments and donations with the billions she inherited from her late husband, Apple co-founder Steve Jobs. She is the founder and president of the Emerson Collective, which works to achieve a "more equal and just America," according to its website. Toward that end, the organization uses philanthropy and impact investing to achieve those goals. Forbes reported that in 2021, she committed to a $3 billion donation over a 10-year span to organizations working to combat climate change. She also has made significant investments in media and nonprofit newsrooms, and she holds minority shares in three Washington, D.C., sports franchises, per Forbes.
Diane Hendricks: $13.7 Billion
Diane Hendricks has run ABC Supply since the death of her husband, Ken, in 2007. The two founded the business – a distributor of roofing, siding and windows — in Wisconsin in 1982, and her roots are in the home industry. Before she met Ken, who worked as a roofer, she sold new custom homes, according to Forbes, which reported the company had almost $15 billion in revenues in 2021.
Kwong Siu-hing: $14.5 Billion
Kwong Siu-hing's fortune was built from real estate development company Sun Hung Kai Properties, which her late husband and two colleagues founded in 1958. Her husband, Kwok Tak-seng, died in 1990. Forbes reported she remains the largest shareholder of the company. She formerly served as the company's chair, which went through a rocky time last decade with the death of one son and the imprisonment of another on bribery charges.
Charlene de Carvalo-Heineken and Family: $15.9 Billion
Gerard Adriaan Heineken made his fortune in beer after opening a brewery in Amsterdam in 1873. Today, his great-granddaughter, Charlene de Carvalo Heineken, and her family own 23% of Heineken. Today, she, her husband Michel de Carvalho, their two sons and their daughter all are members of Heineken boards, Forbes reported.
Make Your Money Work Better for You
Beate Heister: $15.9 Billion
Beate Heister's name isn't recognizable to most, but her family business certainly is: Aldi. Her father, Karl Albrecht Sr., and his brother grew the family's small German grocery store into an international giant. Heister inherited part of her father's share of the company, which is known as Aldi Sued and based in Germany but included rights to the Aldi stores in the United States, Australia and United Kingdom, Forbes reported. Aldi Sued has expanded further and now has more than 6,200 stores on four continents.[x][x][x]
Renata Kellnerova and Family: $17 Billion
Until his death in a helicopter crash two years ago, Petr Kellner was the richest person in the Czech Republic. According to Forbes. Now, his widow, Renata Kellnerova, and her four children control the family PFF Group. The conglomerate, which Forbes reports has $44 billion in assets, does work in financial services, real estate, media and telecommunications, per Forbes.
She chairs The Kellner Family Foundation, which aims to provide educational opportunities for Czech students.
Vicky Safra and Family: $17 Billion
Vicky Safra, the widow of banker Joseph Safra, and her adult children inherited their money and companies from her husband upon his death in 2020. A native of Greece, she lives most of the year in Switzerland. The company has interests in banking in Switzerland, the United States and Brazil, as well as international real estate.
In February 2023, middle son Alberto Safra sued his mother and brothers over his stake of the family fortune, and he no longer is affiliated with the family business, Reuters reported. The case is pending in New York.
Savitri Jindal and Family: $17.6 Billion
Savitri Jindal of India took over as head of Jindal Group following the death of her husband, O.P. Jindal, in a 2005 helicopter crash. The company has holdings in a variety of industries, including energy, steel, cement and infrastructure, as well as sports and venture capital, and some of the couple's children have leadership roles in the various businesses. She has varied interests, including public service.
Make Your Money Work Better for You
Abigail Johnson: $21.6 Billion
The CEO and chairperson of Fidelity Investments, Abigail Johnson took over the executive role from her father in 2014. Her grandfather founded the financial firm in Boston in 1946. She earned an MBA from Harvard, worked summers at the family company, and became an analyst there in 1988. She owns a 24.5% stake in Fidelity, which has managed assets of $3.7 trillion, Forbes reported.
Johnson has taken a nontraditional approach at the helm of Fidelity, launching new products targeting millennials and embracing socially responsible investing and cryptocurrencies. She is married to healthcare entrepreneur Christopher McKown.
Iris Fontbana and Family: $22.8 Billion
A resident of Chile, Iris Fontbana and her sons inherited their wealth from her husband and their father, Andrónico Luksic, who died of cancer in 2005. The family fortune is based on the mining, banking and beverage industries.
Fontbana and her two surviving sons – a third died of lung cancer 10 years ago – operate Antofagasta PLC, a Chilean copper mining conglomerate that trades on the London Stock Exchange. According to Forbes, son Jean-Paul Luksic chairs that company, while his brother, Andrónico Luksic, leads Quiñenco, a beer, banking and manufacturing conglomerate.
Susanne Klatten: $24.7 Billion
Susanne Klatten put her background as an economist to work to help her grandfather build his Altana AG into a top pharmaceutical and specialty company. Forbes reported she is now the German company's sole owner, which boasts annual sales in excess of $2.5 billion.
She has a second company in her portfolio, too: BMW. According to Forbes, her brother, Stefan Quandt, has a stake in the company of nearly 24% and she holds about 19% of the luxury automaker. Their father, late industrialist Herbert Quandt, led BNW to its place of prominence in the auto industry.
Make Your Money Work Better for You
Gina Rinehart: $27.3 Billion
Australian Gina Rinehart took her late father's company, Hancock Prospecting, and turned around the financially struggling business. She became the company's executive chairwoman in 1992 and now oversees a money-making company that counts the Roy Hill mining project as its largest asset. Rinehart also is Australia's second-largest cattle producer, Forbes reported.
Rinehart is Australia's richest person and largest landholder, The Guardian reported.
MacKenzie Scott: $27.6 Billion
After 25 years of marriage to the world's richest man — Amazon founder Jeff Bezos — MacKenzie Scott came into her own tens of billions of dollars as part of the couple's divorce settlement in 2019.
Soon after, she famously vowed to give away the majority of her wealth as part of The Giving Pledge, a movement of philanthropists committing to giving back to charitable causes. In 2020 and 2021, she gave more than a combined $8.5 billion to hundreds of diverse charitable organizations.
Her total charitable contributions are enormous. Her organization, Yield Giving, has donated more than $14 billion to 1,600-plus nonprofits to aid others, per Yield Giving's website.
Rafaela Aponte-Diamant: $31.3 Billion
Rafaela Aponte-Diamant, from Switzerland, co-owns shipping giant MSC with her husband, Gianluigi Aponte. Forbes reports that the shipping line is the largest in the world, and the husband and wife each own 50%. The two met when Gianluigi was the captain of a ship and Rafaela was vacationing on the Italian island of Capri in the 1960s.
In 1970, they borrowed $200,000 to start their empire, which remains a family-run business. Their son, Diego, is MSC's president, per Forbes.
Make Your Money Work Better for You
Miriam Adelson and Family: $37.7 Billion
Miriam Adelson owns more than half of the casino company Las Vegas Sands, with casinos in Macao and Singapore. She gained that stake upon the death of her husband, Sheldon Adelson, who was the CEO and chairman of the company until his death in January 2021 at age 87. Las Vegas Sands sold its assets in the Nevada city for $6.25 billion in early 2022, holding on to its foreign properties, Forbes reported.
Adelson grew up in Israel and worked as a doctor, specializing in addiction. Known philanthropists, the couple founded the Dr. Miriam and Sheldon G. Adelson Research Clinic in Las Vegas, where people struggling with opioid use can receive treatment.
Jacqueline Mars: $38.3 Billion
Jacqueline Mars is the granddaughter of Frank Mars, founder of the Mars candy company. Jacqueline owns an estimated one-third of the company, along with her brother, John, and the four daughters of her late brother, Forrest Jr.
Jacqueline served on the board of Mars until 2016 and worked for the company for 20 years. She owns a horse farm in Virginia.
Julia Koch and Family: $59 Billion
The widow of billionaire industrialist David Koch, Julia Koch — and her three children — inherited a 42% stake in Koch Industries following his 2019 death. The private company works in diverse industries.
Julia was born in Iowa and her parents later owned a women's clothing boutique in the town of Conway, Arkansas. She moved to New York in the 1980s to work in the fashion industry and became an assistant to the designer Adolfo, dressing the likes of Nancy Reagan.
She now leads the David H. Koch Foundation, which supports education, the arts, science and medical research, and public policy, including a $10 million donation to allergy and asthma research at the Lucile Packard Children's Hospital Stanford.
Make Your Money Work Better for You
Alice Walton: $61.4 Billion
The only daughter of Walmart founder Sam Walton, Alice Walton did not follow the path into the family business of her brothers, Rob and Jim Walton. Alice Walton focused her early career on investing, working as an analyst and broker, then founded her own investment bank, Llama Company. It closed in the late 1990s.
She also pursued interests in art, founding the Crystal Bridges Museum of American Art in Bentonville, Arkansas. She opened a sliding-scale Christian summer camp called Camp War Eagle in 2006. In 2021, Alice launched her Whole Health Institute in Bentonville, with a mission of changing the nation's approach to healthcare to focus on goal-based wellness rather than sickness. In 2022, it got a new name — the Alice L. Walton School of Medicine -and, according to its website, the state-of-the-art medical facility expects to welcome its first class in 2025.
Francoise Bettencourt Meyers and Family: $93 Billion
Francoise Bettencourt Meyers of France is the richest woman in the world, ranked No. 9 on Forbes' list of billionaires. Since 1997, she has been a member of the board of directors of L'Oreal, the beauty giant founded by her grandfather Eugene Schueller, a young chemist who started selling his hair dye to hairdressers in Paris in 1909. Bettencourt Meyers and her family own about 33% of L'Oreal stock, Forbes reported, and she also is chairwoman of the family holding company.
She is the founder and president of the Fondation Bettencourt Schueller, a foundation that focuses on life sciences, the arts and promoting an inclusive society.
More From GOBankingRates
Amen Oyiboke-Osifo contributed to this article.