How Much Is Carrie Underwood Worth?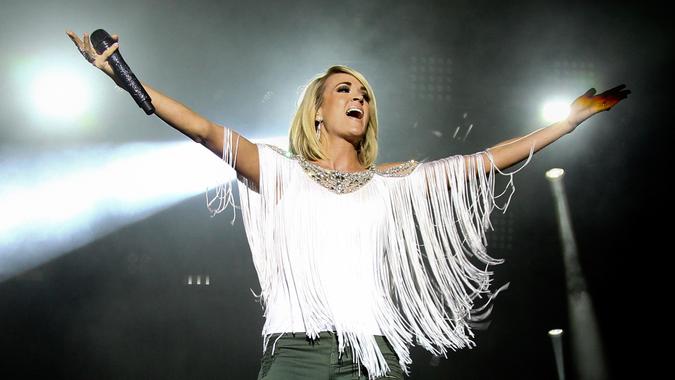 Debby Wong / Shutterstock.com
Country-pop superstar Carrie Underwood got her start on the "American Idol" stage, winning the show in 2005. She's since gone on to release eight albums, become a bestselling author and found several wellness companies. Underwood's success on and off the stage has brought her net worth to $140 million, according to Celebrity Net Worth.
See the List: Taylor Swift and 24 More of the Richest Musicians
Here's a quick look at the singer's stats:
Net worth: $140 million
Date of birth: March 10, 1983
Primary source of wealth: Music
Career highlights: Winner of seven Grammy Awards
Carrie Underwood's Music Career
Competing on — and winning — "American Idol" was just the tip of the iceberg for Underwood's success as a singer. She has released eight albums, plus a greatest hits album, and has sold more than 64 million records worldwide, according to her official bio. Eight of her albums have landed on the top five on the Billboard Hot 200 chart, with four of those albums — "Carnival Ride," "Play On," "Blown Away" and "Cry Pretty" — reaching the No. 1 spot. In addition, she's had 40 singles rank on the Billboard Hot 100 chart.
The Richest of the Rich: See How Much Reese Witherspoon and More A-List Movie Stars Are Worth
Underwood has won over 100 major awards, including seven Grammy Awards: In 2006, she won for best new artist and best female country vocal performance for "Jesus, Take the Wheel"; in 2007, she won for best female country vocal performance for "Before He Cheats"; in 2008, she won for best female country vocal performance for "Last Name"; in 2009, she won for best country collaboration with vocals for "I Told You So"; in 2012, she won for best country solo performance for "Blown Away"; and in 2014, she won for best country solo performance for "Something in the Water."
Read: 8 of the Most Notorious Music Rights Battles of All Time
Her singing hasn't just brought her acclaim — it's also added big bucks to her net worth. In addition to earnings from album sales, Underwood makes millions from her tours. In 2013, Underwood made the Forbes Celebrity 100 list thanks to her over 100 tour dates during the scoring period, helping her to net $31 million for the year.
Big Money: Ariana Grande, Drake and Other Child Actors Who Went on to Make Millions in Music
Carrie Underwood's Other Money Makers
Underwood published her first book, "Find Your Path: Honor Your Body, Fuel Your Soul, and Get Strong with the Fit52 Life," in March 2020. The book became a New York Times bestseller, and also reached No. 1 on Amazon and Publisher's Weekly's Bestseller lists, according to her official bio.
Underwood has also launched her own fitness app, fit52, and is the founder and lead designer for the athletic apparel brand CALIA by Carrie Underwood.
More From GOBankingRates