How Much Is Ellen Pompeo Worth?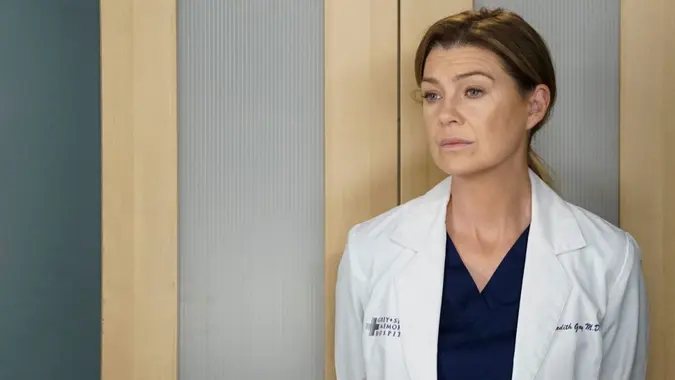 Kelsey McNeal/ABC/Kobal/Shutterstock / Kelsey McNeal/ABC/Kobal/Shutterstock
When "Grey's Anatomy" left off in May, Grey Sloan Memorial Hospital was engulfed in turmoil. Owen and Teddy went on the run after their part in physician-assisted suicide came to light. The hospital shut down its teaching program. A severe blood shortage put patients in peril. And Dr. Meredith Grey told her love, Nick, that he should return to Minnesota without her, as planned.
See Our List: 100 Most Influential Money Experts
Read: Here's How Much Cash You Need Stashed If a National Emergency Happens
Ardent fans of "Grey's Anatomy" will get caught up on all the drama on Oct. 6, when "Grey's Anatomy" returns for its 19th season on ABC (9 p.m. Eastern, 8 p.m. Central). New characters will enter the picture, and Dr. Grey, played since the first of the show's 400 episodes by Ellen Pompeo, will appear on screen less. Deadline Hollywood reported in August that Pompeo will remain as narrator and an executive producer of the series, but viewers will see Dr. Grey in only eight episodes.
Make Your Money Work Better for You
Pompeo has expressed interest in taking on other projects, and she's doing just that with a still-untitled, 10-episode show for Hulu that the network said was "inspired by the story of a Midwestern couple who adopts what they believe is an 8-year-old girl with a rare form of dwarfism. But as they begin to raise her alongside their three biological children, they slowly start to believe she may not be who she says she is." Pompeo also will serve as executive producer through her production company, Calamity Jane.
The new project will just add to Pompeo's wealth, which is estimated at $80 million by Celebrity Net Worth. On its 2020 list of the highest-paid actresses, Forbes ranked Pompeo No. 8 with $19 million in annual earnings, sitting between A-listers Nicole Kidman and Elisabeth Moss. The publication pegged her earnings at $550,000 per episode for "Grey's," plus $6 million a year in profits from syndication, after a contract renegotiation in 2017. Keep reading to find out more about Pompeo's long career.
Make Your Money Work Better for You
Ellen Pompeo's Early Acting Career
Pompeo made her big-screen, major studio acting debut in 2002 alongside Susan Sarandon, Dustin Hoffman and Jake Gyllenhaal in "Moonlight Mile." She also had a small role in the Leonardo DiCaprio-Tom Hanks film "Catch Me If You Can" and in a part in the hit ensemble-cast comedy "Old School."
True fans of the TV series "Friends" might remember Pompeo for her appearance in the 2004 episode entitled "The One Where the Stripper Cries." Her character, Missy Goldberg, went to college with characters Chandler and Ross, and both had a crush on her back then.
Take Our Poll: Are You Struggling To Keep Up With Your Utility Bills?
Ellen Pompeo Personal Life
Ellen Pompeo was born Nov. 10, 1969, in Everett, Massachusetts, rising to Hollywood stardom in her mid-30s. That's also when she married Chris Ivery, then a music producer she met at a grocery store in 2003, Parade reported. They married quietly in New York in 2007 with Mayor Michael Bloomberg officiating.
Make Your Money Work Better for You
Together, Pompeo and Ivery are raising their three children in an equally quiet manner. Her Instagram account contains few photos of the kids: Stella Luna, born in September 2009; Sienna May, born in August 2014; and Eli Christopher, who turns 6 in December.
In 2019, Ivery transitioned his career to the fashion industry, per Parade. In September 2021, Pompeo launched a podcast, "Tell Me with Ellen Pompeo," and she discusses with her guests the things that are most important to her, including social justice, voting rights, women's rights and equal pay.
Ellen Pompeo's Real Estate
Pompeo's hobby is real estate, and she has said in interviews how much she enjoys building homes from scratch or rehabbing them.
In 2017, she sold a three-bedroom mid-century modern home in the Hollywood Hills for just shy of $2.1 million — $80,000 over asking price, the Los Angeles Times reported. The following year, she sold a second property in Hollywood Hills, this one a 2,456-square-foot Spanish villa she bought in 2005 for $1.35 million. The sales price was $2.675 million, the Times said.
In 2011, she bought a property on eight acres in the Hamptons for $925,000. She had the existing residence torn down two years later and replaced it with a five-bedroom, four-bath farmhouse-style home. The property sold in 2019 for $2.995 million, Architectural Digest reported.
"This is my hobby and I absolutely love it," she told the magazine about creating beautiful homes before selling the farmhouse.
According to realtor.com, Pompeo and Ivery own an oceanfront home in Malibu, California, and a mansion in the Los Feliz section of Los Angeles. In May, Pompeo bought the house next door to theirs in Malibu for $10.3 million, Dirt reported. The new home is 4,044 square feet with five bedrooms and 4 ½ baths, built in 1980. Combined with their original property in the coveted Encinal Bluffs neighborhood, Pompeo and Ivery now have a total of eight bedrooms and 7 ½ baths on 1.67 acres.
More From GOBankingRates
Dawn Allcot contributed to the reporting for this article.
Make Your Money Work Better for You