Emma Stone's Net Worth as the World's Highest Paid Actress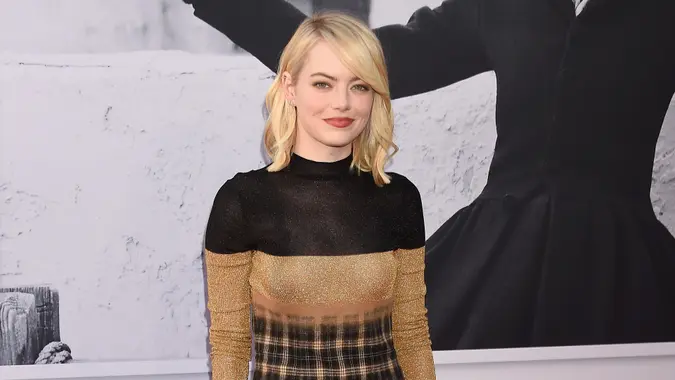 Featureflash Photo Agency / Shutterstock.com
It's been a big year for Emma Stone — the red-headed beauty swept the 2017 award show circuit while collecting seriously impressive paychecks. She's at the top of the entertainment industry now, but the "La La Land" star put in a lot of work to get there. Take a look at Emma Stone's net worth and her journey to become the highest-paid actress.
Emma Stone Net Worth: $28 Million
Named the highest-paid actress in the world for 2017 by Forbes, Emma Stone earned $26 million from June 1, 2016 to June 1, 2017, before taxes. According to the magazine, most of her windfall came from her hit film "La La Land."
Because she reached her highest-ever earnings for a single year, you might wonder "How much is Emma Stone worth?" That answer is $28 million, according to Celebrity Net Worth. This number is especially significant because as of 2015, Emma Stone's net worth was just $18 million. 
Her fortune will likely rise even higher, as she has several films in the works and a new job as a Louis Vuitton ambassador. She'll reportedly earn $6 million to $10 million to serve as the face of the luxury brand, according to Page Six.
'La La Land' Costar: Ryan Gosling's Net Worth 

The Life and Career of Emma Stone
Emily Jean Stone was born and raised in Scottsdale, Ariz. When she was 14 years old, she made a PowerPoint presentation for her parents to convince them to let her move to Los Angeles to pursue an acting career.
When she arrived in Hollywood in 2004, her real name was already taken at the Screen Actors Guild, so she took on the stage name Emma. After landing several small television roles, she made her big-screen debut as Jules in the 2007 movie "Superbad." Since then, she's gone on to star in a slew of films like "The Amazing Spider-Man" franchise, "The Croods," "The Help," "Birdman," and "La La Land."
Make Your Money Work Better for You
Stone fulfilled a childhood dream by taking on the role of Sally Bowles in "Cabaret" on Broadway from November 2014 to February 2015 — and had so much fun she extended her run by two weeks. She was a huge hit with the audience, and sales and attendance levels for her wintertime performance neared those of the touristy summer season.
Ranked: Net Worth of Every 'Spider-Man' Actor
Emma Stone and Andrew Garfield
In addition to a career in the spotlight, Emma Stone had a very high-profile romance. She met actor Andrew Garfield during auditions for 2012's "The Amazing Spider-Man," and they dated on and off until October 2015. The breakup was reportedly caused by their busy schedules, according to E! News.
In 2012, the couple purchased a four-bedroom, 3.5-bathroom, 3,862-square-foot home in Beverly Hills, Calif. for $2.5 million. It's still unclear what happened to the home after the couple's breakup, but in a 2016 interview with Rolling Stone, the actress revealed she now lives in New York City.
He's not currently Emma Stone's boyfriend, but Garfield and his ex-girlfriend have remained close. The former couple speak highly of one another in interviews, which sparked reconciliation rumors in May 2017, when she visited London's National Theater to catch a performance of his play "Angels in America."
Emma Stone Awards and Nominations
Emma Stone won an Oscar in 2017 for her performance in "La La Land," her biggest movie yet. Her work on the film also landed her a Golden Globe and a Screen Actor's Guild Award.
Make Your Money Work Better for You
The 2017 awards season was certainly her biggest, but not the first time she was honored. She received a both an Oscar and a Golden Globe nomination for "Birdman" in 2015 and another Golden Globe nod in 2011 for "Easy A."
Related: Actors Whose Wealth Skyrocketed After Winning an Oscar
What's Coming Up for Emma Stone?
Fans have plenty of Emma Stone movies to look forward to in the near future. Her most recent film, "Battle of the Sexes," co-starring Steve Carrell, hit theaters Sept. 29.
Up next are two films slated for 2018 releases. Stone will star as Abigail Masham in "The Favourite," set in early 18th-century England. She'll also play villain Cruella de Vil in the film "Cruella."
Looking a little farther into the future, Stone will reprise her role as Eep in "The Croods 2," which is scheduled to hit theaters in 2020.