'Entourage' Movie: How Much Money Did Adrian Grenier and Jeremy Piven Make?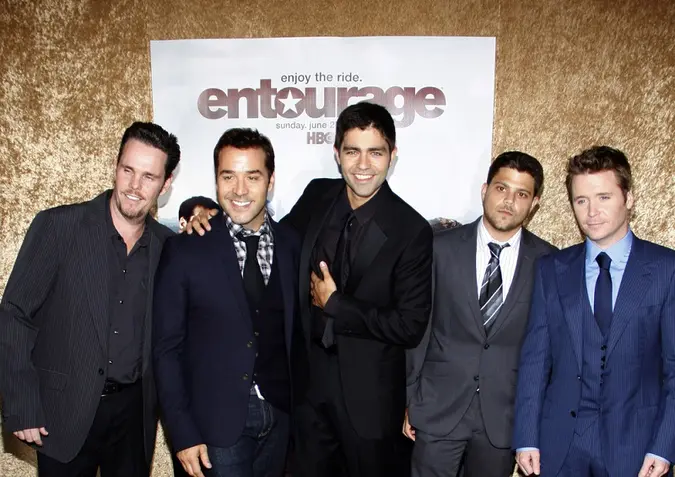 The "Entourage" series ran for eight seasons from 2004 to 2011 on HBO. It went out on a strong note, with 3.1 million viewers tuning in for the final episode. But now, the big-screen adaptation is getting ready to hit theaters on Wednesday, June 3. Adrian Grenier, Jeremy Piven, Kevin Connolly, Jerry Ferrara and Kevin Dillon return as their original characters, who find themselves, again, navigating the fast and competitive world of show business in Hollywood.
Rumored salary and contract disputes reportedly delayed the long-planned production in 2013. Sources told The Hollywood Reporter (THR) that Piven's deal with Warner Bros. had upset the other cast members; they supposedly wanted to be paid just as much as the three-time Emmy winner. But in the end, everything worked itself out. According to THR, sources say Piven was paid $5 million, and the other actors were paid $2 million each (plus backend). Grenier told the publication, "It was just a matter of ironing out details."
Warner Bros. gave Wahlberg less than $30 million to make the "Entourage" movie, reports CinemaBlend, and it's unlikely the film will see a huge profit when it releases. THR and Rant Hollywood both predicted "Entourage" will flop at the box office. Still, even if the movie does bomb, the actors' bank accounts won't be left dry. According to CelebrityNetWorth, these guys are worth millions of dollars.
Jeremy Piven Net Worth: $15 Million
Jeremy Piven achieved small-screen immortality by bringing Ari Gold to life. Intensity, cutting wit and the relentless pursuit of success drove Piven's character through the series. CelebrityNetWorth reports the actor made $350,000 per episode, and his current net worth is $15 million. In addition to the three Emmy awards, the actor's performance won him a Golden Globe in 2008.
Make Your Money Work Better for You
Piven has more than 90 credits as an actor and has appeared in at least 10 movies with John Cusack alone, including "One Crazy Summer" in 1986, "Say Anything" in 1989 and "Serendipity" in 2001. He is expected to star in Spike Lee's controversial film "Chiraq," which is slated for release in 2016.
Related: 'Game of Thrones': Net Worths of Peter Dinklage, Kit Harington and More
Adrian Grenier Net Worth: $15 Million
With a net worth of $15 million and a reported salary of $200,000 per episode, according to CelebrityNetWorth, Adrian Grenier was the nucleus of the HBO series. He plays the role of Vincent Chase, a Hollywood actor who has experienced the ups and downs of stardom.
Grenier has proven his chops on the small screen as well as the big screen, with roles in movies like "The Devil Wears Prada," "Drive Me Crazy and "Hart's War." In addition to acting, he is also in the music business. Grenier is a member of the band The Honey Brothers, and he created a recording studio called the Wreckroom, which later became Wreckroom Records.
Kevin Connolly Net Worth: $15 Million
Kevin Connolly is also worth an estimated $15 million. CelebrityNetWorth reports the actor made $200,000 per episode of "Entourage," where he played Vincent's best friend and manager, Eric Murphy.
Connolly has been a Hollywood mainstay since 1990, when he played Chickie in "Rocky V." From "The Notebook" to "Secretariat," the actor has nearly 40 acting credits on IMDB. On top of "Entourage" releasing this year, Connolly has appeared in the TV movie "Fantasy Life" and the series "Barely Famous."
Read: Bieber to DiCaprio: What It Costs to Drive Like These 19 Celebrities
Jerry Ferrara Net Worth: $10 Million
Jerry Ferrara's character, "Turtle," was arguably the most memorable of the series. He started off as Vincent's assistant and driver, but he later started his own business and became a millionaire. Off screen, Ferrara is a multimillionaire worth $10 million. It's unclear how much he was paid per episode of "Entourage."
Make Your Money Work Better for You
Ferrara landed his first credited role on "The King of Queens" in the year 2000. He's appeared on the shows "NYPD Blue" and "Grounded for Life," but he was also in blockbusters, including "Think Like a Man" and "Battleship." The "Entourage" movie is one of just three projects Ferrara has in 2015; he stars in the movie "Club Life" and appears in the TV series "Power."
Kevin Dillon Net Worth: $10 Million
According to TV Guide, Kevin Dillon — whose net worth is $10 million — earned $200,000 per episode for his role in "Entourage." Described as "the working actor's working actor," Johnny Drama is Vincent's older half-brother. The character struggled with holding onto his own stardom in Hollywood, but in the upcoming film, Dillon told Screenrant, "Drama has a little piece of Vince's movie … he's got a juicy role, and he is hoping it changes things for him."
Although his early career, which dates back to 1983, saw him typecast as a bad boy, Dillon's talent became evident through amazing roles in critical and commercial successes, like "Platoon" and "The Doors." "Entourage" is not the actor's only project this year; he also appeared in "The Throwaways."
Keep reading: How to Be Rich in 6 Simple Steps

Photo credit: Tinseltown / Shutterstock.com
Editorial Note: This content is not provided by Chase. Any opinions, analyses, reviews, ratings or recommendations expressed in this article are those of the author alone and have not been reviewed, approved or otherwise endorsed by Chase.