How Rich Are Jennifer Aniston and These Other 'Friends' Stars?

6 min Read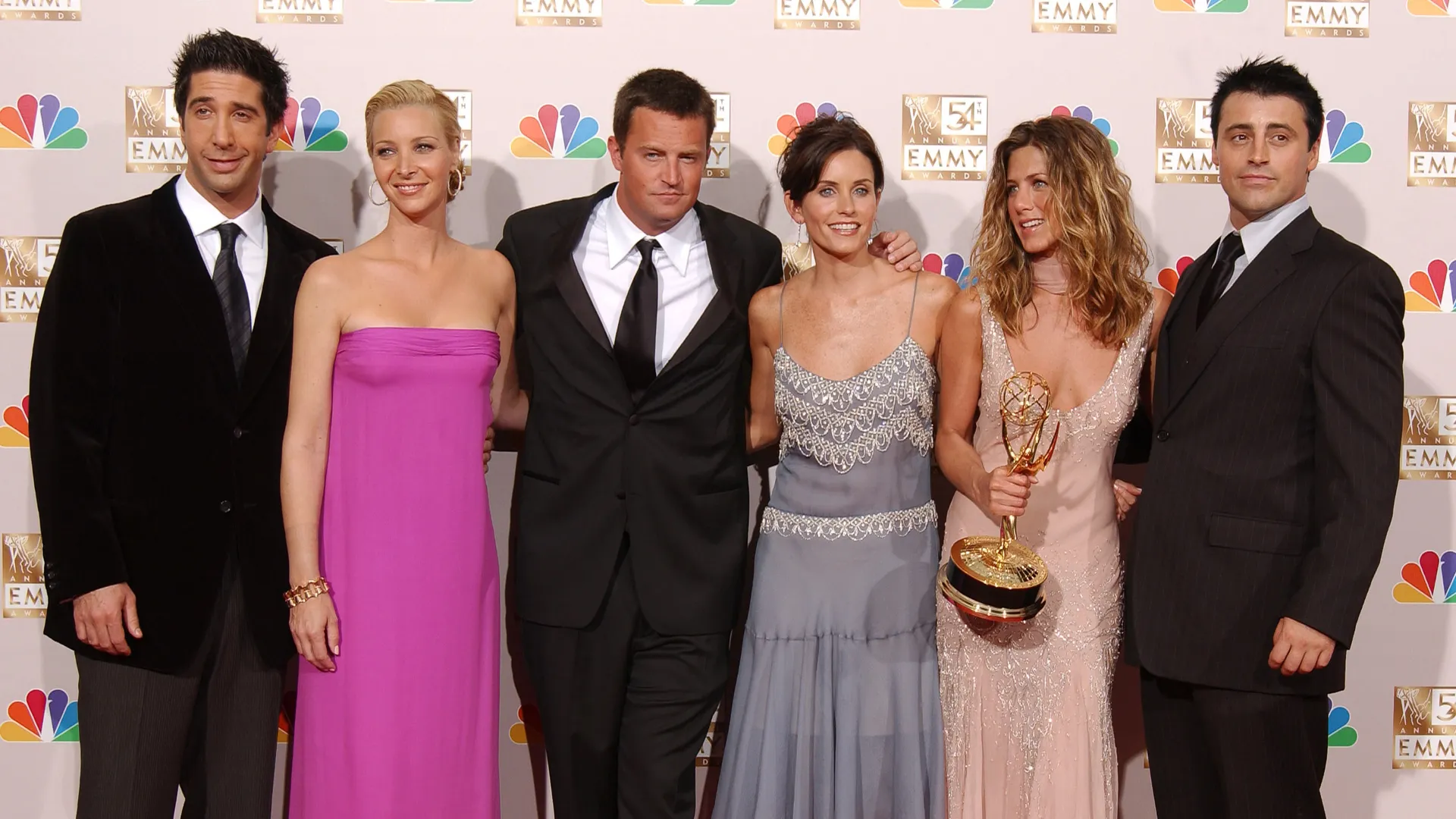 In 1994, "Friends," a show about six young adults living, loving, and canoodling together in New York City, aired on NBC and went on to become one of the most popular sitcoms of all time. It even inspired a 25-years-later reunion special, which aired on HBO on May 27, 2021.
See: How Rich Is Meghan Markle?
Find Out: How Rich Are King Charles III and the Rest of the British Royal Family?
Not only did "Friends" make its six key actors famous, propelling many of them to a stardom that hasn't waned even today, it made them very rich. Though the show ended in 2004 after 10 seasons, it is still earning Warner Brothers approximately $1 billion in syndication royalties each year. Those royalties also pay out the six core actors around $20 million per year, according to USA Today. With that in mind, here is a look at the net worth of the "Friends" stars — plus a couple bonus characters.
Make Your Money Work Better for You
Maggie Wheeler: $2 Million
The character fans loved to hate most on "Friends" was probably Janice Litman, played by Maggie Wheeler, Chandler's shrill-voiced ex-girlfriend known for her "Oh my God" catchphrase. Wheeler has a net worth of $2 million, according to Celebrity Net Worth.
The character actress has made many appearances in popular TV shows, such as "Seinfeld," "Doogie Howser, M.D.," "The X-Files," "Ellen," "Everybody Loves Raymond," "Will and Grace," "E.R.," "Friday Night Lights," "How I Met Your Mother" and "Without a Trace" to name a few.
Matt LeBlanc: $85 Million
It's probably no surprise that Matt LeBlanc, known for being the affable lady killer, Joey Tribbiani, on "Friends," got his start in commercials for Heinz and Coca-Cola. He also had a recurring role on the sitcom "Married… with Children" and appeared in music videos for big name artists, including Bon Jovi, Alanis Morissette and Tom Petty and the Heartbreakers.
Joey was his breakout role, of course, and he even got a short lived spin-off called "Joey." LeBlanc has been quite busy since then, with movie roles in such films as ""Ed," "Lovesick" and "Charlie's Angels." He also starred in the television series "Episodes" for 6 years and hosted the series "Top Gear" in 2016.
His last official project was a three-year stint on a CBS's "Man With a Plan." Like his castmates, he started out earning $22,500 per episode on "Friends" and by the final two seasons was earning $1 million per episode, according to Celebrity Net Worth. His total net worth today is $85 million.
Take Our Poll: Do You Think Student Loan Debt Should Be Forgiven?
Matthew Perry: $120 Million
Matthew Perry's acting chops were honed in his teens, in the original film "A Night in the Life of Jimmy Reardon," co-starring River Phoenix, and in improv on the Los Angeles comedy scene. However, it was his role as the buttoned up Chandler Bing on "Friends" that catapulted Perry to stardom.
While acting on the show he also starred in several movies including, "Three to Tango," "Almost Heroes," and in the TNT movie "The Ron Clark Story." Most recently he played Ted Kennedy in the Reelz series "The Kennedys After Camelot."
According to Celebrity Net Worth, Perry's is around $120 million.
Make Your Money Work Better for You
David Schwimmer: $120 Million
David Schwimmer may have become a household name in 1994 when he starred as the geeky but lovable paleontologist Ross Geller, but he'd been acting already with parts in shows like "L.A. Law," "The Wonder Years" and "NYPD Blue."
However, "Friends" catapulted Schwimmer to a new level of success. He's gone on to star in dozens of movies, such as "Pallbearer," "Kissing a Fool" and "Apt Pupil." He's appeared on other well known series such as "Curb Your Enthusiasm," "30 Rock" and "Entourage." He's even starred on Broadway in "The Caine Mutiny Court Martial."
Most recently, Schwimmer has appeared in shows "Feed the Beast," "Homecoming" and "Intelligence." His total net worth is $120 million.
Lisa Kudrow: $130 Million
Lisa Kudrow's breakout role was playing the quirky, ditzy Phoebe Buffay on "Friends" — the character who coined the iconic song, "Smelly Cat," among many goofy antics. She was also the first of the crew to win an Emmy, for best supporting actress.
Since "Friends," she's starred in dozens of movies, such as the cult class "Romy and Michele's High School Reunion," the thriller "The Girl on the Train," and the indie flick "Booksmart." She had a successful but brief run on HBO's "The Comeback," Showtime's "Web Therapy," and as the voice of Wanda Pierce in the animated show, "BoJack Horseman."
She's currently voicing the dog Honey in the animated show "House Broken" and filming a new movie, "The Parenting." Her total net worth is $130 million.
Courteney Cox: $150 Million
Though Courteney Cox is most famous for her role as the slightly neurotic, uptight Monica Geller on "Friends," she actually got her start modeling, and then landed a part in the daytime soap opera "As the World Turns."
Her star year was 1994, though, when she was cast in both Jim Carrey's movie "Ace Ventura: Pet Detective" and got the part of Monica. Cox has also been a part of the famous "Scream" horror franchise, and headlined another show, "Cougar Town" for six years after "Friends." Currently she's starring in a new Starz series, "Shining Vale," which has both comedic and horror overtones.
Her total net worth today is $150 million.
Make Your Money Work Better for You
Jennifer Aniston: $320 Million
Jennifer Anniston staked a claim for herself as a superstar by playing the level-headed Rachel Green on "Friends," one half of the on-again, off-again couple with David Schwimmer's Ross Geller.
By 2003, she was one of the highest paid actresses around. Since "Friends" she's gone on to make dozens of noteworthy movies, from the cult classic "Office Space" and the indie hit "The Good Girl" to the rom-com, "Mother's Day." She's an Emmy and Golden Globe winner, and still holds the star power to headline a show. Most recently, she co-starred with Reese Witherspoon and Steve Carrell in Apple TV's "The Morning Show," pulling in $1.25 million per episode.
Her total net worth today is $320 million, which comes from a combination of acting and product sponsorships.
Reese Witherspoon: $300 Million
Speaking of Witherspoon, it's almost impossible to summarize her superstar career in a nutshell. The actress and producer has been in the business since she was a child and is one of the highest-paid actresses around. She appeared on "Friends" in a supporting role, as Rachel Green's annoyingly plucky younger sister, Jill.
With multitudes of movies under her belt, from her breakout film, "The Man in the Moon" to her iconic role as Elle in the "Legally Blonde" movies — or her roles in TV series she produced, from "Big Little Lies" to "Little Fires Everywhere" — Witherspoon is a Hollywood dynamo. She produces as much as she acts with her company "Hello Sunshine."
While most of her current credits are producing, her last acting gig was alongside Aniston in Apple TV's "The Morning Show," which may return for a third season. Her total net worth is $300 million.
More From GOBankingRates
All net worth figures via CelebrityNetWorth.
About the Author