Khloe Kardashian Net Worth: Her Fortune as She Turns 34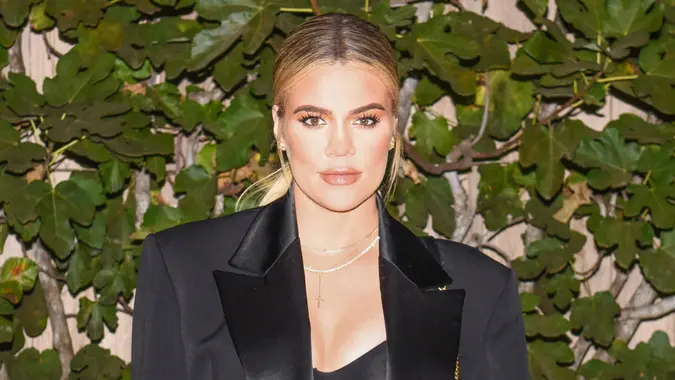 ©Owen Kolasinski/BFA/REX/Shutterstock
Khloe Kardashian has been known as many things throughout her life: founder, author, entrepreneur and starlet. But now, she has a new title to add to that list: mom. In April, the star gave birth to her daughter True Thompson just in time for her own birthday. Khloe turns 34 on June 27, 2018.
Aside from taking care of her newborn, the new mom is busy with her own business ventures, including a spinoff television series about fitness, a high-end denim line and, of course, "Keeping Up With the Kardashians." Although Khloe might be the youngest of the three Kardashian sisters, she holds her own when it comes to making money.
Read on to learn about Khloe's business beginnings and how the Kardashian family wealth keeps growing.
Khloe Kardashian Net Worth: $40M
As a member of arguably the most famous family in America, Khloe was born to mom Kris Jenner and dad Robert Kardashian on June 27, 1984, in Los Angeles. In addition to her older sisters Kim Kardashian West and Kourtney Kardashian, she also has a brother, Rob Kardashian, from her mother's marriage to Robert. After divorcing Robert in 1991, Kris married Caitlyn Jenner, the Olympic athlete formerly known as Bruce Jenner, and they added more siblings to the mix: stepbrothers Brody, Burt and Brandon, stepsister Casey and two half-sisters, Kendall and Kylie.
Khloe's rise to fame came in early 2007 after the family was commissioned to star in the reality series "Keeping Up With the Kardashians." Since then, she has starred in multiple reality show spinoffs — including "Kourtney and Khloe Take Miami," "Khloe and Lamar" and "Revenge Body With Khloe Kardashian."
Make Your Money Work Better for You
She currently receives a salary of $15 million for participating in these shows, which contributes to her net worth that also includes money from other TV appearances, endorsements, book deals and business ventures both alone and with her family.
Related: Kanye West's Net Worth Is A Lot Higher Than You'd Think 
Khloe Kardashian and Lamar Odom's Split
Kardashian was linked to a number of famous athletes in recent years, most notably ex-husband and former NBA star Lamar Odom.
She married the then-Los Angeles Laker in early 2009 — just one month after meeting him. Although the two starred in a number of television appearances together, they filed for divorce initially in late 2013 after months of separation.
In October 2015, after Odom was hospitalized following an incident in which he was found unconscious in a Nevada brothel, she temporarily withdrew the divorce petition in order to make medical decisions on his behalf. The divorce was then finalized in December 2016.
Click to find out if Odom made the list of highest-paid NBA star players.
Khloe Kardashian Gives Birth to NBA Player Tristan Thompson's Child
Khloe took to social media on Dec. 20, 2017, to finally confirm the long-swirling rumors of her pregnancy with Cleveland Cavaliers player Tristan Thompson.
"My greatest dream realized. We are having a baby," her Instagram caption read. "I had been waiting and wondering but God had a plan all along. He knew what He was doing. I simply had to trust in Him and be patient."
Make Your Money Work Better for You
But in the days leading up to Kardashian's due date, footage released by TMZ surfaced of Thompson getting cozy with multiple women in a New York City lounge and outside of a hotel. The news has reportedly devastated the then-pregnant star and has been addressed by her sister Kim on multiple talk shows. Khloe has yet to publicly address the scandal, other than a series of vague social media posts that seem to weigh in on Thompson's alleged philandering.
Khloe gave birth to the couple's first child together, named True, on April 12, 2018. Despite Thompson's alleged infidelity, the status of the couple's relationship has yet to be confirmed, but the two were recently spotted together at a restaurant in Cleveland. The new addition to the Kardashian family joins 1-year-old half-brother Prince Oliver, from Thompson's previous relationship with Jordan Craig.
Click through to find out which celebrity families are getting richer together.
Taylor Bell contributed to the reporting for this article.