Leonardo DiCaprio's Net Worth Spikes Over $245 Million Mark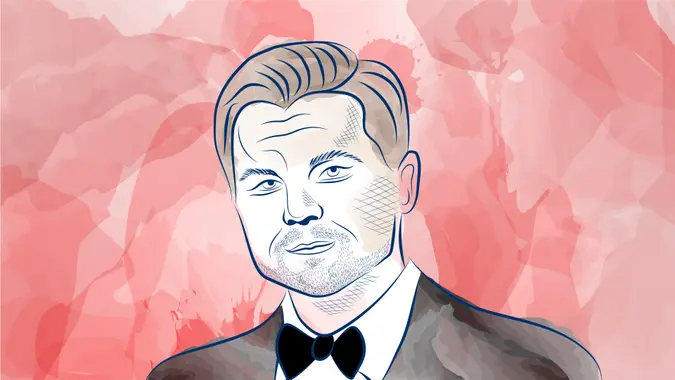 On Nov. 11, Leonardo DiCaprio fans will celebrate the actor and environmental advocate's 42nd birthday. DiCaprio has been a familiar face in popular culture since he was a child, and his talent, looks and perseverance have earned him a massive fortune.
It's almost impossible to have a Leonardo DiCaprio birthday discussion — or any discussion about the Oscar-winning actor — without mentioning "Titanic," the role that launched him from actor to movie star. Nearly 20 years after James Cameron's blockbuster about the ill-fated ship, DiCaprio's star is shining as brightly as ever. Here is a look at his career, success and net worth.
See: 'The Divergent Series' Cast: Shailene Woodley Net Worth vs. Kate Winslet Net Worth and More
Leonardo DiCaprio Net Worth: $245 Million
When Leonardo DiCaprio won an Academy Award for Best Actor for his role in 2015's "The Revenant," he was the highest-paid male actor among the nominees. Between June 2014 and June 2015, he earned $29 million, due in large part to his role as Hugh Glass in "The Revenant." Additionally, DiCaprio made money off residuals from previous movies, including 2013's "The Wolf of Wall Street," which earned him another Oscar nod.
Make Your Money Work Better for You
According to Forbes, DiCaprio has been paid a pre-tax total of $440 million over the course of his career, with CelebrityNetWorth.com listing the actor's net worth at $245 million. Although his wealth dropped off slightly in 2016, when DiCaprio took a break from acting to pursue other interests, the star's $29 million income landed him the No. 13 spot on Forbes' list of the world's highest-paid actors in 2015.
One of Leonardo DiCaprio's latest movies, "The Wolf of Wall Street," is believed to have earned the actor $25 million. However, the paycheck led to some controversy due to a global corruption scandal involving the film's financiers. An anti-corruption watchdog group encouraged DiCaprio to return the money.
Related: Alright, Alright, Alright: You Asked — Here's Matthew McConaughey's Net Worth
Top Leonardo DiCaprio Movies
Leonardo DiCaprio ranks No. 73 on the list of history's highest-grossing actors at the global box office. He has starred in 16 movies that earned at least $100 million worldwide, including three hits from the last decade that grossed more than a quarter billion dollars each.
The granddaddy of them all is "Titanic," which took in a staggering $2.13 billion. Throughout film history, only one movie, "Avatar" — also by James Cameron — earned more.
Make Your Money Work Better for You
Of Leonardo DiCaprio's highest-grossing films, the following have earned more than $250 million at the worldwide box office:
"Titanic" — $2.13 billion
"Inception" — $825.5 million
"The Revenant" — $533 million
"Django Unchained" — $425.4 million
"The Wolf of Wall Street" — $392 million
"Catch Me if You Can" — $352.1 million
"The Great Gatsby" — $351 million
"Shutter Island" — $294.8 million
"The Departed" — $289.8 million
Leonardo DiCaprio's Early Career
Leonardo DiCaprio has been a working actor since 1979 when he appeared on TV's "Romper Room and Friends" as a child. Television dominated his early career, with the actor landing parts in series like "The New Lassie," "The Outsiders," "Santa Barbara," "Roseanne," "Parenthood" and "Growing Pains."
Related: Golden Globes 2016: Box Office Totals and Stars' Net Worths
Although DiCaprio had already enjoyed film roles in "Critters 3" and "Poison Ivy," his big break came in 1993, when he starred alongside Robert De Niro and Ellen Barkin in the coming-of-age movie, "This Boy's Life." The same year, DiCaprio played the mentally challenged Arnie Grape in "What's Eating Gilbert Grape?" The role earned him international recognition when he was nominated for an Academy Award for Best Actor in a Supporting Role.
Make Your Money Work Better for You
The role of Grape launched DiCaprio's career and enabled him to land starring roles in six movies over the next two years, including the critically acclaimed "The Basketball Diaries" in 1995 and "Romeo + Juliet" — which helped him achieve heartthrob status — in 1996. The next year, he became a global icon and arguably his generation's biggest movie star when he was cast as Jack Dawson in "Titanic."
Domestic box office numbers (adjusted for inflation) for Leonardo DiCaprio's early films include:
"Romeo + Juliet" — $89.86 million
"The Quick and the Dead" — $36.89 million
"What's Eating Gilbert Grape?" — $20.67 million
"This Boy's Life" — $8.54 million
"The Basketball Diaries" — $4.71 million
Leonardo DiCaprio: Charities and Partnerships
DiCaprio is a prominent environmentalist and advocate for action on climate change. In 1998, the actor started the Leonardo DiCaprio Foundation to protect wildlife and the natural ecosystem. Currently, the group supports more than 65 organizations by providing $59.6 million in grants.
DiCaprio is also partnering with Netflix to release a series of documentaries through his production company, Appian Way. The films, which DiCaprio will executive produce, will focus on conservation efforts and the environment. Currently, DiCaprio's climate change documentary, "Before the Floor," is streaming free online.
Make Your Money Work Better for You
Additionally, the star is known to support at least two dozen charities and philanthropic groups. Among the charities he's been affiliated with over the years are Global Cool, Global Green, WildAid, WWF, Feeding America and Cinema for Peace.
There are actors, and there are movie stars. Leonardo DiCaprio is a bona fide movie star. As his 42nd birthday approaches, however, it's clear that DiCaprio is much more than an ordinary star. He's also an activist, spokesperson and advocate — and a very rich man.
Net worth figures are indicative of assets versus liabilities. All net worth figures are according to CelebrityNetWorth.com unless otherwise noted. Box office earnings according to BoxOfficeMojo.com.