What Money Gurus Like Deepak Chopra and Robert Kiyosaki Have in Their Wallets
Your wallet offers a quick snapshot of the ways in which you approach money. It's an everyday item that carries some of your most sensitive financial information and, if lost, could present a risky situation depending on what you've chosen to store in it. The Federal Reserve Bank of Boston reported that the median amount of cash the average American carries is $37, along with three payment cards.
To find out how today's leading experts go about their daily finances, GOBankingRates asked them:
1. What's always in your wallet (aside from your I.D.), and why can't you leave home without it?
2. What would you never carry in your wallet and why?
Here's what they had to say.
Photo: Casey Fleser
1. Deepak Chopra
Renowned public speaker and physician Deepak Chopra is one of the most prominent figures in alternative medicine, and one of the wealthiest -- earning $8,290,270 in 2013 alone, according to Forbes. Despite his financial success, the new-age guru keeps the inside of his wallet fairly simple:
"I am a minimalist. I carry one credit card, my Global Entry card, and about $100 cash," Chopra told GOBankingRates.
Aside from being a minimalist, he recognizes the added benefit of keeping to the essentials, saying that he would never carry "multiple credit cards, because they are unnecessary and a headache when you lose your wallet -- which I do about once a month."
2. Robert Kiyosaki
Personal finance expert Robert Kiyosaki keeps his wallet padded with cash and a bit of unconventional motivation. When asked what item -- aside from his I.D. -- could always be found in his wallet, the self-made entrepreneur said, "A $100 trillion Zimbabwe note ... to remind me not to save money!"
When GOBankingRates asked what his wallet does without, Kiyosaki said, "Photos of my ex-wife, for obvious reasons!"
Photo: Wikigag
3. Linda Descano
Linda Descano, president and CEO of Citi's Women & Co., reveals her preparedness strategy before walking out of the door.
"I always carry my insurance card, AAA card and a go-to credit card (for me, it's Citi, for the points). I also carry some cash (one $20, one $10, two $5s and five $1s) for on-the-spot donations to groups like street performers and to be prepared in case of emergency. Most importantly, I carry my smartphone to buy coffee, activate coupons, compare prices and transfer money when sharing a meal. Maybe it's my age showing that I still carry cash, but it has been a godsend when I run out of battery on my phone!"
Though Descano carries a variety of payment methods in her wallet, she keeps two payment types at home. "I never carry checks or debit cards that link to my savings or investment account," Descano said. "This protects me from the urge to splurge."
4. Rachel Cruze
Co-author of "Smart Money Smart Kids: Raising the Next Generation to Win with Money," Rachel Cruze is always one to practice the advice she preaches. When asked what one item she always has in her wallet, Cruze exclaimed, "My envelopes! I don't just tell people to use the envelope system with their cash, but I actually do it myself. So my envelopes are always in my wallet." In addition to her trusty envelope system, she also carries a debit card in her wallet.
There's one item you'd be hard-pressed to find in Rachel's wallet, however: a credit card.
Photo: DaveRamsey.com
5. Clark Howard
Clark Howard is the champion of the "save more, spend less" approach. When he does spend, however, Howard makes sure to do so in a very strategic way, describing the contents of his wallet on his website: "The reality is I carry 5 cards and use them each for different things!"
He disclosed that the credit card he chooses to use depends on the type of purchase he makes, but noted that each credit card in his wallet offers some level of travel or cash-back rewards.
6. Farnoosh Torabi
Farnoosh Torabi, financial expert and author of the new book, "When She Makes More: 10 Rules for Breadwinning Women," knows a thing or two about how to be on her game as a mom. She noted that she always keeps her and her son's health insurance card in her wallet at all times.
"In case of an emergency, we don't have to worry about the financial toll of getting immediate medical attention," Torabi said. "Sure, we can get reimbursed later, but who has the time or patience for dealing with medical billing departments? I also try to keep some cash with me at all times. Being out and about in NYC, you're bound to tip someone at some point during your day!"
When asked what item she'd rather leave at home, Torabi said, "My social security card. Should my wallet get in the wrong hands, my social security number would allow a thief to unlock -- and open -- endless financial accounts. The damage would be epic."
About the Author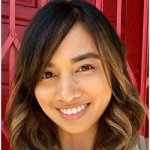 Jennifer Calonia is a personal finance journalist covering topics about banking, consumer savings, loans and debt. Her features and helpful savings tips encourage and empower households across America to achieve financial balance.