How Rich Is Robert Pattinson?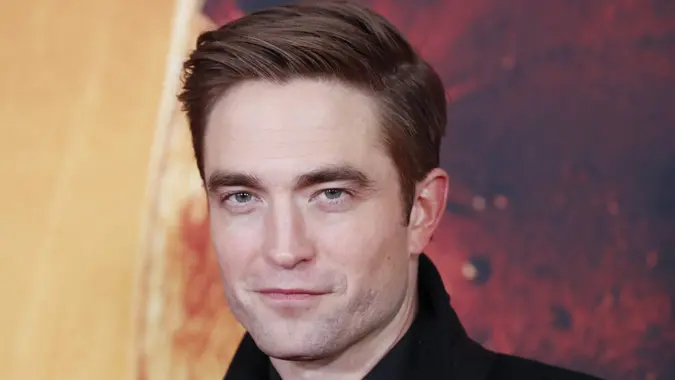 John Angelillo/UPI/Shutterstock / John Angelillo/UPI/Shutterstock
Robert Pattinson has a lot to celebrate as he turns 36 on May 13.
As a successful English actor, he made fans swoon as Cedric Diggory in "Harry Potter and the Goblet of Fire" and even more so when he starred as vampire Edward Cullen in the "Twilight" series. Pattinson likely earned a new group of fans this spring following the March 4 release of "The Batman," in which Pattinson took his first turn as the Caped Crusader.
He earned $3 million for his first Batman film, and he is undoubtedly in for a bigger payday with the sequel. Director Matt Reeves announced in late April that he will write and direct the sequel, with Pattinson returning to defend Gotham City in his second tour as Batman. As one of Hollywood's biggest stars, Robert Pattinson has amassed an impressive net worth.
Career
Backend deals have worked out well for Pattinson. He starred in all five Twilight films, which grossed more than $3.3 billion globally, according to Box Office Mojo. His salary for "Twilight" was $2.5 million, Parade magazine reported, and he earned $12 million for "The Twilight Saga: New Moon." Thanks to the success of the franchise, he'd earned over $40 million by the time "The Twilight Saga: Breaking Dawn – Part 2" was wrapped up, including 7.5% of the gross from the two "Breaking Dawn" films. 
He has amassed a fortune of $100 million from his films and endorsement deals, according to Celebrity Net Worth.
Pattinson vacillates between popular and independent films. He has appeared in: "The Summer House," "Remember Me,""Life," "Water for Elephants," "Cosmopolis," "The Rover," "The Lost City of Z," "Good Time," "Damsel," "High Life," "The Lighthouse," "Tenet" and "Waiting for the Barbarians."
Make Your Money Work Better for You
But "The Batman" appears to be a triumph. It earned about $134 million on opening weekend, and to date, it's the top-earning film of 2022, Box Office Mojo reported. It has brought in $369.2 million domestically and $398 million internationally for a total of $767.2 million in gross revenues.
In its review, Forbes lauded Pattinson's performance as a dark Batman. "The indisputable victory of 'The Batman' is Robert Pattinson's offering as The Bat," the review read. "What seemed like a questionable casting choice when first announced now looks like a potential triumph for years to come."
In the past, he's been dubbed the Most Handsome Man in the World by Vanity Fair, listed as one of the 100 Most Influential People by Time magazine and earned a spot on the Forbes Celebrity 100 Power List. He became the face of Dior Homme fragrance in 2013, according to IMDb, and of Dior Homme menswear in 2016. This year, he's the headliner of the Dior Homme Sport fragrance campaign.
Early Life
Robert Thomas Pattinson was the third child and only boy born to Clare and Richard Pattinson on May 13, 1986, in London. By age 15, Pattinson had studied piano and guitar for many years, and his father coaxed him into joining a theater company to help him break away from his shyness, according to Celebrity Net Worth. It took, and he regularly appeared in plays.
Pattinson modeled from the ages of 12 to 16 and eventually landed a bit part in the film "Vanity Fair."
He struck acting gold in 2005 when he was selected to join the Harry Potter universe as doomed triwizard Cedric Diggory. While this role got him noticed, it wasn't until he was introduced to the world as the chivalrous vampire Edward Cullen in the film adaptation of Stephanie Meyer's "Twilight" in 2008 that he became a star.
Make Your Money Work Better for You
Personal Life and Real Estate
Pattinson has never been married, but he has had some long-term relationships. He was in a high-profile romance with his former "Twilight" leading lady Kristen Stewart. They were together off and on from 2009 to 2013. He was with singer FKA Twigs from 2014 to 2017. He entered a relationship with model Suki Waterhouse in 2018. Us Weekly reported that they have broken up and gotten back together a few times, but when Pattinson appeared on "Jimmy Kimmel Live!" in February, he implied the two were still a couple as he recounted Waterhouse's reaction to "The Batman."
After his split with Stewart, Pattinson purchased a home in the Hollywood Hills for $2.18 million, according to Home Bunch. As of 2020, he was living in a flat in London with Waterhouse, Esquire reported.
More From GOBankingRates
Jami Farkas contributed to the reporting for this article.