How Rich Is Taylor Swift Now That 'Red' Has Finally Been Re-Released?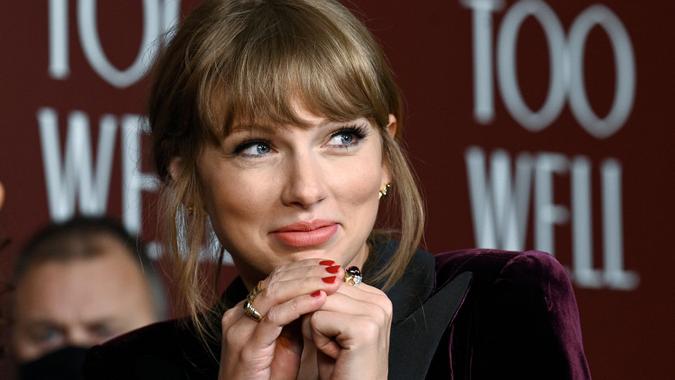 Evan Agostini / Invision / AP / Shutterstock.com
On Friday, Nov. 12, Taylor Swift unleashed an album on fans titled "Red (Taylor's Version)," a rerecording of the original 2012 album which nearly doubled the number of tracks and featured nine previously unreleased songs. Swifts rabid and loyal fanbase has been preparing for the albums release since being announces in June, and so far the critical response has it living up to the hype.
Find Out: The Richest Celebrity From Every State
Better Together: 24 Celebrity Couples Worth Hundreds of Millions
Swift's name will forever be linked with the MTV Video Music Awards for an event that happened in 2009. That's when, as she was making her acceptance speech for Best Female Video, rapper Kanye West took to the stage to blast the award being given to Swift and not Beyoncé.
From that incident more than a decade ago, Swift has gone on to make plenty of recording history — and money.
Make Your Money Work Better for You
Over her 15-year career, she has reached No. 1 on the Billboard chart seven times and has won 11 Grammy Awards among 41 nominations. She also has tried her hand at acting, appearing in television shows and a feature film. According to Celebrity Net Worth, Swift has a net worth of $400 million.
Read more: 15 Highest-Grossing Actors of All Time
Early Life
Taylor Alison Swift was born in West Reading, Pennsylvania, and named after singer-songwriter James Taylor. Her interest in music began at an early age, so she enrolled in singing and acting classes in New York City and started performing at local venues and festivals. When she was 14, her family moved to Nashville so she could pursue a career in music.
A year later, the future star was performing at the Bluebird Café in Nashville and caught the eye of DreamWorks Records executive Scott Borchetta. He quickly signed Swift to his new venture, Big Machine Records. Her first seven albums, released from 2006 to 2017, were on this label.
Others on the List: Taylor Swift and 24 More of the Richest Musicians
Rocketing to Stardom
Swift's first album, appropriately named "Taylor Swift," was released in 2006 and reached No. 5 on the U.S. Billboard 200 and No. 1 on the U.S. Country Music chart. Her second album, "Fearless," did even better — it went to No. 1 in the U.S., New Zealand and Canada. The singer has kept a robust touring schedule, completing five world tours between 2009 and 2018. The tours grossed nearly $950 million. Her scheduled 2020 Lover Fest world tour was postponed because of the COVID-19 pandemic with hopes of 2021 concert dates. Swift announced the cancellation in February.
Make Your Money Work Better for You
Making Bank: The 28 Richest Actresses of All Time
Album Re-releases
Ending a 12-year partnership with Big Machine Records, Swift inked a deal with Republic Records in 2018. At that point in her career, she had the clout to leverage a contract that worked very much in her favor — she owns all of her master recordings for the duration of the contract, and she gets a good cut from her music sales.
Swift has spent her time during the pandemic re-recording her first six albums, putting her music back in her control and the profits from sales in her bank account — not that of her record label.
"Artists should own their own work for so many reasons," she wrote on social media in March 2021. "But the most screamingly obvious one is that the artist is the only one who really knows that body of work."
The latest of her re-releases, "RED (Taylor's Version)," is currently available now.
See: Businesses You Didn't Know Your Favorite Celebrity Owns
Personal Life
Swift's personal life and relationships have been fodder for tabloids for well over a decade. She has dated a long line of famous men, including Calvin Harris, Tom Hiddleston, Harry Styles, Jake Gyllenhaal, John Mayer, Taylor Lautner and Joe Jonas. Several of Swift's songs are overtly about her breakups with these boyfriends. She has been in a relationship with actor Joe Alwyn since 2016. Her real estate holdings include homes in Nashville, Rhode Island, New York City and Los Angeles, and her property portfolio reportedly is worth more than $80 million.
Make Your Money Work Better for You
More From GOBankingRates
Jami Farkas contributed to the reporting of this article.
Last updated: Sep. 9, 2021