These 27 'Bachelor' and 'Bachelorette' Stars Are Worth What?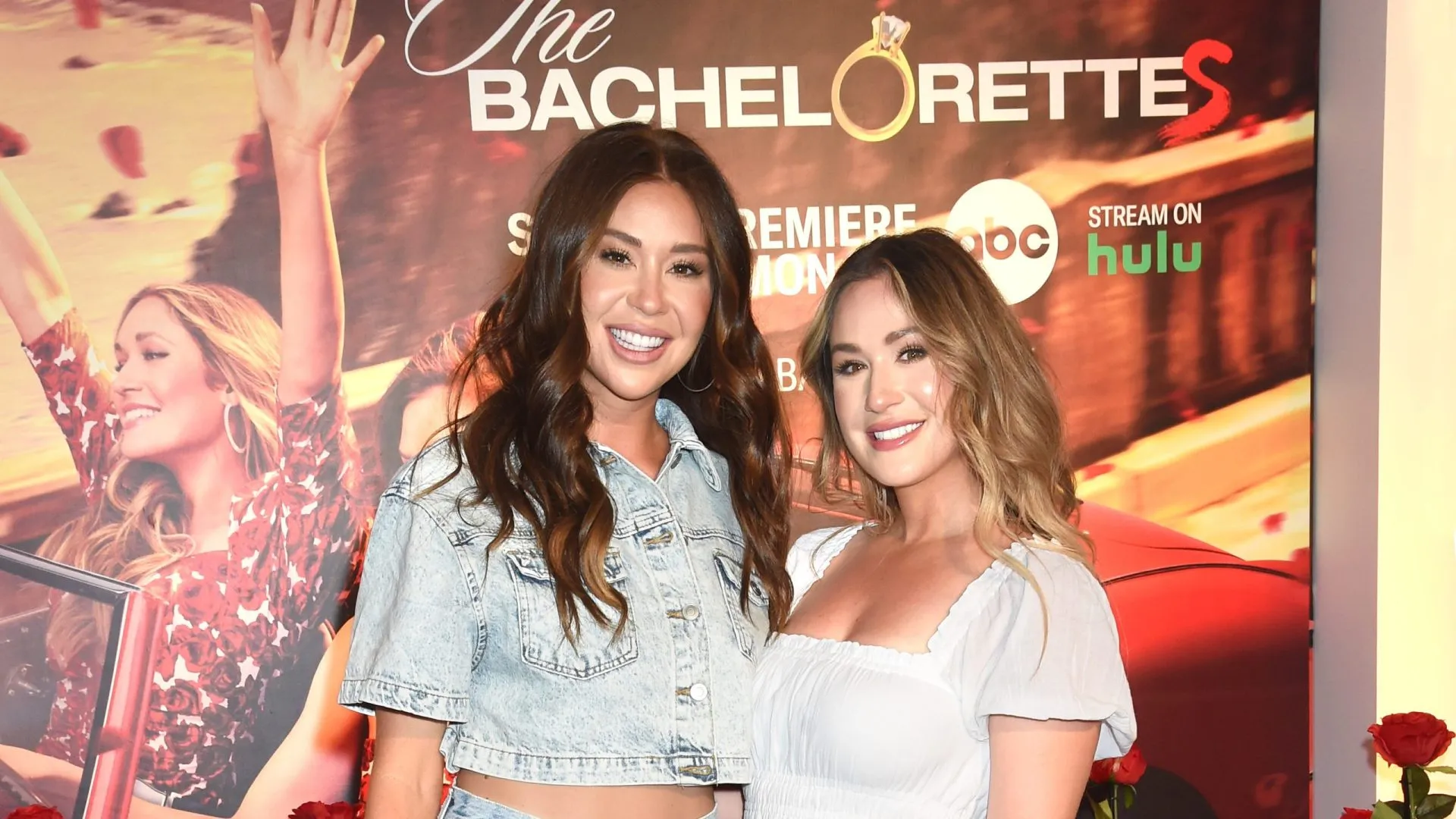 Make Your Money Work Better for You
Does 'The Bachelor' Get Paid?
Fans often wonder if the main stars of the long-running reality show receive money for their efforts, and the answer is yes. In any given season, both "The Bachelor" and "The Bachelorette" earn a salary, but their suitors reportedly are not compensated.
The bank account balances of past contestants run the gamut from very rich to totally unknown, all according to Celebrity Net Worth.
Take Our Poll: Do You Think You Will Be Able To Retire at Age 65?
Andrew Firestone
Andrew Firestone took his turn as "The Bachelor" in season three, and with him came a family legacy. His great-grandfather, Harvey Firestone, was the founder of Firestone tires. His father built the Firestone Winery in California, and Andrew worked there as he grew up. At the end of his season, he got engaged to Jen Schefft, but it didn't last.
Firestone is now a principal at StonePark Capital in California, which focuses on development and acquisition opportunities in the hospitality industry. He married Serbian-born model Ivana Bozilovic in 2008 and they share three children. Firestone's net worth is $50 million.
Prince Lorenzo Borghese
In the show's ninth edition, Prince Lorenzo Borghese, Italian American businessman and member of the centuries-old House of Borghese, chose Jennifer Wilson over Sadie Murray in the finale but didn't propose. Instead, he gave her a promise ring designed by his mother. Within a year, however, the relationship between Borghese and Wilson ended. Borghese's net worth is estimated at $50 million.
Travis Stork
Emergency room physician Travis Stork was featured in season eight of "The Bachelor." Although he picked Sarah Stone, he didn't propose to her, and the couple didn't stay together for long.
What did last was Stork's TV success, as his popularity and on-screen charm on "The Bachelor" earned him a spot on the daytime talk show "The Doctors," which premiered in 2008. The gig lasted until June 2020, when production shifted from a panel of doctors to a single host.
Also a New York Times bestselling author, Stork has written several books, including "The Doctor's Diet" and "The Lose Your Belly Diet." Travis Stork's net worth is estimated at $12 million.
Make Your Money Work Better for You
Ed Swiderski
Ed Swiderski took a chance on Jillian Harris, season five star of "The Bachelorette," when she chose him in the finale and he proposed, but the two broke up before making a trip to the altar. He hasn't appeared on television since 2012, when he was a contestant on "Bachelor Pad." But Swiderski did finally find love when he married Chicago TV anchor Natalie Bomke in July 2015.
Currently employed as a manufacturing global account director at Salesforce in Chicago, Swiderski also found success in business as an author and entrepreneur, as evidenced by his estimated net worth of $10 million.
Jesse Palmer
Jesse Palmer starred in season five of "The Bachelor" in 2004. He memorably forgot a woman's name during the rose ceremony and gave his final pick a one-way ticket to his city of residence, New York, instead of proposing.
The former NFL quarterback turned television sports analyst and personality returned to "The Bachelor" as host of season 26, being named to replace original host Chris Harrison. And he's hosting "Bachelor in Paradise," too. Jesse Palmer's net worth is estimated at $8 million.
Emily Maynard
Emily Maynard was the single mother who won Brad Womack's heart in season 15 of "The Bachelor." She later starred in season eight of "The Bachelorette."
Maynard was just 19 when she had her daughter, Ricki, following the tragic death of fiancé Ricky Hendrick, a former race car driver and partial owner of NASCAR's Hendrick Motorsports, in a plane crash. She learned she was pregnant just days after his death.
Although Maynard didn't find lasting love on either "The Bachelor" or "The Bachelorette," in 2014, she married Tyler Johnson, an automotive management consultant, and gave birth to her fifth child — her fourth with Johnson — in October 2020. Emily Maynard's net worth is estimated at $5 million.
Make Your Money Work Better for You
Arie Luyendyk Jr.
Arie Luyendyk Jr. was "The Bachelor" for the show's 22nd season, but he hasn't always been in the driver's seat. Viewers first met him as a contestant on season eight of "The Bachelorette," but he went home broken-hearted when Emily Maynard rejected his marriage proposal with a pricey Neil Lane diamond. On his own season, Luyendyk Jr. proposed to Becca Kufrin, only to break off the engagement weeks later because he realized he had stronger feelings for runner-up Lauren Burnham. He and Burnham married and have three children.
Luyendyk Jr. is a former race car driver who now is in the real estate business in the Phoenix area. He's also the son of successful racer Arie Luyendyk, who won the Indianapolis 500 twice. Arie Luyendyk Jr.'s net worth is estimated at $4 million.
Jef Holm
Jef Holm was the winner of "The Bachelorette" season eight, during which he wooed Emily Maynard and received the final rose. The couple ended the season engaged but split just months after the season finale aired.
Although his on-screen love did not lead to a fairy-tale ending, off the screen Holm has enjoyed plenty of financial success. As an entrepreneur, Holm went on to co-found People Water, a cause-based business working to end the global water crisis. Jef Holm's net worth is an estimated $3 million.
Shayne Lamas
Former actress and daughter of actor Lorenzo Lamas, Shayne Lamas accepted Matt Grant's proposal on "The Bachelor: London Calling," during the show's 12th season in 2008. They broke up two months later, but she returned to television the next year on her family's reality show "Leave It to Lamas."
She seemingly found her true love in 2010 when she eloped with TheDirty.com founder Nik Richie. They went on to have two children, but Lamas announced in June 2021 that she had filed for divorce. Currently, Shayne Lamas' net worth is estimated at $3 million.
Make Your Money Work Better for You
Ryan Sutter
Ryan Sutter is one of "The Bachelor" franchise's rare success stories. A contestant on the first season of "The Bachelorette," he vied for the affection of star Trista Rehn. She gave Sutter the final rose, and the couple married in December 2003 in a televised ceremony that cost ABC $3.77 million, in addition to $1 million paid to the couple to broadcast the event.
Still happily married, the couple have two children. They renewed their wedding vows in January 2014, shortly after their 10th wedding anniversary. Over the past few years, he has been candid about his health issues and was diagnosed with Lyme disease, attributed to high levels of mold in his body. Ryan Sutter's net worth is estimated at $2 million.
Hannah Brown
"Alabama Hannah" was first introduced to America on season 23 of "The Bachelor" with Colton Underwood in the title role. He decided to end their relationship on the same day she met his family. She had the chance to find love all on her own terms during season 15 of "The Bachelorette," and although the University of Alabama alum didn't end up with anybody, she did leave the show with more money in her pocket than she came with.
Brown has a $1.5 million net worth thanks in part to the money she's earned from appearing on — and winning — "Dancing With the Stars." Brown also has partnered with brands for sponsored Instagram posts, adding to her net worth.
Melissa Rycroft
Season 13 of "The Bachelor" ended with Melissa Rycroft accepting a proposal from Jason Mesnick. Both she and viewers were shocked when Mesnick broke up with her during the "After the Final Rose" special because he couldn't stop thinking about runner-up Molly Malaney.
The former Dallas Cowboys cheerleader competed on "Dancing With the Stars" in 2009 and returned for the show's all-star season in 2012, where she won the mirror-ball trophy. She has three children with husband Tye Strickland, whom she married in 2009. They host the "Logically Irrational" podcast, on which they talk about family, relationships and pop culture.
Make Your Money Work Better for You
Jason Mesnick
DeAnna Pappas broke Jason Mesnick's heart in season four of "The Bachelorette." The then-single dad bounced back and was subsequently crowned the star of "The Bachelor" for the show's 13th season, where he got engaged to Melissa Rycroft, but broke things off, and ultimately married runner-up Molly Malaney in a televised ceremony in 2010.
The couple welcomed daughter Riley Anne in March 2013, who along with Mesnick's son, Ty, from a previous marriage, made them a family of four. The former bachelor now works as a Seattle-area real estate broker. Jason Mesnick's net worth is an estimated $1 million.
Ben Flajnik
These days, Ben Flajnik is in the food and wine business, but he previously starred as "The Bachelor" during season 16. Flajnik famously chose the villain of his season, Courtney Robertson, to receive the final rose. The couple gave their relationship a try away from cameras but ultimately broke up before making it to the altar.
Flajnik has largely stayed out of the limelight, but he did appear on an episode of "Who Wants to Be a Millionaire" in 2016 and also guest-starred in an episode of "Keeping Up With the Kardashians" in 2014. Flajnik's net worth is estimated at $800,000.
Jake Pavelka
Jake Pavelka was a pilot when he starred as a contestant on season five of "The Bachelorette" and later on "The Bachelor" season 14. He became engaged to contestant Vienna Girardi during the show's finale, but the two broke up soon after.
He returned to the skies as a pilot shortly after the show aired but since has pursued a career in television and other business ventures. In 2017, the former bachelor guest-hosted lifestyle show "This Is LA" and appeared on the reality show "Squad Wars." For the past five years, he's been the CEO of Rhino Removal Waste and Recycle in the Dallas area. Jake Pavelka's net worth is estimated at $700,000.
Make Your Money Work Better for You
Ali Fedotowsky
In season 14 of "The Bachelor," Ali Fedotowsky had to choose between Jake Pavelka and her job, and although she initially chose work, she returned to the show only to be sent packing. She subsequently starred in the sixth season of "The Bachelorette," where she became engaged to Roberto Martinez, but the pair broke up a little over a year later.
Still in the limelight, she's now a television personality as well as a fashion and home décor blogger. She married Kevin Manno in 2017, and the couple welcomed their second child in May 2018. Ali Fedotowsky's net worth is an estimated $600,000.
Chris Soules
Chris Soules was "The Bachelor" during the show's 19th season. Nicknamed Prince Farming, his rugged good looks, down-to-earth demeanor and rural charm made him a fan favorite. After appearing on the show, Soules broke off his relationship with fiancée and winner of "The Bachelor," Whitney Bischoff.
Soules is from a small town in Iowa. In 2017, he was charged with leaving the scene of an accident after he crashed into the back of a tractor, which left one person dead. He was sentenced to a suspended prison sentence of two years and two years of probation in August 2019, The Des Moines Register reported. Soules and his parents paid $2.5 million to settle a civil lawsuit brought by the family of the deceased man. Soules' net worth once was estimated at $1.5 million but now is $500,000.
Brad Womack
Brad Womack appeared on "The Bachelor" during seasons 11 and 15. During season 11, Womack broke America's hearts when he passed on the two finalists, Deanna Pappas and Jenni Croft. In season 15, he proposed to Emily Maynard, but the couple broke up months after the finale.
In his professional life, however, entrepreneur Womack found success in his co-ownership of several bars alongside his twin brother and friend. Throughout the years, the trio has opened and sold several bars, which has allowed him to earn a healthy living. Brad Womack's net worth is estimated at $500,000.
Andi Dorfman
Andi Dorfman made her debut in the 18th season of "The Bachelor" but didn't find love with Juan Pablo Galavis. She went on to star in "The Bachelorette" season 10, where she became engaged to Josh Murray — but the couple broke up less than a year later.
She was an assistant district attorney until 2014, but Dorfman shifted her focus to writing and became a New York Times bestselling author. She released "It's Not Okay," in 2016 and "Single State of Mind" in 2018. Andi Dorfman's net worth is an estimated $300,000.
Josh Murray
He got engaged to Andi Dorfman in season 10 of "The Bachelorette," but Josh Murray found himself single again less than one year later. After that, Amanda Stanton accepted his marriage proposal on the third season of "Bachelor in Paradise," but that relationship didn't last either.
Josh Murray's net worth is estimated at $250,000. And if you're wondering how much "Bachelor in Paradise" contestants get paid, Reality Steve claims contestants earn $7,000 to $15,000 for participating on the show. Murray's fortune is likely from a combination of endorsements, entrepreneurial efforts and spending five years as a professional baseball player.
Peter Weber
After getting his heart broken by Hannah Brown on "The Bachelorette," Peter Weber got his chance to be in the pilot seat of his own love journey as "The Bachelor" on season 24, and it didn't turn out too well. Weber proposed to Hannah Ann Sluss, but the engagement ended when he admitted he remained drawn to Madison Prewett, who had quit the show before the finale. In the end, he didn't wind up with Prewett, either.
Formerly employed by Delta Air Lines, Weber now flies for United Airlines. He has since written a children's book, "The Adventures of Pilot Pete," and co-hosts the "Bachelors In The City" podcast.
Reliable data regarding Peter Weber's net worth is not available.
Clare Crawley
Clare Crawley's season as "The Bachelorette" in 2020 was one for the history books. Impacted by the coronavirus pandemic, production took place at one location — in a "bubble" at the La Quinta Resort in Palm Springs, California.
Crawley, a hairdresser, left the bubble early when she found love with contestant Dale Moss and knew he was the one for her. Tayshia Adams replaced her for the remainder of the season.
Crawley and Moss got engaged but had a rocky on-and-off relationship and broke up — apparently for good — in September 2021.
Reliable data on Clare Crawley's net worth is not available.
JoJo Fletcher
Joelle "JoJo" Fletcher was Ben Higgins' runner-up during season 20 of "The Bachelor." She caught Higgins' attention on the show when she got out of the limo wearing a unicorn mask.
Fletcher bounced back from heartache as "The Bachelorette" in season 12, where she met Jordan Rodgers. They postponed their wedding, which was set to take place June 13, 2020, because of the pandemic, but finally married in California in May 2022. Among their business ventures, they renovate homes together, and Rodgers is a football analyst for ESPN. They also hosted "Cash Pad" on CNBC, where they helped homeowners renovate their properties to turn them into vacation rentals. They were set to host "Big D," a dating show where divorcees try to find a new love match, but it was pulled by TBS before its planned summer 2022 airing.
Reliable information on JoJo Fletcher's net worth is not available.
Ben Higgins
Ben Higgins starred in season 20 of "The Bachelor." In a spellbinding season finale, Higgins wavered between JoJo Fletcher and Lauren Bushnell before deciding on the latter.
As a follow-up to "The Bachelor," the couple starred in the Freeform reality show, "Ben & Lauren: Happily Ever After." The final episode culminated with Higgins calling off their wedding, which ultimately ended with a May 2017 breakup.
Now an entrepreneur, he co-founded for-profit, for-purpose enterprise Generous International LLC in October 2017. He's also the co-host of the "The Ben and Ashley I Almost Famous Podcast" with fellow "Bachelor" alum Ashley Iaconetti. He married girlfriend Jessica Clarke in November 2021.
Reliable data for Ben Higgins' net worth is not available.
Becca Kufrin
In what might have been one of the most dramatic finales in "The Bachelor" history, viewers watched as Becca Kufrin had her heart shattered by her then-fiancé Arie Luyendyk Jr., who told her he was breaking off their just weeks-long engagement after having a change of heart. Fortunately, Kufrin got another chance at love as the lead on season 14 of "The Bachelorette."
In the finale that aired Aug. 6, 2018, Kufrin got engaged to contestant Garrett Yrigoyen, a medical sales representative from Reno, Nevada, according to his ABC profile. They called off their engagement in the summer of 2020 as controversy swirled around Yrigoyen for his views on the Black Lives Matter movement. Since then, she has found love again with California real estate agent Thomas Jacobs, and they announced their engagement in June 2022.
A former publicist, Kufrin now co-hosts the "Bachelor Happy Hour" podcast. Reliable data for Becca Kufrin's net worth is not available.
Rachel Lindsay
She didn't get Nick Viall's final rose in season 21 of "The Bachelor," but that meant Rachel Lindsay was free to star in season 13 of "The Bachelorette." She fell in love with fiancé Bryan Abasolo on the show and accepted his on-screen proposal.
Rachel Lindsay's net worth is unknown, but the Dallas native returned to her job as an attorney after the cameras finished rolling — though now she has shifted her focus to TV and podcast hosting. Lindsay and Abasolo wed in August 2019.
Nick Viall
Nick Viall starred as "The Bachelor" in season 21. A two-time runner-up on "The Bachelorette," he struck out with both Andi Dorfman — season 10 — and Kaitlyn Bristowe — season 11. The third time wasn't the charm for Viall, who got engaged to contestant Vanessa Grimaldi during the show's finale; the couple broke up just five months later.
Viall previously worked as a tech salesman but seems to have switched his focus to the entertainment industry. He guest-starred on the television series "Speechless" in 2017 and appeared in the TV movie "A Christmas Cruise." He also talks relationships on his "The Viall Files" podcast.
Nick Viall's net worth is unknown.
More From GOBankingRates
Jami Farkas and Cynthia Measom contributed to the reporting for this article.
About the Author