Top 10 Richest TikTok Influencers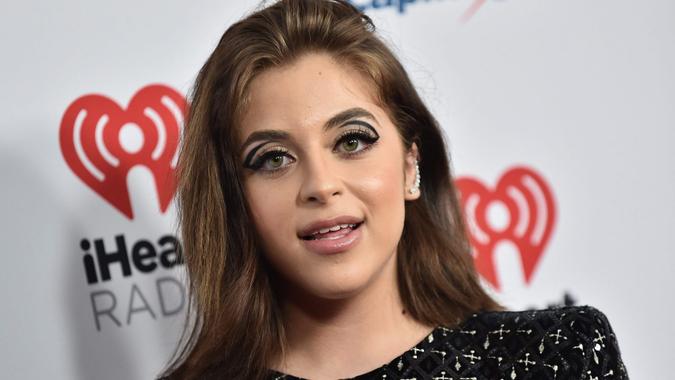 ©AFF-USA/Shutterstock
As the world becomes more digitally connected and social media continues to hold sway over younger generations, the power of influence itself has become a job that lucky and talented young people have been able to successfully parlay into millions of dollars. The social media channel TikTok is especially popular and has catapulted many young aspiring entertainers into fame and fortune. Many TikTok influencers make their name through dancing, singing, lip-syncing to music and other kinds of performance.
Many of the influencers on this list became millionaires before they were legal adults, several dropped out of or postponed college in order to focus on their careers, and all continue to rake in cash across multiple social media channels through sponsorship deals. Here are 10 of the richest TikTok influencers.
Highest-Paid TikTok Stars
Josh Richards: $1.5 Million
Thanks to the power of TikTok, 19-year-old Josh Richards has earned at least $1.5 million through sponsorship deals with Reebok and Houseparty, YouTube ad revenue and a record deal with Warner Records, to name a few, according to Forbes. He has also co-founded a talent management company, TalentX, and a business, Ani Energy. If that isn't enough to keep the teen busy, he recently became chief strategy officer of Triller, a smaller TikTok rival.
Riyaz Aly: $2 Million
The 18-year-old influencer is an Indian internet celebrity, fashion blogger and TikTok influencer known for his lip syncs. He has more than 44 million TikTok followers and earns around $35,000 for each of his branded content posts, according to The Economic Times. He is worth $2 million, according to Celebrity Net Worth.
Loren Gray: $2.6 Million
Eighteen-year-old singer Loren Gray was, in 2020, briefly the most followed influencer on TikTok. While the D'Amelio sisters passed her up, she is still one of the channel's stars, with 54 million subscribers. She's earned $2.6 million through sponsorship deals with brands like Burger King and Revlon, and some from her singles with Virgin Records.
Dixie D'Amelio:

$3

Million

Charli D'Amelio's older sister, Dixie, age 20, is not far behind in TikTok success. She has 54.9 million followers, according to her TikTok profile, and has inked deals, along with her sister, with clothing company Hollister and makeup company Morphe. While Charli focuses on dancing, Dixie is working on a music career. She released her first single, "Be Happy," which trended ahead of Kanye West on the day of its release. Celebrity Net Worth estimates her net worth at $3 million.
Zach King: $3 Million
Thirty-one-year-old Zach King got his start posting videos on YouTube in 2008 and Vine in 2013. He won the Hewlett-Packard commercial contest in 2010 and YouTube's NextUp Creators contest in 2013. He's gone on to compete in the reality show "The Amazing Race" and direct several short films, and he has become wildly famous for his creative magic on TikTok and elsewhere. He's worth $3 million, according to Celebrity Net Worth.
Brent Rivera: $4 Million
Brent Rivera might be one of today's wealthiest TikTok influencers, but he got his first taste of social media success on YouTube and Vine. He since has gone on to star as Isaac Salcedo in "Light as a Feather," and for two years, Rivera wrote, produced, directed and starred in "MrBrent98," according to Celebrity Net Worth. With over 40 million followers, it's not surprising that Rivera is worth $4 million.
Baby Ariel: $6 Million
Ariel Martin, the 20-year-old influencer and singer known as Baby Ariel, got her start on TikTok when it was formerly called Musical.ly. With more than 35 million followers on TikTok as of September 2021, Martin has been dubbed one of the most influential people on the internet by Time, and Forbes has featured her on its list of top influencers in entertainment. In addition to making music, she launched an anti-bullying campaign called #ArielMovement in 2015. Martin has been nominated for a number of awards, including People's Choice and iHeartRadio Music awards. According to Celebrity Net Worth, she is worth $6 million.
Charli D'Amelio: $8 Million
The 17-year-old's star rose on TikTok for the first time in June 2019 due to the competitive dancer's viral dance videos. She was soon invited to dance with singer Bebe Rexha, who opened for the Jonas Brothers at the Barclays Center in New York that same year. According to Celebrity Net Worth, her net worth is $8 million. Along with selling her own merchandise, she published her first book, "Essentially Charli: The Ultimate Guide to Keeping It Real," in December 2020.
Addison Rae: $8 Million
As of September 2021, 20-year-old Addison Rae Easterling has more than 84 million followers on TikTok. She became so successful, with a net worth valued at $8 million according to Celebrity Net Worth, that she quit college to pursue her TikTok career full time. She went on to become a global spokesperson for the clothing company American Eagle and started a weekly Spotify podcast with her mom, Sheri Nicole, called "Mama Knows Best."
Burak Ozdemir: $11 Million
Burak Ozdemir is unique in that he doesn't fit the typical TikTok influencer mold. Ozdemir is a Turkish chef and restaurateur whose videos of his supersized culinary creations went viral, and with them, so did his restaurants. His eateries have become hotspots for celebrities ranging from fellow influencers to musicians, athletes, Middle Eastern royalty and President Recep Tayyip Erdogan of Turkey. Boasting nearly 66 million followers as of September 2021, Ozdemir takes the spot among the wealthiest TikTok influencers with a net worth of $11 million, by GQ Australia's estimates.
Daria Uhlig contributed to the reporting for this article.
Data was compiled on Sept. 11, 2021, and is subject to change.
Our in-house research team and on-site financial experts work together to create content that's accurate, impartial, and up to date. We fact-check every single statistic, quote and fact using trusted primary resources to make sure the information we provide is correct. You can learn more about GOBankingRates' processes and standards in our editorial policy.