The Top 5 Biggest 'Jeopardy' Payouts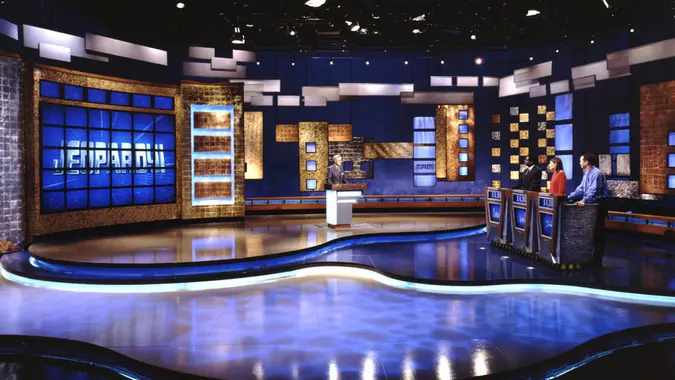 Abc-Tv/Kobal / Shutterstock.com
Since its debut in 1984, "Jeopardy!" has become one of the nation's most popular and beloved trivia game shows. More than 8,000 episodes have aired and millions of Americans have watched with bated breath as brainy guests take a stab at answering cerebral and often obscure questions. The pressure is on, the stakes are high and it's a thrill to blurt out the correct answers from home — especially when contestants get it wrong. 
See: 'Jeopardy!' and 13 More of the Longest-Running TV Shows Ever
Check Out: 33 Popular TV Shows With the Highest-Paid Casts
Getting to be a contestant on "Jeopardy!" is a combination of luck and smarts. Hopeful contestants must pass the "Jeopardy!" test. If you pass that (and meet the minimum eligibility requirements) you'll then be entered into a random selection process for an invitation to audition. You then have to "perform well" at the audition, after which you'll land in the contestant pool with the chance of being invited to compete up to 18 months after your audition.
But these rules largely go out the window for seasoned "Jeopardy!" winners (and losers). They may be invited back to the show without having to jump through the initial ropes again. Some contestants may go on to win (and lose) numerous times. Through a combination of uncanny brilliance and whirlwind luck, you might just rake in hundreds of thousands — or even millions — of dollars by making repeat appearances on the show. 
Make Your Money Work Better for You
Big Money: Here's How Much Jennifer Aniston and Other Actors Get Paid for Their Reruns
Here's a look at the top all-time winners of "Jeopardy!" — and how much cash they brought home, in all.  
Larissa Kelly
All-time winnings

: $655,930
Born in 1980, "Jeopardy!" champ Larissa Kelly was a quiz bowl queen at her alma maters (the University of California, Berkeley, and Princeton). Evidently great brains run in the family; both her husband and her sister were contestants on the hit trivia show. Kelly is the all-time highest-winning woman in the history of "Jeopardy!."
Take a Look: Judge Judy and 9 of the Richest TV Hosts of All Time
David Madden
All-time winnings

: $773,733
When he's not sweeping up cash on game shows, 40-year-old David Madden is organizing academic competitions. The historian had a 19-day streak on "Jeopardy!" and mastered his trivia prowess by studying all the clues on the hit show.
James Holzhauer
All-time winnings

: $2,962,216
James Holzhauer has won 32 games — with $131,127 being his highest win in a single game. The "Jeopardy!" all-star is a devoted student of statistics and applies his deft analyses of odds to successful gambling on sports. His love of "Jeopardy!" stems from his childhood, when he would watch the show with his grandmother.
Make Your Money Work Better for You
Check Out: Whoopi Goldberg and 14 More of the Wealthiest People on TV
Ken Jennings
All-time winnings

: $4,370,700
Ken Jennings has won 74 games on "Jeopardy!" — more than double those of second-place winner Holzhauer — and is a contender to replace the beloved late host, Alex Trebek. Thanks to his "Jeopardy!" fame, Jennings is a recognizable face, having appeared in ads for Allstate, FedEx and IBM among others. But as we learned on "Are You Smarter than a 5th Grader?," he is indeed not.
See: 15 Famous People Who Came Out of Retirement and Made a Fortune
Brad Rutter
All-time winnings

: $4,938,436
Brad Rutter is by far the biggest winner of all time in Jeopardy! history. Rutter became a five-time champion in 2000 — but his streak didn't end there. He went on to win four more high-stakes tournaments: the "Tournament of Champions" in 2001; the "Million Dollar Masters" tournament in 2002; the "Jeopardy! Ultimate Tournament of Champions" in 2005; and the "Jeopardy! 2014 Battle of the Decades Tournament."  
More From GOBankingRates
Make Your Money Work Better for You
Last updated: July 29, 2021