What MTV Was Worth When It First Started Compared To Now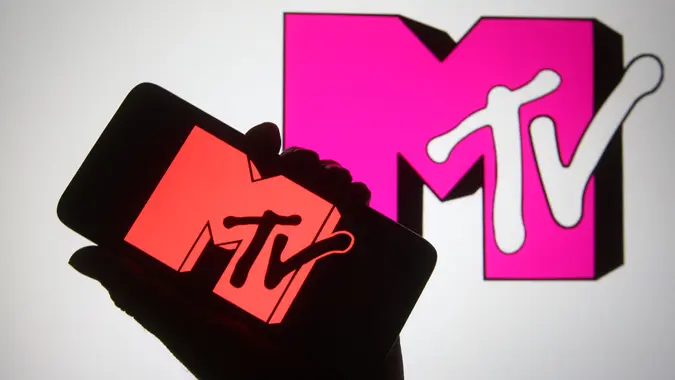 Pavlo Gonchar/SOPA Images / Shutterstock.com
MTV's financial impact on the world of music was obvious right from the start. According to a 1988 book called "Inside MTV," local record stores began reporting strange new customer requests for music that area radio stations weren't playing within just a few weeks of MTV's launch on Aug. 1, 1981.
Look: States Whose Economies Are Failing vs. States Whose Economies Are Thriving
More: The Best Cities To Retire on $2,000 a Month
With the 2022 MTV Movie and TV Awards right around the corner, it's clear that introducing music lovers to new bands that they might not have otherwise seen was a business model that didn't last long. MTV survived because it continued to change with the times — and its audience, ratings, profits and value changed right along with it.
The Early Years: MTV Hits the Ground Running
In its "1982 in Review" edition, Rolling Stone noted that the year had been brutal for the music industry, with sales off by as much as 50%. One bright spot, however, was the new kid in town. Although it was in only its second full year of operation, MTV had tripled its subscribership from 3 million to 9 million, making "a dent," as Rolling Stone put it. That dent was about to get a whole lot bigger.
Make Your Money Work Better for You
Two years later in 1984, MTV posted a profit of $4.5 million in the fourth quarter alone, with net income on the full year of $11.9 million, according to a New York Times report from February 1985. With revenue up from $27.7 million in 1983 to $42 million in 1984, MTV was no longer an unknown quantity.
POLL: Do You Make a Weekly Meal Plan or Other Regular Household Budget?
Viacom and the MTV Heyday
MTV topped all other cable programmers in terms of advertising revenue in its breakout year of 1984 — and the big boys took notice. The next year in 1985, media giant Viacom bought MTV, along with Showtime, through a complex deal worth $667.5 million, according to a Los Angeles Times report from that year.
By the middle of the Decade of Decadence, MTV had gone corporate. 
The golden era of MTV was between 1989-92 and, financially speaking, 1992 was the brand's high-water mark. By that time, according to Forbes, the network was reaching 112 million homes across the world and doing $400 million in revenue.
Music Videos Get a Reality Check
Although shows like "COPS" and "Candid Camera" came before, the modern reality TV era began in 1992 when MTV debuted "The Real World." Music videos had begun migrating online in earnest by the late '90s, and by the start of the 2000s, the MTV of old was gone forever. Iconic shows like "Yo! MTV Raps," "Headbangers Ball" and "120 Minutes" all met their demise in the mid-'90s. 
Make Your Money Work Better for You
In their place, MTV pivoted to reality shows like:
"The Real World":

1992

"Road Rules":

1995

"MTV Cribs":

2000

"Jackass":

2000

"Punk'd":

2003

"Laguna Beach": 2004
"Teen Mom":

2009

"16 and Pregnant":

2009

"Jersey Shore":

2009
The Pivot Worked — for a While
According to Forbes, the big reality shows are what sustained the network through the post-video era of the 2000s. In 1999, CNN reported that Viacom's profits had soared by 85%, thanks mostly to double-digit ratings growth and 17% revenue gains at MTV.
These new kinds of shows were cheap to produce — at less than $1 million per episode, they cost about one-third of the budget of a scripted show — and they got big ratings and were highly profitable. At its 2011 peak, "Jersey Shore" with its 8 million viewers was the most-watched show in MTV history and the single biggest driver of Viacom's improved profits at the turn of the decade. But the formula was running out of steam.
MTV in the Wilderness
By the mid-2010s, MTV's big reality shows had aged poorly and the network was on life support. According to Forbes, MTV lost almost 50% of its critical 18-49 demographic in the first five years of the decade as its revenue cratered by 17% to $1.15 billion.
It wasn't just MTV. The ratings rot was a Viacom-wide problem. By 2018, Viacom's shares had lost half their value in five years and not a single one of the company's 16 channels — including VH1, Comedy Central and Nickelodeon — had a hit show. As FX, HBO, Amazon and Netflix were enjoying a critical and commercial revival, Viacom was staggering into the third decade of the 21st century as a yesteryear relic — and it's currently dragging a seemingly wrung-out MTV right along with it as Music Television turns 41.
Make Your Money Work Better for You
More From GOBankingRates
Make Your Money Work Better for You