Average Non-Mortgage Debt Falls to Lowest Number Since 2019 — Why It's Both Good and Bad News for Americans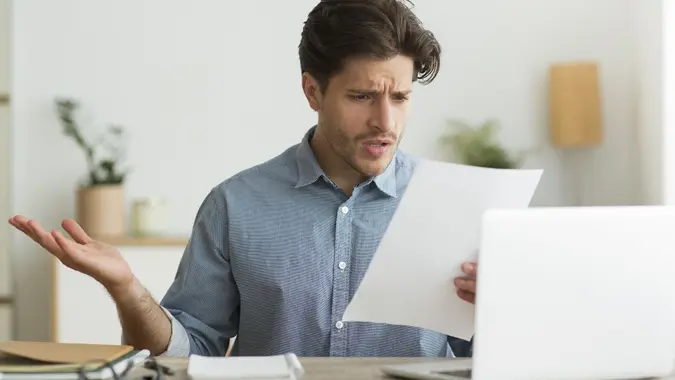 Prostock-Studio / iStock.com
COVID-19 had a dual effect on personal debt in the United States. Some Americans rapidly paid down their debt during the pandemic because there wasn't much else to spend money on. But others — especially those who lost jobs — ran up their debt to pay the bills. Today, the overall average debt load is lower than it was in 2019, before the pandemic. However, many Americans are carrying their highest debt level ever, according to a new study.
The Northwestern Mutual 2023 Planning & Progress Study, released on July 10, found that the average American's personal debt exclusive of mortgages is $21,800, which is $8,000 less than what people reported in 2019. More than four in 10 (43%) U.S. adults who have personal debt say they're currently carrying close to or at their lowest level of debt ever. 
On the downside, more than one-third (35%) say they're carrying close to or at their highest level of debt ever.
"At a time of high inflation and economic uncertainty, it's encouraging to see personal debt levels have held relatively steady year-over-year, and even ticked down a little," Christian Mitchell, Northwestern Mutual's chief customer officer, said in a press release. "That said, it can be a slippery slope between manageable debt and runaway debt so it's an important time to remain extra vigilant about planning and spending."
The study was conducted by The Harris Poll on behalf of Northwestern Mutual and based on a survey of 2,740 U.S. adults aged 18 or older. The survey was conducted online between Feb. 13 and March 2, 2023.
Make Your Money Work for You
Personal debt, excluding mortgages, has been on a steady decline since 2019, as shown by these figures gathered by Northwestern Mutual:
2023: $21,800
2022: $22,354
2021: $23,325
2020: $26,621
2019: $29,800
As Northwestern Mutual noted, the primary source of personal debt in the U.S. can be found "right in people's wallets." Credit cards account for more than double any other single source of personal debt, at 28%. Car loans came next at 12%, followed by medical debt (7%), home equity loans/lines of credit (6%), personal education loans (5%) and educational expenses for children or other family members (3%).
Consumers who carry personal debt say 30% of their monthly income goes toward paying it off, the study found. Nearly half of those surveyed (49%) expect to be in debt for one to five years. About one-fifth expect to be in debt six to 10 years, 8% expect to be in debt 11 to 20 years, and 10% expect to be in debt for the rest of their lives. Another 12% don't know how long they'll be in debt.
"This is a reminder that debt trends aren't uniform, and everyone's personal circumstances are different," Mitchell said. "More people feel like they're moving in the right direction than those who do not, but there's still a sizable universe of people carrying more debt than ever. No matter where you are on that spectrum, it's important to be proactive and intentional about how debt is managed, and where it fits within a broader long-term financial plan."
More From GOBankingRates
Make Your Money Work for You